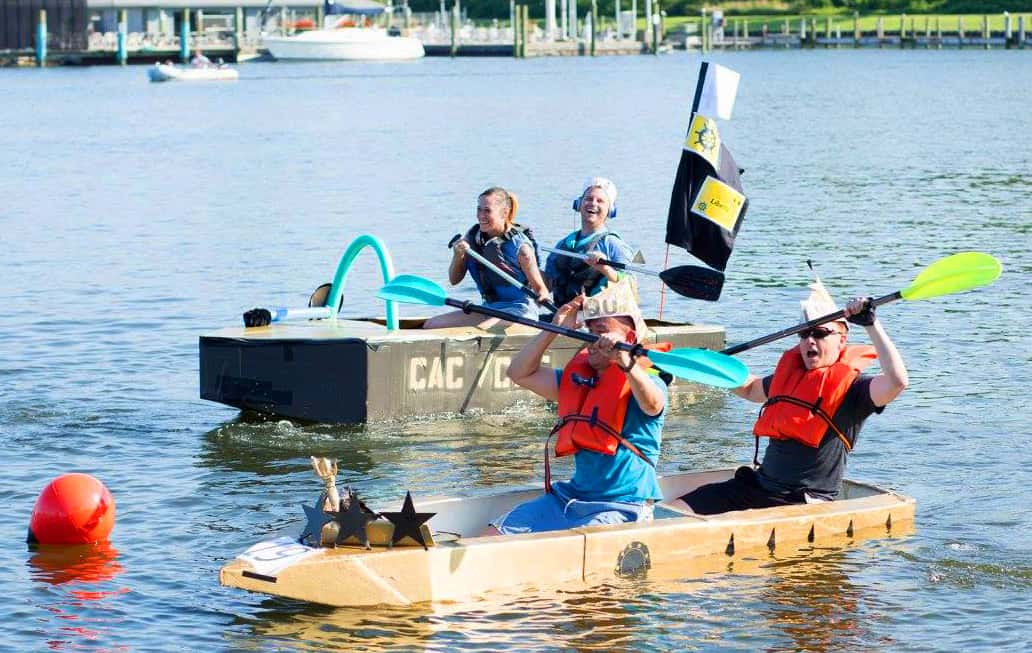 Two years ago dozens of people turned out to watch five ramshackle cardboard boats hit the inner harbor turning basin in front of the Inn at Harbor Shores competing for top honors in the inaugural "Rock the Boat" competition from Whirlpool Corporation. A year later exponential growth drove the ranks to 30 such contraptions, increasingly a bit more sophisticated, watched by 100's of onlookers. Now, with a record fleet of 64 watercraft ready to hit the waves, you'll want to show up early and stay late for the third annual affair coming next week to benefit the United Way of Southwest Michigan.
Cardboard sailors have considerably upped the ante this year, more than doubling last year's turnout, and setting the stage for some classic confrontations in such sub-categories as Brewpub vs. Microbrewery…Country vs. Rock Radio…Whirlpool Division vs. multiple other Divisions…and even the supremacy among community college racers.
With 64 "supposedly Unsinkable Molly Brown" watercraft waiting at dockside, this could be a classic test of durability, ingenuity, or…undoubtedly in some cases, fallibility.
The 2018 Whirlpool Corporation "Rock the Boat" race in the St. Joseph River gets underway next Thursday, July 19th at 6 pm at the Inn at Harbor Shores located on the inner harbor at 800 Whitwam Drive in St Joseph, with proceeds from the company-sponsored event benefiting United Way of Southwest Michigan. Additionally, the race next Thursday kicks off St. Joseph Today's Midsummer Classic Weekend.
The event is wide open to the general public, and there will be food and t-shirts available for sale. Raffle tickets will be sold on-site for drawings that evening, and spectators can enjoy a beer garden and watch even the race unfold on a Jumbotron from DPM Events.
The final boat count of 64 even surpassed Whirlpool's goal this year of 60 boats. Registration has closed for this year's chase. Racers paid an entry fee of $250 for each watercraft.
Whirlpool's Matt Meier is Co-Chair of the company's internal United Way campaign. He says, "This event has really gained popularity around this community over the past few years. To have 64 boats registered is incredible, and all the proceeds — from the boat registration fee to items sold at the event — will benefit United Way of Southwest Michigan."
The life-size boats are made strictly from cardboard, duct tape, and polyurethane, and propelled entirely by human paddle power.
Many prizes will be handed out throughout the night, from Fastest Boat to Most Creative and Best Themed entry.
Here is a complete list of the teams entered and the names of their boats:
Accenture – The Cool Boat
AEP Cook Nuclear Power Plant – Cook Revengers
Alex's Veggies – CORNZILLA
ARS Advertising Inc. – Approved. No Changes.
Berrien County Health Department sponsored by CMG Financial – Lettuce Turnip the Beet
Blossomtime Festival Inc. – Royalty Racers
CAC/CXC – KNOTTY CXC
Caring Circle, The – Up Up and Away
Celebration! Cinema Benton Harbor – Flick's Dinghy
Consumer Products Group – SeaPG
Deloitte Consulting LLP (GSS) – Compensation Nation
Dr. Kasewurm's Professional Hearing Services – Shake Your Tail Feather
Erhard Furniture & Flooring – The Swimterns
Fenner Homes – Maiden Lane Cottages
Gast Manufacturing – Gast Boat #1
Gast Manufacturing – Gast Parrot Heads
Great Lakes Drone Company – DroneBait
GSS Indirect – Boaty McBoatface
Haymarket Brewery and Taproom – U.S.S. BOB
Hellmann Worldwide Logistics – (GSS) – ISC you at the finish line
Holt Bosse – Wise Kraken
JennAir (Marketing) – T Party
Kinexus – The InternShip
Lake Michigan College – Rocky BalBOATa
The Livery – McGilligans Island
Niles-Buchanan YMCA – S.S. Nessie ("Sweat Ship Nessie")
North Pier Brewing Co. – North Pier Nation
Overture – The Overture
Pasha Hawaii (GSS) – U.S.S. Operation Sinks Alot
Peat's Original Cider – Hard Core
ROCK 107 WIRX – S.S. Good Enough II
Silver Harbor Brewing Co. – Shipfaced
Southwestern Michigan College – Roadrunner
United Federal Credit Union – This Putts 4 U
United Way of Southwest Michigan – Out of Time
Whirlpool (Finance) – Liquid Asset
Whirlpool Corporation (Corporate Communications) – Noel's Ark
Whirlpool Corporation – Best Buy Sales Team – Best Buy Sails
Whirlpool Corporation – Cooking Engineering Team – AcquaCucina
Whirlpool Corporation – Home Depot – Big Orange
Whirlpool Corporation – Key Account Sales – S.S. MPI Cutter
Whirlpool Corporation – Key Account Sales – The Yellow Submarine
Whirlpool Corporation – Kitchen Team – One Love, One Kitchen
Whirlpool Corporation – Quality – The Incredible Hull
Whirlpool Corporation – Camakau LEARN
Whirlpool Corporation – Gone Phishin'
Whirlpool Corporation – Unsinkable II
Whirlpool Corporation (GIS) – U.S.S. Big Data 2.0
Whirlpool Corporation – Sinking Ship
Whirlpool Creative Studios – Floating Arrrtists!
Whirlpool Field Sales – S.S. Under Allocated Part II
Whirlpool Field Sales – FSNC Rocks – In it to WIN it!
Whirlpool Hispanic and Latino ERG – WHL
Whirlpool Human Resources – H-Arrgh
Whirlpool Laundry (Marketing) – The Extra Power Agitators
Whirlpool Law Department – The Ex Parte Barge
Whirlpool PRIDE ERG – PRIDE
Whirlpool Quality Team – S.S. Safe Launch
Whirlpool WERLD Program – W.E.R.L.D. Domination
Whirlpool Women's Network ERG – Champions for Change
Whirlpool: Brand & Strategy Organization – S.S. B&S
Wightman – S.S. Hasselhoff
Wipro Limited – Wipro BOT
Y-County 97.5 – S.S. Y Tanic
For more information, you can visit online by clicking the link below:
http://www.uwsm.org/rocktheboat
United Way of Southwest Michigan fights for the Health, Education and Financial Stability of every person in every community. They have the influence and relationships to make sustainable change a reality. By harnessing resources from corporate, nonprofit, and public partners, they provide immediate assistance to the most vulnerable populations while addressing the root causes of the community's longstanding challenges and changing lives for the better. To join the fight—through giving, advocacy and volunteering—visit www.uwsm.org.