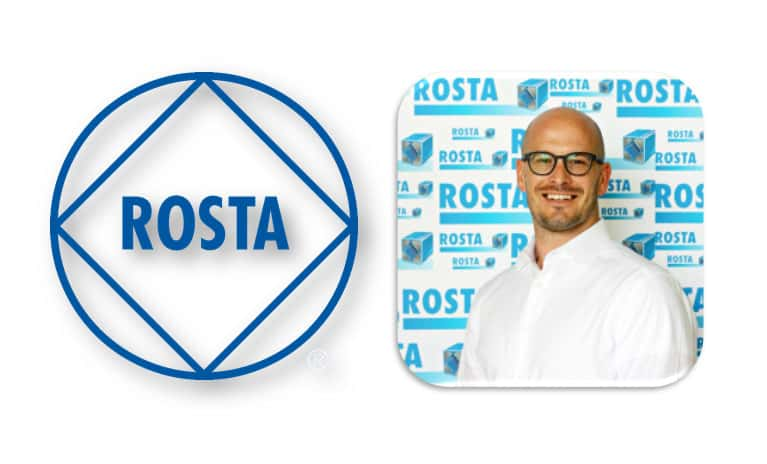 Looks like the decision last year to relocate ROSTA USA to Benton Harbor was a brilliant move. Company President Jeremy Thiele says 2018 proved to be "quite a year for ROSTA USA." He cites overall growth of 20-percent and distribution sales increases topping 40-percent on the year, making it a record setting year, and suggests that they'll be looking to increase their Benton Harbor workforce in the months ahead.
You may recall from an earlier story last summer that it was in the spring of 2018 that Cornerstone Alliance helped the team of ROSTA USA to relocate to Benton Harbor in a bid to increase their overall operational efficiency and the ability to serve existing customers. With the help of Cornerstone Alliance, ROSTA USA not only moved operations, but also expanded staff with local talent, and quickly went to work attacking their strategic goals for the year.
The Business Development team at Cornerstone Alliance, which is Berrien County's lead economic development agency partnered with Loren Gerber from Core Real Estate of Stevensville to lead the efforts to secure a facility for ROSTA's relocation, and successfully landed them at 797 Ferguson Drive in Benton Harbor.
The ROSTA USA unit was first established in 2014 to provide direct service to customers in the United States and Mexico. Internationally, the ROSTA Headquarters, stationed in Switzerland, has been an industry force since 1944 and will celebrate 75 years of operations here in 2019. The company is an industry leader in rubber suspension and damping systems for multiple uses in a broad array of industries with specialized equipment needs.
ROSTA USA President Thiele says, "After being tabbed the New President in 2018, I challenged our team to drive expansion opportunities through better engagement and relationships with our distribution base and to positively impact the community development efforts at our new location. In the end, our team knocked it out of the park by ending the year with an overall growth of 20-percent!"
Under the new leadership with Thiele at the helm, ROSTA USA:
Expanded the US team by a headcount of 6 to improve service, delivery, and partnership to distributors & original equipment manufacturers (OEMs)…
Amplified marketing and communication efforts, with an emphasis on engaging content to better support and inform the ROSTA network which led to a distribution sales increase of 42-percent…
Doubled association membership after exploration of market categories to bring ROSTA's reputation for quality, product longevity, and innovative solutions to the forefront…
ROSTA USA's new Benton Harbor location on Ferguson Drive near I-94 is a member of the Cornerstone Chamber of Commerce as well as a member of the Young Professionals Network. In September of 2018, Rosta "officially" joined the ranks of Michigan's Great Southwest by hosting an open house with Cornerstone Chamber and thanking the community for their support and attendance. Additionally, they are already exploring 2019 activities with other entities that promote the development of Southwest Michigan.
Theile says, "I was so excited to bring our offices to Benton Harbor. As an area native, I look forward to continuing our work with the Cornerstone Chamber of Commerce and Cornerstone Alliance to increase our community involvement and showcase Southwest Michigan as the place to be for industry growth." Thiele adds, "I already have plans to engage with Lake Michigan College and the Hanson Technology center for project needs. In addition, the US office will be increasing headcount soon and is excited about tapping into the local talent pipeline."
At the close of 2018, ROSTA USA was recognized as a nominee for the upcoming 2019 Business Recognition awards by Cornerstone Chamber. More specifically, President Jeremy Thiele has been nominated for the Young Business Leader of the year award.