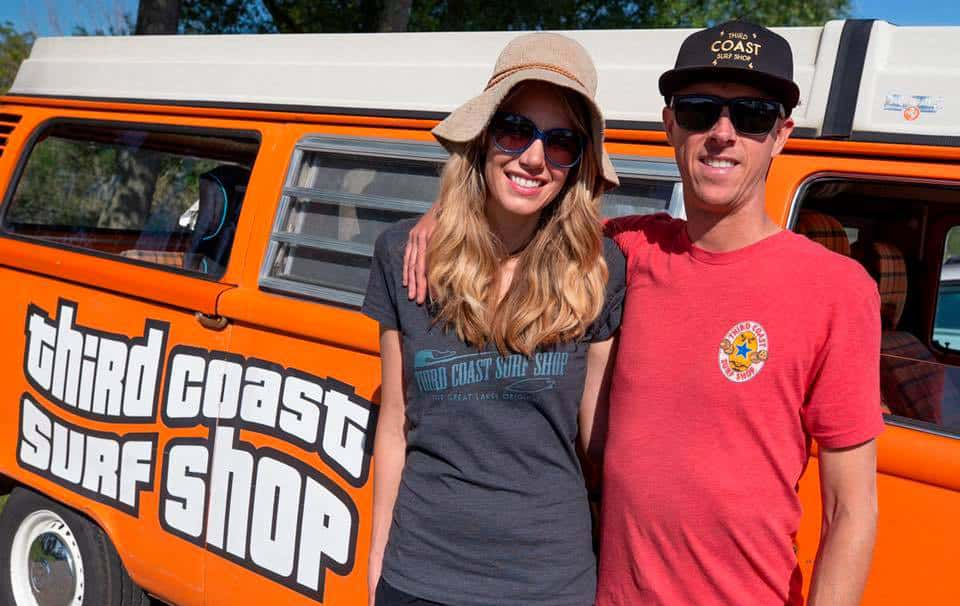 Even in the throes of extremely tight money during a global pandemic, Ryan and Erin Gerard are sharing the 15-year success of their own small enterprise in Michigan's Great Southwest by giving back once again to the community that has sustained them for that decade and a half.
The owners of Third Coast Surf Shop, anchored in the central business district of downtown St. Joseph is celebrating their 15th Anniversary in business by hosting a Give-Back to the No Kid Hungry campaign through the end of the month.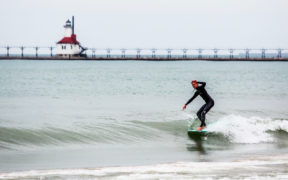 Ryan Gerard, President of Third Coast Surf Shop, admits, "The past two months have been a challenge for us and many other family-owned, small businesses, but we see our anniversary celebration as an opportunity to help make a difference at a difficult time." He adds, "We're grateful for all the customers who have made the past 15 years possible, and we're excited to be able to give back."
Through the end of May, Third Coast Surf Shop is marking their 15 years in business by donating 15-percent of all online purchases to No Kid Hungry, an organization dedicated to working with local partners across the country to end childhood hunger.
As the Midwest's first surf shop of its kind, Third Coast Surf Shop serves customers throughout the United States, which made No Kid Hungry's nationwide reach a good fit for the give-back initiative, according to Gerard.
Customers can shop Third Coast Surf Shop online by clicking the link below, and have purchases shipped, or curbside pick-up of online purchases is available at Third Coast's St. Joseph location at 212 State Street, on Mondays, Wednesdays, and Fridays from 11 am to 2 pm or by appointment. Here's your direct shopping link: http://www.thirdcoastsurfshop.com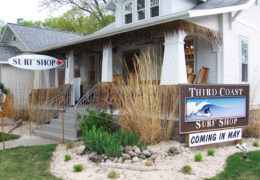 Third Coast Surf Shop was started by Ryan Gerard in 2005 with a simple mission: to spread the joy of the surfing lifestyle through the Great Lakes and beyond. The first shop opened in New Buffalo in April 2005, followed in April 2011 by the addition of the St Joseph store, which is now Third Coast Surf Shop's flagship location. Third Coast Surf Shop has been featured in national media, including The CBS Early Show, NBC's The Today Show, The Weather Channel, Newsweek, The New York Times, and National Public Radio.
Third Coast Surf Shop serves the Great Lakes surfing community with more than 60 in-stock surfboards, wetsuits designed for year-round lake surfing, and accessories, plus services such as surfing lessons, board rentals, and kids' beach day camps. Customers can also find gear for snowboarding, skateboarding, skimboarding, stand-up paddleboarding, and sandboarding. Along with hard goods, the shops carry clothing and accessories from brands such as Patagonia, Quiksilver, Roxy, Vans, Burton, and Reef, plus surfing- and Great Lakes-themed merchandise.
Southwest Michigan residents and visitors may also be familiar with Third Coast Paddling, an extension of the Third Coast brand that includes hourly kayak and stand-up paddleboard rentals and group outings at three sites in New Buffalo and St. Joseph/Benton Harbor.
For more information about Third Coast Surf Shop, visit online at www.thirdcoastsurfshop.com or call 269-932-4575.
The photo of Ryan Gerard surfing at Silver Beach in St. Joseph is courtesy of Rusty Malkemes.