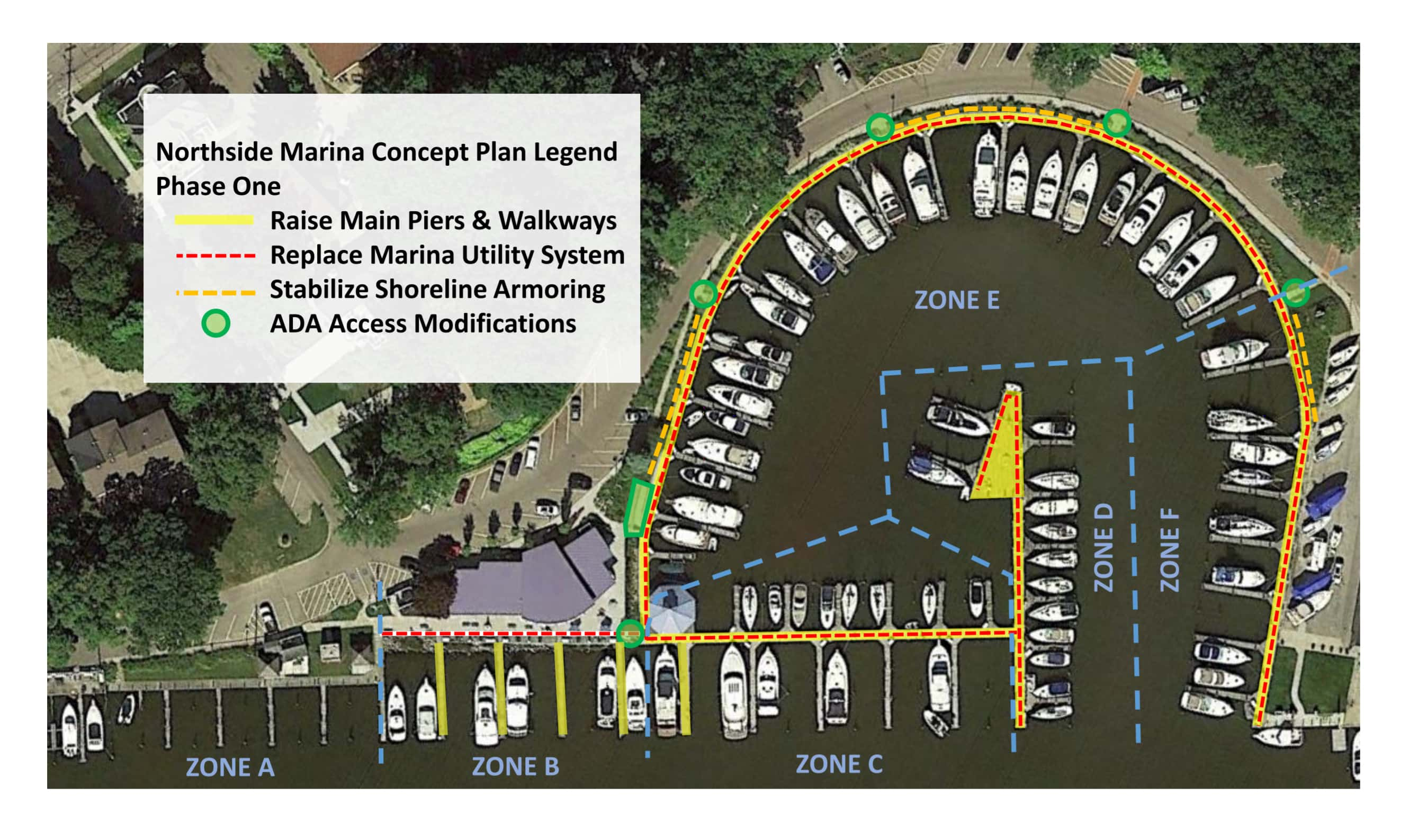 When the city of South Haven's Northside Municipal Marina was closed several months ago before the season could even begin, many people wondered what would come next. Now, they have an answer in the form of a more than $1.57-million emergency repair project being planned by city officials.
Back on Monday, May 18th at the City Council meeting, the City Council approved actions regarding the emergency repairs for the Northside Marina. The action taken sets the stage for a grant application for emergency repairs, a project bid from Midwest Construction Group, Inc, and a resolution authorizing execution and delivery of an Installment Purchase Agreement. The Northside Municipal Marina was closed for the season earlier this year due to the electric shore power system being compromised by high-water.
The proposed work includes new electric panels, cables, and pedestals to be installed in accordance with National Electric Code standards. The new utility lines would be run on the existing dock structure and new raised walkways would cover and protect the upgraded utilities. Raising the main requires all new access points that are ADA compliant. The price tag for the work comes to $1,571,599.00. The Northside Marina Emergency Repair Michigan Waterways Grant Application requested 50-percent matching funds from the state, or $785,799.
The City presented a Request for Proposal for loan terms of $1.75 million for the Installment Purchase of the proposed repairs. The increased funding reflects unanticipated timeline issues related to the current pandemic and unknown damage from high-water likely to be uncovered during the project. The $1.75 million in bank financing will require an adjustment to the city's slip rental rates to ensure that the city has a funding source to repay the bank loan. The South Haven Harbor Commission will be engaged to set those rates and then formalize them with the State of Michigan and the City Council.
Details of the Northside Municipal Marina repairs are depicted in the photo of the map accompanying this story on Moody on the Market.