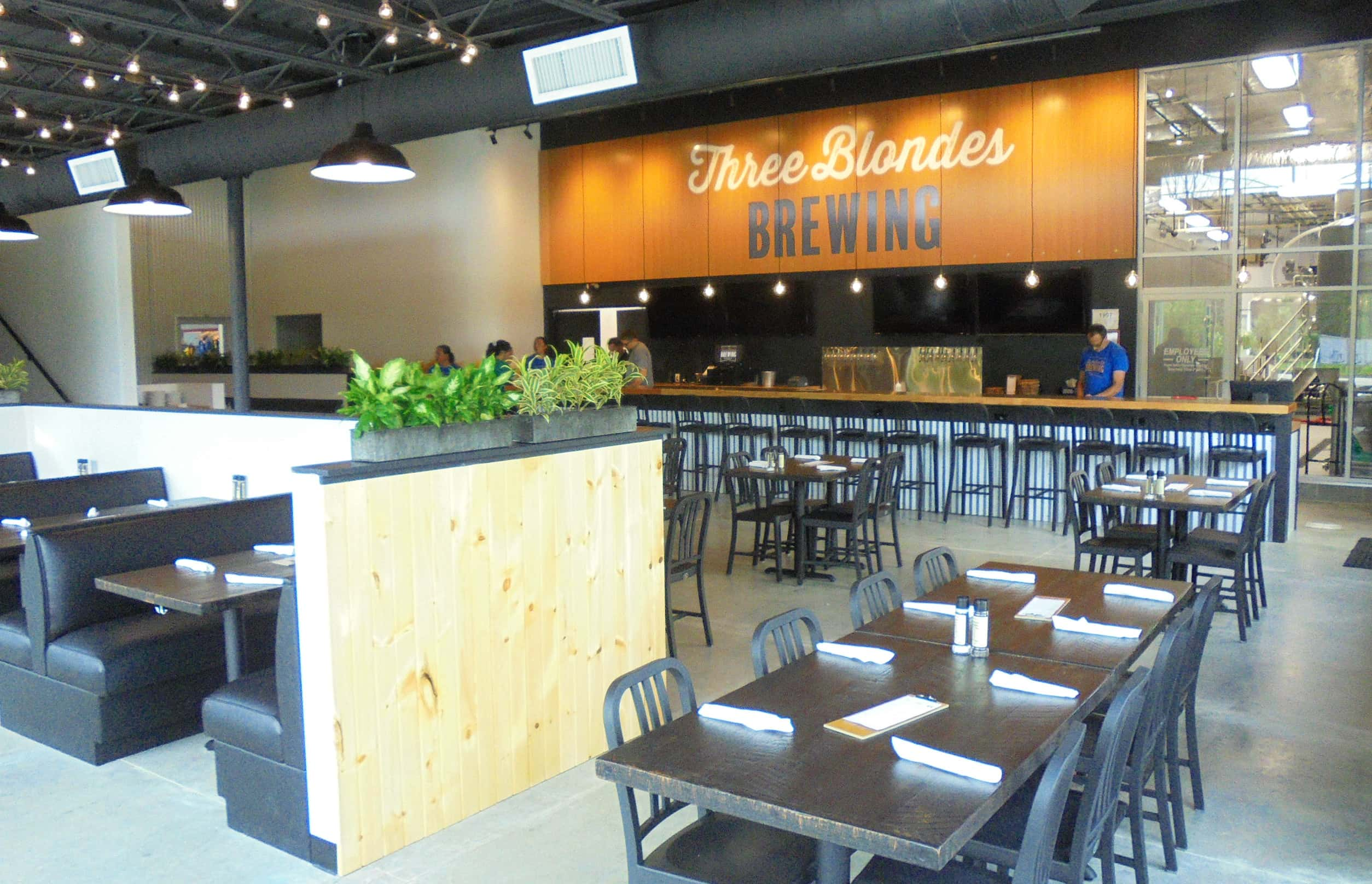 We could probably bring in an umpire, a referee, or Santa himself and we'd still be hard pressed to determine who's more excited about tomorrow's launch of the new Three Blondes Brewing Company of South Haven, the blondes themselves or their amazingly proud dad.
It's likely a toss-up when you consider that the three VanDerZee daughters chose Flag Day, which just so happens to be their father's birthday as well. Raymond VanDerZee will likely be vibrating with excitement all the way up until the 11am opening tomorrow at Three Blondes Brewing, the new microbrewery and restaurant attached at the hip to his VanDerZee Motorplex on Phoenix Street in South Haven.
The entire VanDerZee family is on cloud nine going into opening day. Managing partner Carrie VanDerZee Troyer tells me, "The last few days we've had a couple of soft openings for friends and family and our Platinum Club members and I can definitely tell you we have something magical going on here!"
Carrie and her sisters, Megan VanDerZee Zernicke and Amanda VanDerZee Johnson and all three of their husbands are continuing the tradition of a family-owner business alongside Dad's #1 Kawasaki Dealer in the entire state of Michigan.
Carrie says, "I cannot say enough about our tremendous employees - from our kitchen leadership and staff, who have been learning new made-from-scratch recipes and quickly perfecting them to our wait staff, bartenders, and hostesses who are working hard as a team to ensure a top-notch level of service."
The new Three Blondes Brewing Brewmaster is Jake Demski who comes to them from a five year stint with Greenbush Brewing in Sawyer. He's busy filling up his new 15 barrel system that can potentially produce up to 3,000 barrels a year from the start. Jake says this year, because he didn't actually start until April, they'll likely finish "between 800 and 1,200 barrels this year, and hopefully around 2,000 next year, or maybe a little more."
The new Chef for Three Blondes Brewing is Sean Marr, who has a solid pedigree in the hospitality business, having been an executive chef for ten years, but, he says, "I've been working in kitchens since I was fifteen." Following culinary school and a degree in business, Marr spent a lot of time in country clubs over the last 13 years, for combined total of 19 years in the food business. He has been the Chef for the Se4sons Gastro Pub and Muskegon Country Club most recently.
According to Carrie, Marr's already hitting home runs as she says, "We've already had rave reviews on our hand-crafted food - especially the tacos, the cheese-steak egg rolls, the pizza, and our signature dessert - the Hot Blondie." Regarding the beer, she adds, "And our brewer, Jake, absolutely nailed his first five Three Blondes beers - with the Trees and Seas IPA and the Palisades Porter quickly becoming many guests' favorites."
Carrie and her sisters are pumped. (As is dad!), saying, "We are as ready as ever for our June 14th public opening at 11am! Our hours will be Monday through Thursday from 11am to 10pm, Friday and Saturday from 11a - 11p, and Sunday from 11am to 8pm."
For Ray's part, he tells me, "The anticipation is at a fever pitch for the 11am opening!"
Three Blondes Brewing is a 7,000 square foot addition to the Motorplex complex with a brewing house that is about 2,000 square feet of that. Then there's the dining area, bar, kitchen, bathrooms, and a mezzanine level overlooking the taproom. They built in a large window to the brew house so folks can watch Jake in action. There is a 30-foot long bar, a large outdoor concrete patio with seating and/or standing room for up to 80 people in the summer season.
The general seating area of the restaurant will seat about 100 at capacity, and then up to 49 more can make their way to the mezzanine level, overlooking the dining room and bar. There are booth spaces, low tops and high tops on the lower level and the upper level features furniture recaptured from the old high school library. The formal entry leads to a small vestibule and host stand, and the large Three Blondes sign at the front of the space.
You'll find Three Blondes Brewing at 1875 Phoenix Street in South Haven and online at the link below: