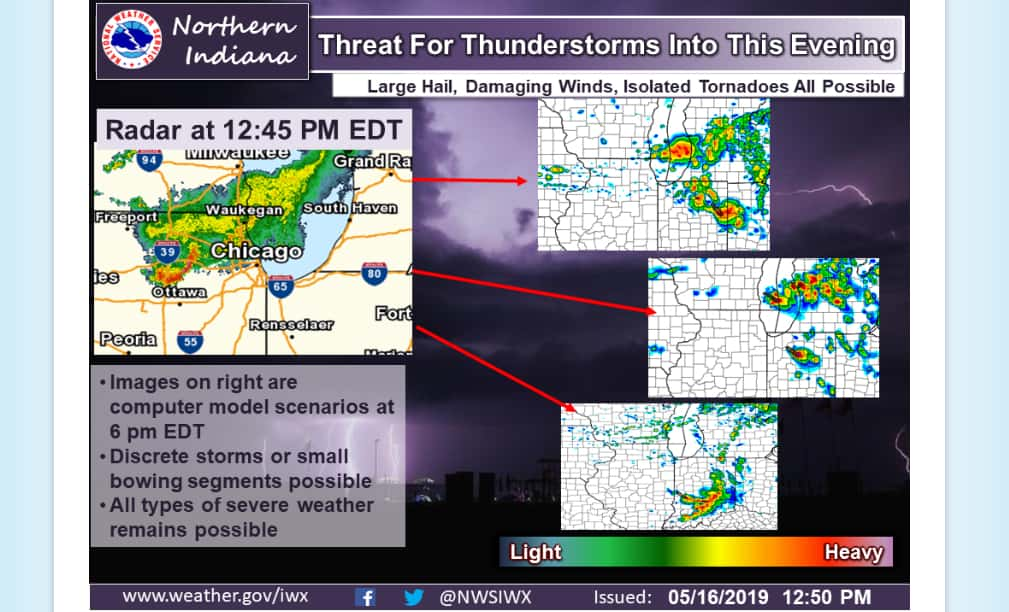 As the afternoon weather picture continues to develop in Michigan's Great Southwest, you might do well to keep an eye to the sky according to storm forecasters at the Northern Indiana office of the National Weather Service.
Late in the lunch hour today an area of thunderstorms continued to push southeast across northern Illinois with a recent increase in intensity being noted. Forecasters say that thunderstorms will be possible either with this already existing area of showers and storms, or possibly in advance of the complex of storms headed over Lake Michigan.
The effect of Lake Michigan leaves forecasters unable to immediately pinpoint the exact result of the storm system, rather pointing to three possibilities:
Activity may remain rather isolated and not impact everyone…
All modes of severe weather, including supercells and the associated risks are possible…
The weather picture is still not fully clear on exactly how the storm will evolve…
At any rate, the National Weather Service says that our region could see the possibility of strong thunderstorms, potentially large hail, damaging winds and even the prospect for isolated tornadoes.
The radar was pretty lit up over the Chicagoland area over the lunch hour and poised to continue to push over the waters of Lake Michigan where anything can happen.
While there are no formal watches or warnings as of 2pm…conditions can change rapidly, which is why the National Weather Service suggests staying on top of current conditions, especially if you plan to be out of doors late this afternoon and evening.