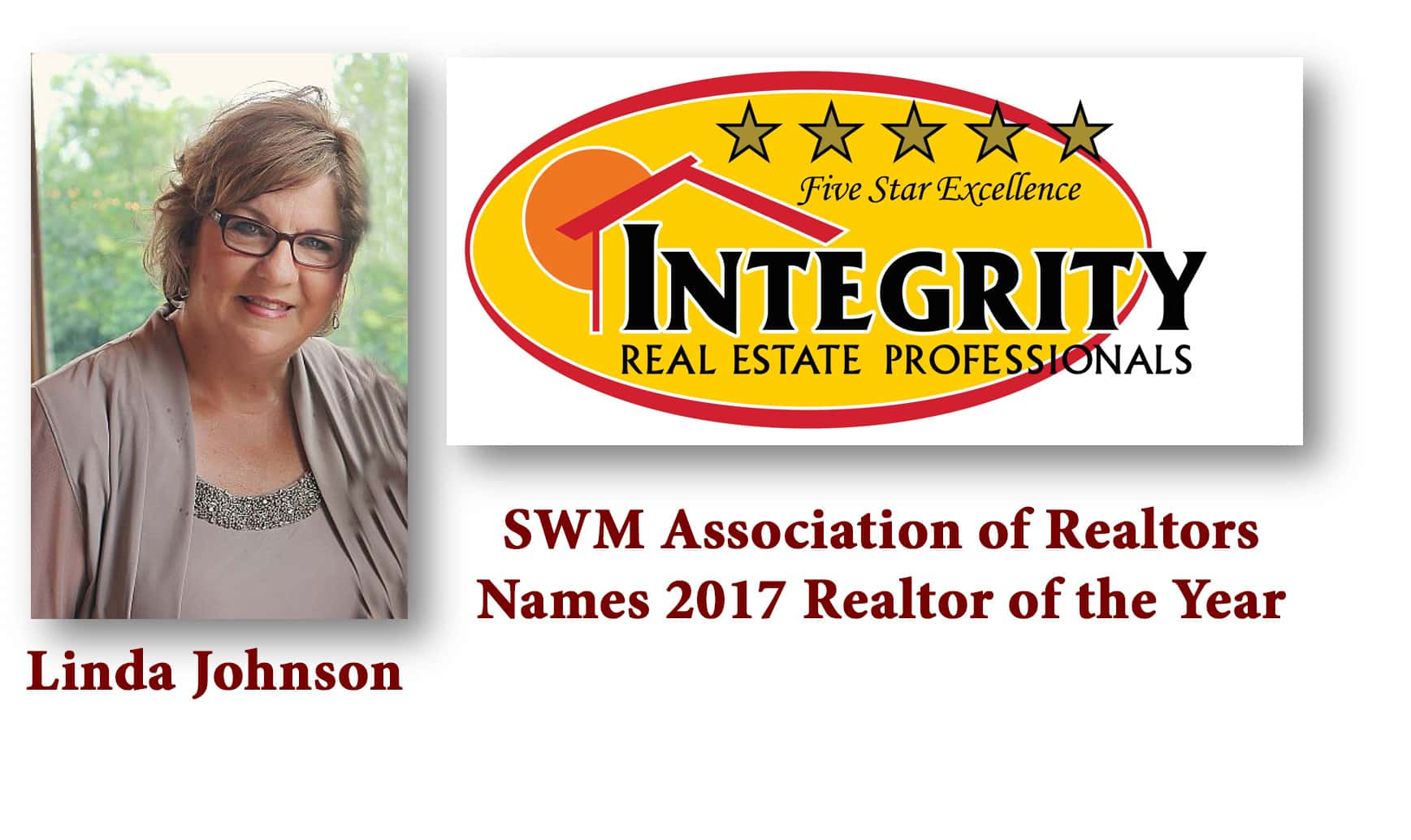 A 14-year veteran of the real estate industry in Michigan's Great Southwest has earned the ultimate recognition of her colleagues in the business by being named 2017 Realtor of the Year for the Southwestern Michigan Association of Realtors. Linda Johnson, a licensed salesperson with Integrity Real Estate Professionals in Niles, was presented with the coveted trophy during the organization's Annual Awards Luncheon held recently at the Hilton Garden Inn in Benton Harbor.
Linda has been licensed since 2003 and holds the Graduate Realtors Institute (GRI) professional designation.  Since 2013, Linda has served as District 2 Director on the Board of Directors of the Southwestern Michigan Association of Realtors and the Real Estate Information System of Southwestern Michigan.  She has also served on the Special Events Committee in 2004, the Education Committee for 4 years, serving as its Chairman in 2011, the Governmental Affairs Committee 2009 – 2011 and again 2013 and 2014, and the Grievance Committee 2012 through 2016, serving as its Chairman in 2015.  Linda is currently serving on the Standard Forms Committee and Finance Committee which she also served on in 2016.
Johnson was awarded the 2011 Most Effective Chairman Award for her work on the Education Committee.  She also is an MLS Production Award recipient receiving the Silver Award in 2008, 2012, 2014 – 2016 and the Gold Award in 2013.  She received her Silver Life Membership in 2014.
In her local community, Linda participates in the United Way – Reading Day, is a volunteer at St. Mary's School and is an election volunteer. In 2014, she participated in the Salvation Army Adopt a Family campaign.
Linda and her husband, Larry, reside in Buchanan.
Last year's Realtor of the Year was Ryan Arnt.