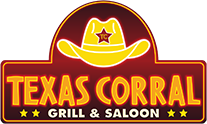 The same challenges facing almost every business in recent months–supply chain and availability issues–appear to be plaguing the construction schedule for the new Texas Corral restaurant at Exit 23 in Stevensville.
MoodyOnTheMarket.com visited the construction site on Friday and spoke with workers pushing to get the transformation of the former Big Boy restaurant completed.  There was no official company spokes person available.  However, from conversations with crew members, it's clear it will take several weeks to complete the Texas Corral project.
Finishing work is underway on many of the decorative wood surfaces inside.  However there's still considerable painting and floor covering work to complete as well.   And a lot of equipment and fixtures to deliver and install.
A couple of months ago, Texas Corral officials were hopeful for an early May opening.  It now appears from observation that early Summer might be a more realistic target for the opening 0f the eagerly-awaited, popular-priced family steak house.   MOTM will update you as soon as we hear anything official from the company… Stay tuned!