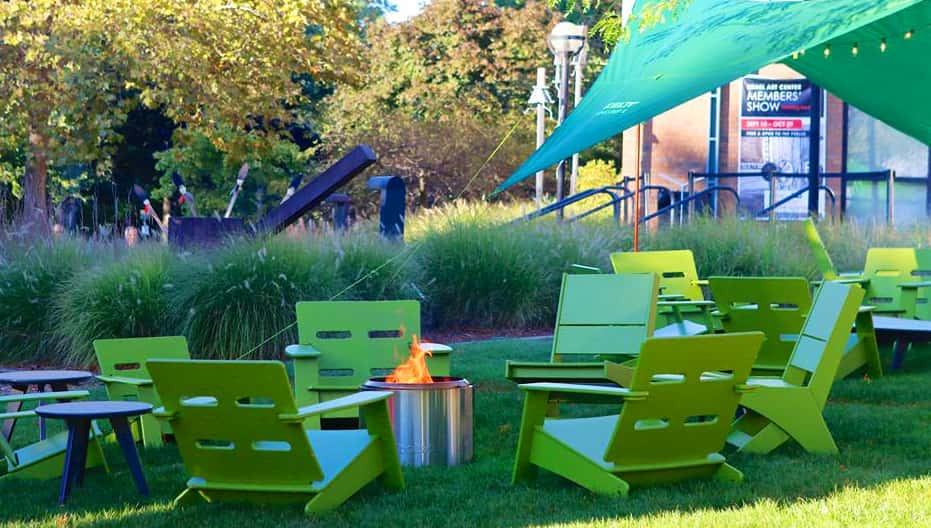 The chaotic construction zone at the Krasl Art Center will regain considerable focus later this month when Richard Hunt's spectacular new capstone sculpture is revealed on site in a huge party dubbed EnVision 2018. That's when Mr. Hunt's new piece commissioned for the center will take center stage.
Made entirely of stainless steel and fabricated by K&M Manufacturing in Cassopolis under Mr. Hunt's supervision, the two elements of the sculpture reach upward to a height of 22-feet. The sculpture weighs a total of 24,000 pounds and was inspired by a model of a beautiful arched form by Mr. Hunt that caught the eye of a young visitor to the Richard Hunt Studio Center in Benton Harbor.
Mr. Hunt's abstract work serves as a cultural capstone to the KAC's reimagined campus currently under construction. It's wide base and monumental scale invites visitors to walk under and through the sculpture and to sit on either of its two bases as its two arms seem to stretch out and reach for each other.
The Krasl Art Center invites friends and neighbors to EnVision 2018 on Saturday, October 27th, where a celebration of the newly completed Sculpting Community Project and reveal of the monumental Richard Hunt sculpture will take place. To welcome this new gateway to Downtown St Joseph, an evening of breathtaking lights and forms will accompany the dedication of the gift to the community.
Julia Gourley is Executive Director of the Krasl Art Center. She tells us, "The vision for the Sculpting Community project is to take the mission of the Krasl Art Center outdoors, to a space where people can connect with each other and be inspired by the art on their own terms." She adds, "The project includes a shaded plaza, updated entrance patio, relaxing green spaces, and sites for permanent, temporary and engaging sculptures. Sculpting Community provides residents and visitors a space to come together and connect with nature, art, and each other."
Richard Hunt, a Chicago native who keeps a studio in Benton Harbor, is among the most prolific and well-known artists of public sculpture in the nation and was commissioned by the Krasl to create a work that will serve as the campus centerpiece and a gateway to the community.
He, himself, says, "The Krasl Art Center offered me the opportunity to create something that welcomes people. To locate the piece in the 'Sculpting Community' really resonated with me."
At the Dedication guests will raise a glass for the official dedication of Sculpting Community at 5:30 pm with a congratulatory toast lead by 1st Source Bank CEO Christopher J. Murphy III. Limited admission is available for $150 per ticket.
The community is then invited to The Celebration at 7:00 pm. Following the dedication of Sculpting Community, The Celebration will serve as the inaugural event of this outdoor destination with a spectacle of light, form and creativity that features light installations, food trucks from Nosh Village and Camzie's Pizza, craft beer from The Livery; and local wines from Lake Michigan Vintners. Advance tickets are $25, or $30 at the event.
Chicago DJ artist Sadie Woods will provide bold sounds as guests are invited to dance under the gateway sculpture created by Hunt. Woods has had an exciting career, showcasing her talents everywhere from academia to nightclubs, boutiques to museums. As an award winning artist, curator and deejay, her practice includes sonic art and sound design, deejay performance, exhibition making, and collaborations within communities of difference.
The EnVision Party is open to the public and tickets may be purchased to either The Dedication and Celebration or only The Celebration portion of the evening by visiting krasl.org.
Gourley says, "The Sculpting Community project transforms the Krasl Art Center's green space into a destination where people can connect and make memories."
Richard Hunt says, "My thought is, as people walk under it, they feel welcomed," and adds, "Art plays a part in enlivening the atmosphere that brings another level of meaning to that place."
Sculpting Community has a plethora of events to look forward to as the EnVision celebration draws closer:
The free Krasl Art Center Family Day will take place this coming Saturday, October 13th, from 11:00 am to 12:30 pm. Guests of all ages are invited to build their own miniature Richard Hunt-inspired sculptures.
On Monday, October 22, at 5:30 pm you can join the Board of Directors and staff at the Krasl's Annual Meeting. Krasl Art Center's Deputy Director and Curator, Tami Miller, will speak on the Transformative Power of the Arts & Community Engagement.
The community is invited to join the official Ribbon Cutting Ceremony to celebrate the completion of the Sculpting Community project on Wednesday, November 1, at noon. You can enjoy refreshments while experiencing this new outdoor destination.
Krasl Art Center is a nonprofit art museum and learning center that enriches the lives of people living in or visiting Southwest Michigan by delivering enlightening art experiences through diverse education opportunities, meaningful events and high quality exhibits and collections. KAC's mission is to inspire meaningful change and strengthen community through the visual arts. To learn more, visit http://www.krasl.org.
The photo accompanying this story on Moody on the Market is from EnVision 2017, courtesy of the Krasl Art Center.