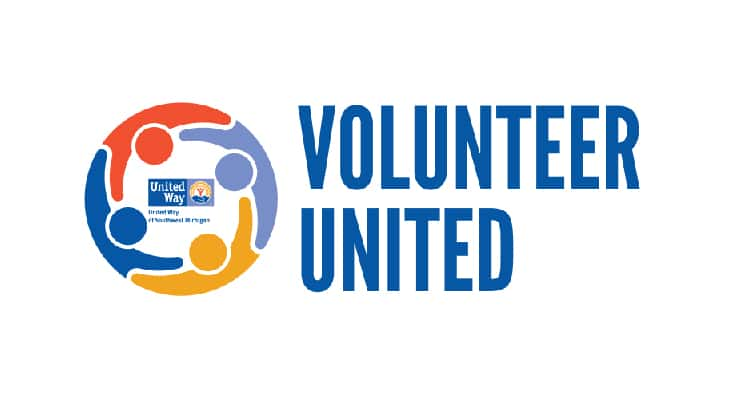 Capitalizing on the celebration of National Volunteer Week across America today, the United Way of Southwest Michigan used a hangar party at Southwest Michigan Regional Airport in Benton Harbor for the dual purpose of a volunteer appreciation party and the roll out of their new brand Volunteer United.
This evening's festivities included refreshments, games, live entertainment, and the revelation of the official launch of Volunteer United, which is a new menu of services to Berrien, Cass and Van Buren County volunteers and companies.
The unique new Volunteer United provides opportunities for corporate teams, area volunteers, and service groups to create sustainable change through service and corporate social responsibility.
United Way of SW Michigan President & CEO Anna Murphy called it, "Connecting the gift of you!" She says, "That's what Volunteer United is all about. It's about connecting people to volunteer opportunities in order to advance the common good in Southwest Michigan," adding, "And advancing the common good could not be achieved without volunteers."
Volunteer United opportunities range from on-site kit packing work, to opportunities from nearly 100 local non-profits, and corporate team building events. Ultimately this work will drive more resources and impact into tackling the region's issue areas of education, income, health, and basic needs.
Other opportunities include UWSM's annual experiences, such as the Christmas in June food drive, Cass County's School Supply Spectacular, Rake A Difference, Volunteer Income Tax Assistance (VITA), Van Buren's Stuff A Bus for Hunger, and the most recent, Spring Into Reading; a Southwest Michigan book drive that saw more than 15,000 new and gently used books collected for area children and young adults.
Murphy admits, "We've been doing the work for a while and doing it at a very high level. We targeted this spring as our opportunity to give this work the identity it deserves.  We're excited to see Volunteer United take flight."
The volunteer work coming out of UWSM is growing year by year.  In 2018, UWSM mobilized 2,242 volunteers.  That was an increase from 1,997 such volunteers in 2017. Last year they saw 17,445 hours of volunteer work tallied versus 15,519 a year earlier.  And the value of the volunteer service continues to soar. In 2018, the total service dollars was estimated at $438,119, a $60,000 jump from the prior year.
To get involved, or to find a list of all of the volunteer opportunities through UWSM, click the link below:
United Way of Southwest Michigan fights for the Health, Education and Financial Stability of every person in every community. They have the influence and relationships to make sustainable change a reality. By harnessing resources from corporate, nonprofit and public partners, they provide immediate assistance to the most vulnerable populations among us, while addressing the root causes of the community's longstanding challenges and changing lives for the better. To join the fight—through giving, advocacy and volunteering—visit www.uwsm.org.