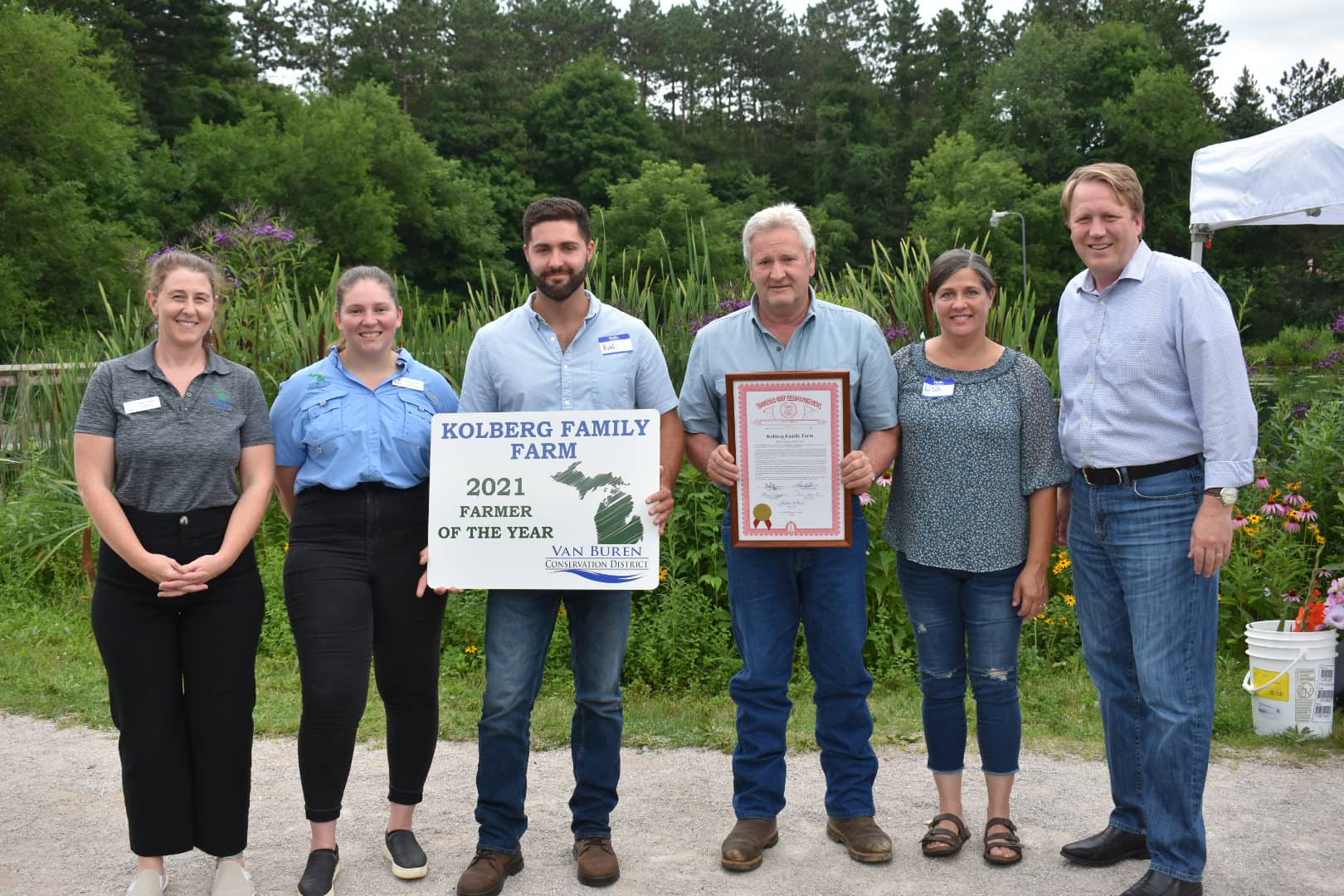 The Van Buren Conservation District made up for lost time Wednesday during its annual meeting, and summer picnic at the Wolf Lake State Fish Hatchery, naming Conservationist of the Year for 2019, 2020 and 2021, as well as the 2021 Farmer of the Year.
About 150 people showed up for the event, which also included a discussion of recent VBCD programs, tour of the Wolf Lake Fish Hatchery, a BBQ pork dinner made from the 2022 Van Buren Youth Fair Grand Champion Hog and other locally-produced food and beverages.
We had a really wonderful time, with a lot more folks than expected," said VBCD Deputy Administrator Emilly Hickmott. "It was really nice to bring folks together and celebrate coming out of the worst of the pandemic together, and still continuing conservation work during that time – even growing programming."
State Senator Aric Nesbitt also was on hand to present tributes to the winners of each award.
Dr. Susan Mathews was recognized as the 2020 Conservationist of the Year in for her efforts to improve public health through the conservation of natural resources and through her medical work in the midst of pandemic challenges.
"Susan Mathews has been a longtime volunteer with the VBCD," states a VBCD press release. "She has great tree knowledge and excels at helping shoppers at the annual tree sale pick out the right trees for their setting. During the pandemic, the VBCD made the tough decision not to utilize volunteers during tree sale. The only exception was Susan."
Two Rivers Coalition, a citizen-based group working to protect the health of the Black River
and Paw Paw River Watersheds through conservation, education, and advocacy, was recognized as the 2021 Conservationist of the Year for their 13 years of advocacy for rivers. They have started programs to monitor the long term health of the Paw Paw and Black Rivers by sampling E. coli and aquatic insects. They also have worked to improve access to these rivers for recreation by hosting paddle events and improving signage along the river.
Kolberg Family Farm was recognized as the 2021 Farmer of the Year for their commitment to improving soil health on their farm. They started their soil health journey in 2016 with a few fields farmed using no-till planting methods and 40 acres of cover crops. By 2017, they were 100 percent no-till, and they now use cover crops on about half their farm (about 1,500 acres).
They have radically changed their fertilizer program, cutting and changing the forms of fertilizers to
improve soil biology. Yields have increased while nutrient rates have decreased, which is good for the farm and good for keeping excess nutrients out of surface water.
The newest generation farmer, Kaleb, is committed to his goal of moving their whole farm into regenerative farm practices. The Kolbergs are also working toward more crop diversity, researching organic methods, and considering more specialized crops like black beans or navy beans.
To learn more about the work of the Van Buren Conservation District, please visit
VanBurenCD.org or find them on social media. To find out more about the work Conservation Districts are doing throughout Michigan, please visit MACD.org.
Pictured, from left: Conservation Technician Colleen Forestieri, Deputy Administrator Emilly Hickmott, 2021 Farmer of the Year: Kaleb Kolberg, Jim Kolberg, Lisa Kolberg, Senator Aric Nesbitt (Courtesy VBCD)