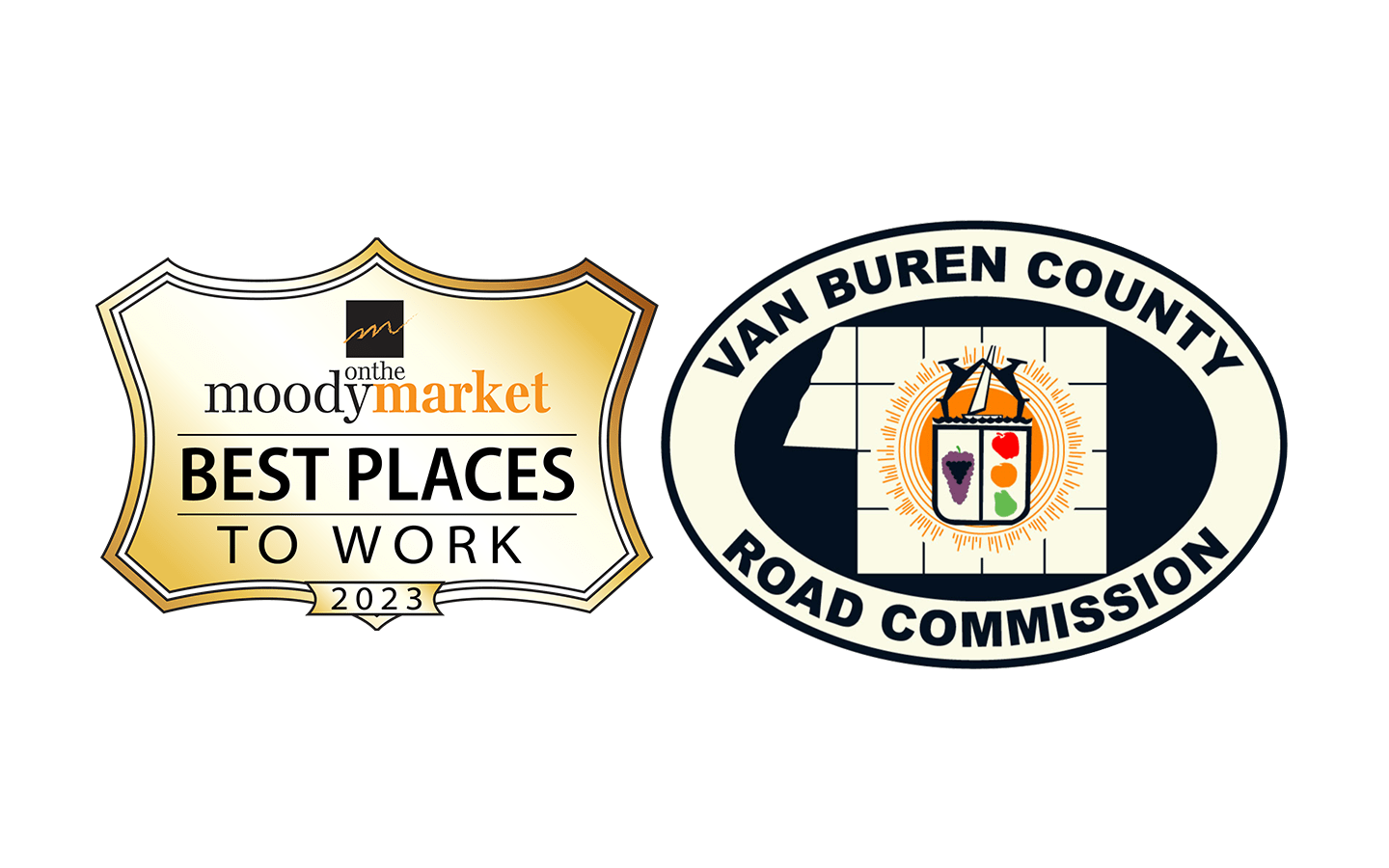 What is the name of the business you are nominating? 
Van Buren County Road Commission
Who are the owner(s) and/or principals in this company?
Tax payers of Van Buren County
Business Contact Information
325 W. James Street
Lawrence, MI 49064
269-674-8011
How many people work at the company you are nominating?
65
Tell us the story behind the nominated company. What does it do, and what sets them apart from other companies in the region?
The Van Buren County Road Commission serves the traveling public within Van Buren County. We maintain 1,314 miles of roads and 72+ bridges and other structures within the County. The work performed by Road Commission staff provides an amazing level of public service to our community.
In your own words, why do you think this company deserves to be declared to be one of the 20 Best Places to Work in Michigan's Great Southwest?
Not only does the Road Commission make a positive impact on the community we serve, we work to provide the best possible workplace we can. While our work can be highly structured, we look for ways to make the work safe, interesting, and varied. Our agency truly listens to the employees and works to ensure each person has a voice. We are a family. We truly work to build relationships and ensure our employees are treated appropriately and are safe at work. Beyond that, the Road Commission provides competitive pay and benefits.
What makes workers proud to say they work there, and keeps them a part of the team?
Our workers are proud of the job they do to serve the public. They can see the positive difference they make within the community.
Let's pretend you're writing a review for Google or Indeed. Give us your best recommendation for the nominated company that would make the rest of us wish we worked there, too.
The Van Buren County Road Commission staff is a family. We work very hard to serve the public and make a difference in our communities. While our crews have the amazing responsibility of plowing roads and performing ice control in the winter that requires additional hours and time away from our families, we promote a work/life balance with a four, ten-hour day schedule in the summer. Not only does this modification help our employees maintain a positive personal life, but it actually also provides a more efficient performance of our duties. The competitive pay and benefits provide wages our employees can truly live on and live a great life with their families.
What three key words best describe why this company is a Best Places to Work caliber company?
1. Positive Impact
2. Work/Life Balance
3. Professional Development
As a Best Places to Work company "Super Hero," what are the two most magical "Super Powers" this company seems to have on a day-to-day basis? (i.e., Ability to read minds, fly, invisibility, etc) And why?
– Super Heroes in emergencies. When severe weather occurs, our team leaves their family and serves their communities by plowing snow, performing ice control, moving trees, etc. They work in horrible weather and stressful conditions for long hours to make sure our traveling public is safe.
– Service with a smile? (Work with our residents to provide helpful and friendly information about our agency and the situations the residents are encountering). Ability to read minds. (We perform most work before anyone tells us it needs to be done).
Tell us about the leadership of the nominated company and what they do in order to:
A] Keep spirits and motivation high? Leadership keeps spirits up by regularly communicating with employees and knowing who they are personally. Our team shares their professional and personal ups and downs so we can support each other no matter the situation.
B] Keep innovation and fresh ideas advancing? Leadership talks to employees and understands what they are doing and attempting to accomplish. Employees bring suggestions and solutions and have their hands on finding innovative ways to do things and exploring fresh ideas.
C] Keep communications open? Leadership performs expectations workshops with staff members to ensure all staff understands what is expected of them and what they can expect of others. This opens the lines of communication and provides additional opportunities to discuss everything
Explain a specific "wow!" moment in this company's history that is virtually "Hall of Fame" or "Best Practices" worthy, as an example to other companies in the region.
WOW moment – Our team comes together and serves our community each day. When bad weather or storm events occur, our team comes together like no other. During the straight-line wind (possible tornado) weather event occurred a few years ago, we began calling employees in to assist with clearing trees, opening roads, etc. ALL our employees woke up in the middle of the night and reported for duty. We didn't even have to call all of them, they reported anyways, knowing a storm had occurred. They worked all night and through most of the next day to ensure residents could safely exit their homes and utilize the road system to get needed supplies.
Best Places to Work have a reputation for not only working hard, but also for playing hard. 
A] How does the nominated company honor or reward success? Honor or reward successes – We take every opportunity to recognize success within our organization. From recognition at Board meetings to highlights in our monthly newsletter, we recognize our employees' accomplishments and hard work.
B] How does the nominated company socialize as a team? Socialize as a team – We take opportunities for training to do so as a group as much as possible. Getting everyone together, learning from each other and knowing each other personally helps our family atmosphere. Not only do these events allow for increased knowledge of tasks, but they also help our relationships grow and flourish.
C] How does the nominated company get involved in community events? Involved in community events – Our team participates in community parades and "touch a truck" events throughout the County. We also provide opportunities to go to schools or visit schools to educate on what we do, career opportunities, and safety. Our team especially enjoys visiting the Van Buren Intermediate School District to work with the special needs children.
D] How does the nominated company celebrate life? Celebrate life – We celebrate life by sharing important and special times in our newsletters and via the application we use that sends information to all our phones. We also recognize events with posters and fliers posted in all our facilities.
What one thing is special about your nominated company that most people in the community have no idea actually happens there, but should be shouted from the rooftops because it's that cool?
They may or may not know, when the weather is it's worst is mostly a time you will see the VBCRC at work.
Give us three employee perks or benefits that you think make the company you have nominated worthy of a Best Places to Work trophy?
1. Very good pay
2. Good retirement plan
3. Benefits to help encourage employees to live a health lifestyle.
Anything else you'd like to mention about this company, its' leadership, etc?
Leadership leads by example