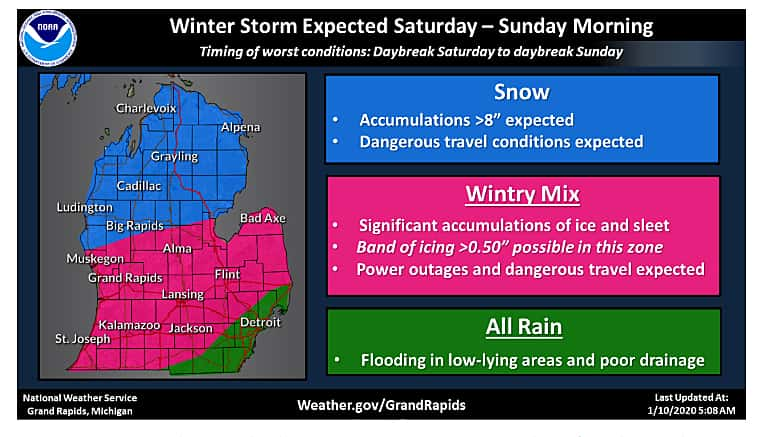 If your weekend travel plans take you anywhere north and east of Michigan's Great Southwest plan for the potential for major hassles, extremely icy roads, and further north some significant snowfall ahead.
The National Weather Service at Grand Rapids issued a Winter Storm Warning for Van Buren, Kalamazoo and Calhoun Counties beginning early tomorrow.
Meteorologists say that a major winter storm is expected to start tonight and last through daybreak on Sunday. Significant accumulations of snow, sleet, ice, and rain are expected with power outages and dangerous travel conditions. Flooding is also possible, mainly across far southern Michigan.
The Winter Storm Warning will be in effect from 7am tomorrow morning, Saturday, January 11th through 10am Eastern Time on Sunday, January 12th.  A heavy mixed precipitation pattern is expected as part of the storm.
Total sleet accumulations of up to one inch and ice accumulations of one quarter to one half of an inch are expected throughout the warning zone of Van Buren, Kalamazoo and Calhoun Counties and on into Jackson County as well.
Northeast winds may gust as high as 40 mph. Weather Service officials says that power outages and tree damage are likely due to the ice.
Travel will be difficult due to icing on roadways. The greatest icing is expected across the entire warning zone.
Further north along the Lake Michigan shoreline, the system turns to all snow with eight inches or more of accumulations possible all the way to Mackinac.
Stay tuned.