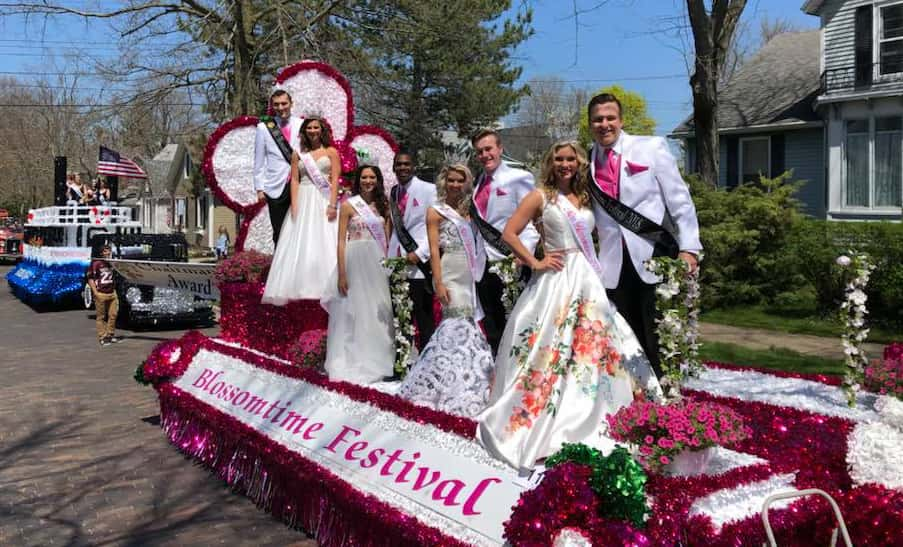 With spring flowers blooming across the landscape of Michigan's Great Southwest on this Easter weekend, we're reminded that festival season is drawing closer by the day, including the mother of them all, the Blossomtime Festival…first established in 1906, and the oldest and largest multi-community Festival in the state of Michigan.  A huge week of activity gets underway with the Blessing of the Blossoms, next Sunday, April 28th, at 2:00pm, at the Southwest Michigan Research & Extension Center on Hillandale Road in Benton Harbor.
Organizers of the Blossomtime Festival have asked us to share news for the whole family that they'll be holding their annual Youth Parade designed for youngsters from preschool through middle school age on Thursday, May 2nd, 2019 at 5:00 pm at Dickinson Stadium alongside St. Joseph High School. The theme this year is "America, the Places You'll Go." Kids are encouraged to join as spectators, too, as members of the 2019 Blossomtime Royalty will be on hand for autographs and photo ops as well.
Registration will get underway at 4:00 pm in the St. Joseph High School parking lot. Awards will be given, with identification, to the person whose name is on the entry form.
Entrants will be judged in the following categories:
Floats
Bands
Shoe Box Floats
Scout Troops
4H Units
Pom Pon/Cheerleading/Drill Teams
Pets
Costumed Individuals
Costumed Groups
Decorated wagons and bikes
Organizers also remind everyone that no motorized vehicles or adults are allowed in the Youth Parade.
The winning Division "A" Float and the winning band will earn the opportunity to appear in the Grand Floral Parade two days later on Saturday, May 4th, 2019.
You are encouraged to visit the Blossomtime website www.blossomtimefestival.org to get an application and then return it to the Blossomtime Office or e-mail at office@blossomtimefestival.org. Applications are also available at the office located at 2330 S. Cleveland Avenue in St. Joseph. Any questions please call 269-982-8016 or email Blossomtime at office@blossomtimefestival.org.
The Blossomtime Youth Parade is sponsored annually by Starks Family Funeral Home with awards provided by Twin City Awards & Trophies.