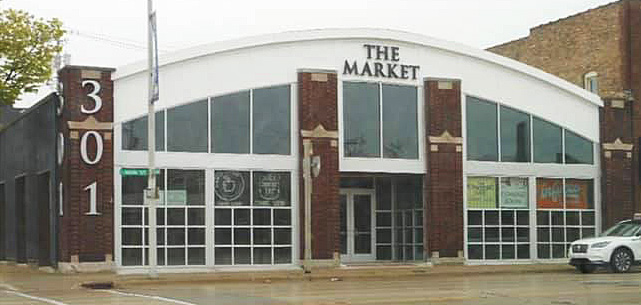 While there is still no firm date on the books for the project, as opening day draws closer for the striking new enterprise called The Market at 301 Main Street in downtown St. Joseph, one controversy has been reversed tonight by the St. Joseph City Commission.
The Market owners Rick Molitor and Deb Sailor ran afoul of the St. Joseph Planning Commission after installing large illuminated street numbers, created by Robert Piner from The Sign Division, facing both Main Street and Pleasant Street that the planners debated at length on May 6th and ultimately voted to deny a requested sign modification to decrease the minimum ground clearance required by city ordinance.
The market operators argued that the street numbers "301," on the northwest corner of the building needed to be affixed in the manner in which they were, due to architectural details that would make them look out of place if raised to the prescribed level.
The city's Community Development Director, Kristen Gundersen, told Commissioners that address numbers are exempt from requiring a permit, but are subject to other requirements of the sign ordinance, and added, "Due to confusion with ordinance provisions, the signs were erected but do not comply with the minimum clearance requirements."
The signage does, however, meet ADA requirements, and after the owners appealed to the City Commission to overturn the Planning Commission denial. The City Commission discussed the issue, and heard from Sailor as well as St. Joseph Today Executive Director Amy Zapal who cited the owners "massive investment in our community," and calling it "an important project for the city," asking that the issue be resolved as quickly as possible to expedite the ongoing work to finish the new enterprise.
Mayor Garey called The Market, "A cool building site and will be a really fun place for the people of the community." He says that while there are things that the city can and cannot do based on their own ordinances, there are also provisions for flexibility in cases where unusual physical conditions allow for adaptations.
As the debate concluded, the city voted unanimously to approve overturning the Planning Commission denial and granted approval to the appeal for a variance.
I reached out to Sailor, who was deeply concerned about the tone of the earlier denial, for her reaction to the city's turnaround, and she responded by text to me saying, "We are grateful to the Commission and the community for their support. We're close to the finish line and are working on the last (100+) details."
Stay tuned for her Cheese Lady shop, the new Community Tap St. Joe, Infusco Coffee and other new arrivals coming soon to downtown St. Joe.