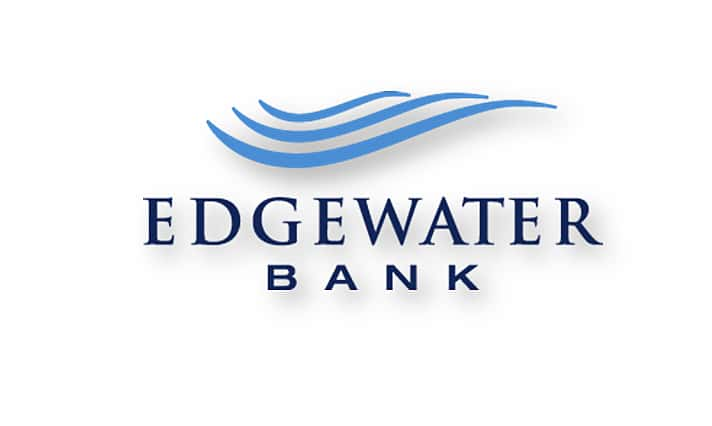 You have to love a team that leads its bid with the flat out fact that they have "been around to see two World Wars, Royalty changes (Queen Elizabeth hasn't always been the Queen), Constitutional Amendments, The Great Depression, and 21 Presidents!" You know you're in for a treat. But, when that team already has gubernatorial recognition in the form of a statewide Fitness Award for healthy workplaces in their size category, the nomination turns into a page turner. Read on to learn about the Super Powers of "Foresight, Healing & Regeneration," from the dynamic team at Edgewater Bank in St. Joe that delivers a truly compelling, multi-faceted story of why their branding as The Real Local Bank is hitting home every day in the marketplace all under the guidance of a CEO who lives and breathes the mission and vision side by side with his team. They were a slam dunk as a member of the 20 Best Places to Work for 2020.
What is the name of the business you are nominating?
Edgewater Bank
Who are the owner(s) and/or principals in this company?
20-percent of Edgewater Bank is owned by the Board of Directors and Senior Officers. Due to our Employee Stock Ownership Plan our employees own about 8-percent of the bank and then because we are a publicly traded company a whole lot of local individuals own most of the remaining stock. Edgewater Bank is truly owned by the community.
Business Contact Information
Maria Kibler
321 Main St.
Saint Joseph, MI 49085
How many people work at the company you are nominating?
45
Tell us the story behind the nominated company. What does it do, and what sets them apart from other companies in the region?
Edgewater has been a proud member of Michigan's Great Southwest since 1910. We have been around to see two World Wars, Royalty changes (Queen Elizabeth hasn't always been the Queen), Constitutional Amendments, The Great Depression, and 21 Presidents! We have faced ups and downs, changes, challenges, new technologies, new market competitors, new faces, and new management. This has made us strong, dedicated, and determined to be an important partner in helping our community grow and prosper, just as we have over the last 110 years!  We are a local bank. Decisions are made here. Deposits stay here and are reinvested here. We listen and respond to local needs. Sometimes we do this aggressively, sometimes conservatively, but always with an understanding of how to help our customers.
In your own words, why do you think this company deserves to be declared to be one of the 20 Best Places to Work in Michigan's Great Southwest?
We have all worked diligently to make this organization what it is today. Every person who works here has a stake in the outcome. Today we are a company who cares not only about profits but about people. The people who work here and the people of our community. We are the people of Michigan's Great Southwest and believe in leaving our community better than we found it.
What makes workers proud to say they work there, and keeps them a part of the team?
We are proud to be part of a local bank. We are proud to say it is our life and way of doing business. We are proud to get to know our customers and help them find solutions to their financial needs. Maybe even help to make their dreams a reality! We build relationships in the community and are proud to call each other by name when we meet on the street or visit a business. It is about supporting one another. We get to be a part of this every day and go home feeling accomplished and proud.
Let's pretend you're writing a review for Yelp! or Trip Advisor. Give us your best recommendation for the nominated company that would make the rest of us wish we worked there, too.
What a great place, I give it 5 stars! Edgewater Bank provides the most exceptional client service. Not only was I treated with honesty and professionalism at every level, I was made to feel valued and like I was part of a family. It is nice to walk in and have everyone know your name. Great local bank!
What three key words best describe why this company is a Best Places to Work caliber company?
1. Authentic…2. Engaged…3. Resilient
As a Best Places to Work company "Super Hero," what are the two most magical "Super Powers" this company has on a day-to-day basis? (i.e., Ability to read minds, fly, invisibility, etc) And why?
Super Power One Foresight: Like the wise Jedi master Yoda, we can peer into the future and anticipate the needs of our customers before they even ask! We see opportunity, trends, potential in people, moving past obstacles, and going where no bank has gone before! We are all excited to see where our foresight leads us.
Super Power Two Healing and Regeneration: Tony Stark (Ironman) implanted the arc reactor into his chest so that he could live. Like Stark, we have a fantastic wellness program which continues to heal and regenerate us. We are healthier than ever! We have seen employees and their families get fit both physically and mentally. Some no longer need to take medication. We were given the tools and support to lead us to a healthy lifestyle. Our healing powers have even inspired other wellness programs to spring up throughout the community!
Tell us about the leadership of the nominated company and what they do to:
A] Keep spirits and motivation high? They participate! They are part of the team and in the arena right next to us every day. If they ask something challenging of us, we know they will be right next to us in the trenches. It is not every day you see the President/CEO climbing a ladder to change the lightbulbs in the lobby, but for us, it is normal, and we are grateful it is.
B] Keep innovation and fresh ideas advancing? They don't claim to know it all! Instead, they delegate and allow the employees to get creative and use their skills. There is never a wrong or bad idea, just learning lessons for the future. They teach us to trust our gut and question the status quo. They genuinely want us to succeed. Knowing that opens so many doors for us as employees.
C] Keep communications open? They build trust! They build it every day by knowing each employee by name, and probably the name of their spouse, roommate, and pets as well. They know who we are and don't hesitate to show us our value. Because of this, they remain approachable and available to us. Most companies say they have an open-door policy, but our leaders live it and practice it daily. How many banks do you know in Southwest Michigan where you can walk in and ask to speak with the CEO?
Explain a specific "wow!" moment in this company's history that is virtually "Hall of Fame" or "Best Practices" worthy, as an example to other companies in the region.
Winning the Governor's Fitness Award for healthy workplace for small-medium businesses under 150 employees for the entire state of Michigan! The award is from the Michigan Fitness Foundation and the Governor's Council on Physical Fitness, Health, and Sports. We worked hard as a team to become healthier, not just physically but mentally as well. It was such an honor to be recognized by the Governor's Council. The true reward, though, is getting to see the difference it makes every day in our teams' lives. This year, the program has a focus on gratitude. When our team succeeds in a personal way, we become stronger and succeed at working together as an organization.
Best Places to Work have a reputation for not only working hard, but also for playing hard. How does the nominated company:
A] Honor or reward success? They promote from within, they praise in public, and they provide the employees with a yearly bonus dependent upon the overall success of the bank as a team. We also have weekly Friday emails filled with both the personal and professional successes of our employees.
B] Socialize as a team? We have several all-employee meetings and celebrations throughout the year. Every year we also run a marathon or relay as a team including spouses. In 2019 we ran the Grand Rapids Marathon with over 20 employees and spouses/friends participating. The bank covered all costs for employees and their plus-one to participate. In 2020 we have two planned events, the Sunburst Marathon and the Edgewater Bank sponsored 11K & Change at the trails at Harbor Shores.
C] Get involved in community events? We volunteer when and where we can. We have many employees who are involved in Rotary, Boys and Girls Club, Junior Achievement, and local school boards. Edgewater also donates and sponsors many local organizations such as Bridgman Public Schools, St. Joseph Public Schools, Lakeland Health Foundation, St. Joseph Today, Coloma Glad Peach Festival and St. Patrick's Day Parade, Lakeshore Excellence Foundation and many more. We've also sponsored the improvement of the walking trails at Harbor Shores and inspired and will sponsor the 11K & Change fitness relay taking place this Fall.
D] Celebrate life? We celebrate life daily by writing in our gratitude journals (you'll see most people walking around with them), participating in our wellness program, taking that extra birthday PTO, enjoying our company picnic, and hosting frequent potlucks. Every day is a celebration! There is never a shortage of laughter, and the sound of relationship building echoing through the halls. Everyone belongs and fits in. Our individuality shines and we celebrate that every day!
Write a brief, but compelling, recruitment ad telling people about why they should come and work there, too.
Edgewater Bank is a great place to work and invest in your own personal growth. They are a financially strong bank and a true partner in the community. They have competitive wages, good benefits, and they take a real interest in the health and well-being of their employees. This will be a place for you to learn, grow, participate, be a part of a family, and get healthier along the way!
What one thing is special about your nominated company that most people in the community have no idea actually happens there, but should be shouted from the rooftops because it's that cool?
Our donation jean Fridays. The 1st and 3rd Fridays of the month every employee contributes to the donation fund to wear jeans. Then two local charities chosen by the employees receive the donations from the respective Fridays. We do this every month. Most of the time we will have someone anonymously match the donations to double what will be donated.
Give us three employee perks or benefits that you think make the company you have nominated worthy of a Best Places to Work trophy?
1. Wellness incentive program.
2. Employee stock ownership plan.
3. Eeducational assistance.
If this is your company and you win, write the best headline ever for your company newsletter describing your successful selection to the list, and be as specific as you can about how you would celebrate the win if money were no object.
Bank President seen running through downtown St. Joe wearing tights and a superhero cape!   Edgewater Bank is named one of the 20 Best Places to Work in Michigan's Great Southwest!    We will celebrate this honor by hosting a celebration for both employees and customers. A wide array of local food and drink will be featured and there just may be a parade to follow.
Tell us anything else you want about this company that you suddenly realize we haven't asked you about, but you're sure will be the thing that puts you squarely into the winner's circle! (Wait a minute! Can you put a square in a circle?)
Several employees commute over an hour every day to be here and some even get to work from home. We believe that says a great deal about our organization. People come here because they want to and are proud to work here. We have a great Employee Engagement Committee who keep things fun by hosting theme days, organizing the best company picnics, and helping to inspire us every day. We live our values at Edgewater, not just talk about them. We strive to provide exceptional client service, personal character and integrity, a sense of urgency, community service, and professional growth. It is who we are as a team. In February, at our first employee meeting of the year, we celebrated an employee who has worked here for 29 years. When asked what kept her here all that time, she tearfully responded "all of you." She was referring to the 44 people sitting in the room. We feel like more than just a business, we feel like a team and a family. For all these reasons, we believe that Edgewater Bank is the best place to work in Michigan's Great Southwest!