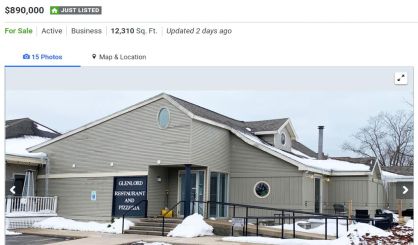 There is a new owner for the former Santaniello's Restaurant property on Glenlord Road in Lincoln Township.  A South Bend entrepreneur with several dozen properties in the region has purchased the real estate, on the market since Santaniello's closed in February.  And we are told the buyer plans to open a new restaurant and bar there.  No timetable was immediately known.
Bhola Singh of Granger, Indiana owns about 35 MEGA Liquor and Smoke retail stores around Northern Indiana and Southwest Michigan, including one in Scottdale and several in Bridgman, Dowagiac and Niles.   Singh's stores range in size from a superstore on Grape Road to small convenience-store size establishments.   A call to Singh regarding his plans at the Santaniello site was not immediately returned.
Realtor Anne Gain of @Properties in St. Joseph confirmed the deal was closed this week and said that she understands Singh plans to open a bar and restaurant.   Another source speculated to MoodyOnTheMarket.com that the property is large enough and laid out in such a way that both a bar-restaurant and a liquor store could be accommodated.  However, that possibility has not been confirmed.  There is a large former banquet hall area, with a separate entrance from the bar and restaurant, that forms the basis for the speculation about multiple uses.
The 10,000 square foot Santaniello facility, plus an included residential duplex, was listed for sale by a Kalamazoo realtor early this year for $890,000.   There were no takers.   In the Spring, the ownership of the property transferred to the bank holding the loan, United Federal Credit Union, and realtor Gain took over the listing.  The price at that time was listed at $790,000.  Another source in the real estate field told us this week that the selling price was "considerably less", but would not divulge—or speculate—on the exact figure.
Santaniello's Glenlord Restaurant was a heritage name in the area's restaurant community for more than 50 years until last Fall when co-owner Ralf Santaniello was charged with several counts of criminal sexual conduct, allegedly involving employees.  Santaniello stands charged and faces trial.  He has not been convicted of any crime.  The restaurant, however, quickly faded and closed in February of this year.