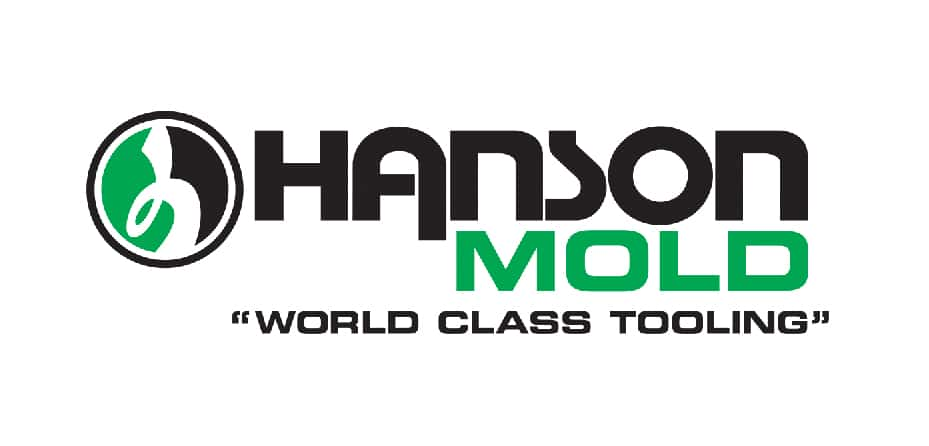 "Hanson Mold Takes the Gold: The Excitement Can't Quite Be Controlled." That's the headline that should be appearing any day now in the corporate newsletter at Hanson Mold in St. Joseph. The company has worked hard to find its way onto the Top 20 Best Places to Work in Michigan's Great Southwest, and what started more than 50 years ago as a two-man shop is now approaching 100 teammates and a work-life culture that is second to none in the region. Opportunities, longevity and training are three key elements cited in the nomination form that came to Moody on the Market, and the selection committee found the amazing workplace benefits and family-like atmosphere irresistible when compiling the Top 20 list. Read on for more of the story of a company that has become a household name in the region thanks to its workforce, compassion, generosity and more.
What is the name of the business you are nominating?
Hanson Mold
Who are the owner(s) and/or principals in this company?
The Hanson Family
Business Contact Information
Hanson Mold
3500 Hollywood Rd
St Joseph, MI 49085
How many people work at the company you are nominating?
93
Tell us the story behind the nominated company. What does it do, and what sets them apart from other companies in the region?
To provide a brief history of our company we must go back to 1966. We began as Weldun Tool and Engineering with just two people. The company moved around several southwest Michigan towns before eventually finding a forever home in 1987. Merlin Hanson, founder and company chairman, called the new facility Hanson Mold.  The new facility on Hollywood Road in St. Joseph consists of a 10,000 square foot test building, a 42,000 square foot manufacturing building, and 7,500 square feet of office and engineering space. Hanson Mold specializes in the design, build, sample, and inspection of precision molds – primarily for the die cast industry. From small, multi-cavity dies to large, single-cavity tooling with complex slides, Hanson Mold ensures a World Class tool.
In your own words, why do you think this company deserves to be declared to be one of the 20 Best Places to Work in Michigan's Great Southwest?
Hanson Mold is a company that was built on extraordinary values. The longevity and dedication of the people is unlike any other. They are truly a company that values their people, customers, and the community. The Hanson family name is one that is recognized in the community for the generosity, and goodwill that their businesses bring to Michigan's Great Southwest.
What makes workers proud to say they work there, and keeps them a part of the team?
Hanson Mold teammates are proud to be a part of the organization for many reasons. Many would say working alongside one another is one of the best benefits that the company has. An atmosphere that encourages teamwork provides everyone with an ability to collaborate with intelligent coworkers to come up with innovative solutions, express thoughts, and share experience and knowledge with one another. Much of the company's success depends on all teammates working together. Hanson Mold provides modern equipment and engineering/design software to give teammates the ability to do what they love — create!  The passion of the leadership carries through every part of the company. Hanson Mold takes care of their people providing competitive wages, benefits, and a state of the art facility, keeping teammates a part of the team for years.
Let's pretend you're writing a review for Yelp! or Trip Advisor. Give us your best recommendation for the nominated company that would make the rest of us wish we worked there, too.
Imagine yourself in beautiful St. Joseph Michigan; you have just arrived at Hanson Mold. You drive in on a concrete parking lot, the landscaping is pristine, and it is obvious that the facility is well taken care of. You walk into the building and are greeted with a smile. You immediately recognize the family-like atmosphere. The equipment is the latest technology. You are given all the resources you need to perform the skilled trade that you love, tooling. Your surroundings are truly "world class."  Welcome to Hanson Mold.
What three key words best describe why this company is a Best Places to Work caliber company?
Opportunities…2. Longevity…3. Training
As a Best Places to Work company "Super Hero," what are the two most magical "Super Powers" this company has on a day-to-day basis? (i.e., Ability to read minds, fly, invisibility, etc) And why?
Super Power One Customer service- Providing excellent customer service and world class tooling.
Super Power Two Develop their people-Providing training and development to teammates, giving them opportunities and resources to grow within the company.
Tell us about the leadership of the nominated company and what they do to:
A] Keep spirits and motivation high? Quarterly communication meetings are a "pep" talk for teammates preparing everyone for the up and coming quarter and discussing wins and obstacles of the previous quarter.
B] Keep innovation and fresh ideas advancing? Offering an apprentice program and speaking to high schools and young people about getting involved in the trade.
C] Keep communications open? Provide a Great Place to Work survey to everyone employed at Hanson Mold.
Explain a specific "wow!" moment in this company's history that is virtually "Hall of Fame" or "Best Practices" worthy, as an example to other companies in the region.
In 2016 the Hanson Technology Center was opened on the campus of Lake Michigan College. Merlin Hanson, the founder of Hanson Mold, was instrumental in the development of the facility. The Hanson Technology Center is a state of the art facility that offers mechatronics, skilled trades, and welding programs. Hanson Mold apprentices get a quality education at the Hanson Technology Center, working with new technology, and in an environment that encourages innovation.
Best Places to Work have a reputation for not only working hard, but also for playing hard. How does the nominated company:
A] Honor or reward success? Service awards with gifts honor and reward service at Hanson Mold.
B] Socialize as a team? Company parties and family picnics give teammates and their families a chance to socialize with one another.
C] Get involved in community events? Hanson Mold sponsors community events such as the "Manufacturing and Schools Working Together Tour."
D] Celebrate life? Hanson Mold is proud to be a business that has been in Southwest Michigan for many years. In 2016, the company celebrated a 50 year anniversary. To celebrate a large party was hosted at Hanson Mold.
Write a brief, but compelling, recruitment ad telling people about why they should come and work there, too.
Hanson Mold is different from any company in Southwest Michigan, and even across the nation. The family-like atmosphere, passion of the leadership, generous benefits, and longevity of the teammates are only a few of the reasons that Hanson Mold is a great place to work. As a company, they celebrate events, promote continued education, and keep communication open.  Teammates are proud to say, "I work at Hanson Mold!"
What one thing is special about your nominated company that most people in the community have no idea actually happens there, but should be shouted from the rooftops because it's that cool?
In keeping with the company's family oriented culture there are annual family picnics. These picnics range from South Bend Cubs games, to a day at Hidden Pointe, races at Hartford Speedway, and even trips to the Potawatomi Zoo. Hanson Mold enjoys giving families the opportunity to enjoy socializing, and most importantly, having fun!
Give us three employee perks or benefits that you think make the company you have nominated worthy of a Best Places to Work trophy?
Medical, dental, and vision insurance…2. Company 401(k) contributions…3. Flexible paid time off- up to five weeks!
If this is your company and you win, write the best headline ever for your company newsletter describing your successful selection to the list, and be as specific as you can about how you would celebrate the win if money were no object.
"Hanson Mold Takes the Gold: The Excitement Can't Quite Be Controlled"
Hanson Mold was named one of the Moody on the Market's Best Places to Work.  An honor this great means we must celebrate. We will need more than cake, something even better than T-bone steak; it will need to be really great. I'll bet you can't wait, for a week's vacation to somewhere the weather is not negative 8!  That's right, a week off and a trip, to say thank you for all of the outstanding workmanship.
Tell us anything else you want about this company that you suddenly realize we haven't asked you about, but you're sure will be the thing that puts you squarely into the winner's circle! (Wait a minute! Can you put a square in a circle?)
The beautiful facility, technology, apprenticeship program, longevity of the teammates, training, benefits, celebrations, passion of the people, and reputation of the company make Hanson Mold a great place to work.  Even the President of the company himself started at Hanson Mold as a young apprentice. Through hard work, a "can do" attitude, and excellent leadership he was able to work his way up from an apprentice to eventually the company President. It shows everyone at Hanson Mold the opportunities that are possible and that dreams can be reached right here within our very own organization.