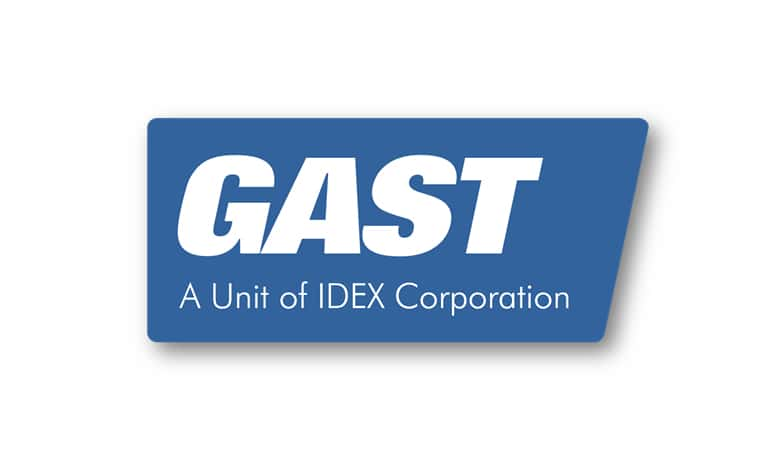 There's a company nearby that can see you and I are essentially rarely more than 25 feet away from a product that their manufacturing team has had a part in. Anything from the medical/dental field, to occupational, all the way to the space shuttle. That company is on M-139 in Benton Harbor and it is called Gast Manufacturing, a Unit of IDEX Corporation. Tremendous pride emanates from the Gast team on an every day basis and their rank among the Top 20 Best Places to Work in Michigan's Great Southwest can be linked many assets including the presumed super power of the ability to fly. Without further explanation from the nominator, one would guess it has something to do with their rapid response capabilities in servicing the needs of manufacturing clients the world over. Ready more of their great success story and the things that employees love the most as you continue on.
What is the name of the business you are nominating?
Gast Manufacturing
Who are the owner(s) and/or principals in this company?
Scott Kerns (President)
Business Contact Information
Scott Kerns
2300 M-139 Hwy.
Benton Harbor, MI 49022
How many people work at the company you are nominating?
300+
Tell us the story behind the nominated company. What does it do, and what sets them apart from other companies in the region?
Gast is the leading designer and manufacturer of precision air products, such as pumps and a wide range of other products, and a member of IDEX Corporation's Health & Science division. They are very committed to employees and the community. I have worked here for almost 15 years and have seen endless examples of selflessness to help the unfortunate in our community as well as internally here at Gast.
In your own words, why do you think this company deserves to be declared to be one of the 20 Best Places to Work in Michigan's Great Southwest?
As Gast grows its business it understands the importance of good quality employees. They are doing more and more for us employees all the way from safety standards to recognition.
What makes workers proud to say they work there, and keeps them a part of the team?
Knowing that if you come to work everyday and do a good job that Gast will have your back and support you in any way they can.
Let's pretend you're writing a review for Yelp! or Trip Advisor. Give us your best recommendation for the nominated company that would make the rest of us wish we worked there, too.
Great place to work. Great benefits. Overall good work environment.
What three key words best describe why this company is a Best Places to Work caliber company?
Teamwork…2. Support…3. Opportunity
As a Best Places to Work company "Super Hero," what are the two most magical "Super Powers" this company has on a day-to-day basis? (i.e., Ability to read minds, fly, invisibility, etc) And why?
Super Power One Ability to Fly
Super Power Two Transparency
Tell us about the leadership of the nominated company and what they do to:
A] Keep spirits and motivation high? Multiple Bonus programs, "Gast Swag" Company performance updates.
B] Keep innovation and fresh ideas advancing? Keeping fresh eyes by using multi-functional teams
C] Keep communications open? Open 2-way relationship and employee engagement
Explain a specific "wow!" moment in this company's history that is virtually "Hall of Fame" or "Best Practices" worthy, as an example to other companies in the region.
With the recent snow storm and cold temperatures, Gast shut down with the safety of its employees in mind. Not a lot of large corporations would put the employees first before production.
Best Places to Work have a reputation for not only working hard, but also for playing hard. How does the nominated company:
A] Honor or reward success? Many different avenues of recognition from peer-to-peer all the way to corporate recognition
B] Socialize as a team? Many team building events among the different groups/teams
C] Get involved in community events? Yes, we do many community events per year from raking leaves to construction projects at local shelters
D] Celebrate life? Gast does well at celebrating milestone anniversaries as well as new hires and retirements.
Write a brief, but compelling, recruitment ad telling people about why they should come and work there, too.
Come join the Gast Manufacturing team. Be part of something Great.
What one thing is special about your nominated company that most people in the community have no idea actually happens there, but should be shouted from the rooftops because it's that cool?
You are rarely more than 25 feet away from a product that Gast manufacturing has a part in. Anything from the medical/dental field, to occupational, all the way to the space shuttle.
Give us three employee perks or benefits that you think make the company you have nominated worthy of a Best Places to Work trophy?
Great growth opportunity…2. Great benefits…3. Great teamwork
If this is your company and you win, write the best headline ever for your company newsletter describing your successful selection to the list, and be as specific as you can about how you would celebrate the win if money were no object.
Gast Manufacturing rated one of the top 20 companies to work for. Thank you to everyone that nominated us for this prestigious award.
Tell us anything else you want about this company that you suddenly realize we haven't asked you about, but you're sure will be the thing that puts you squarely into the winner's circle! (Wait a minute! Can you put a square in a circle?)
(Respondent skipped this question)