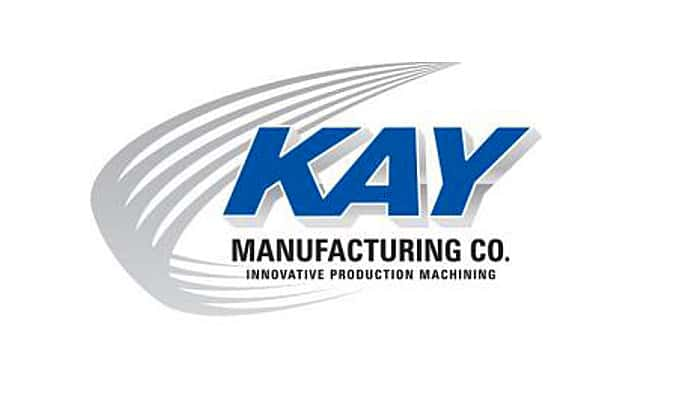 If tuition reimbursement, continuing education and profit sharing are high on your list of priorities in finding the best place to work, you will immediately recognize the attraction that Kay Manufacturing of St. Joseph Township has for the growing team of associates manufacturing critical parts for the automotive industry in Michigan's Great Southwest. Those are just on the surface for a family-owned company that treats everyone like a member of the family regardless of how long they've been serving the company. One employee says the company even appears to have the super power of being able to see the future as they provide overtime opportunities when they are seemingly most needed. From robotics mentoring to opening the doors wide to students engaged in Manufacturing Day every year, Kay Manufacturing has quickly earned a place of honor among the Top 20 Best Places to Work in our region. Read on for more on what they do with and for their teammates every day.
What is the name of the business you are nominating?
Kay Manufacturing
Who are the owner(s) and/or principals in this company?
Brian Pelke
Business Contact Information
Sarah Wilson
3491 South Lakeshore Drive
Saint Joseph, MI
49085
How many people work at the company you are nominating?
90
Tell us the story behind the nominated company. What does it do, and what sets them apart from other companies in the region?
Kay is family owned and the company has tuition reimbursement which encourages you to further your education while also advancing in the company later on in life. Kay has great benefits for you and your family with also paid time off
In your own words, why do you think this company deserves to be declared to be one of the 20 Best Places to Work in Michigan's Great Southwest?
They brought a lot of jobs to Michigan's Great Southwest and continues to expand with more job opportunities.
What makes workers proud to say they work there, and keeps them a part of the team?
The involvement the company has with its employees as well as with the company being a family company they understand better when it comes to family matters.
Let's pretend you're writing a review for Yelp! or Trip Advisor. Give us your best recommendation for the nominated company that would make the rest of us wish we worked there, too.
Great for furthering your education and getting promotions for better positions with great benefits.
What three key words best describe why this company is a Best Places to Work caliber company?
Teamwork…2. Family…3. Benefits
As a Best Places to Work company "Super Hero," what are the two most magical "Super Powers" this company has on a day-to-day basis? (i.e., Ability to read minds, fly, invisibility, etc) And why?
Super Power One Read minds because of the overtime you get when you need it.
Super Power Two Strength because cause they push you to better yourself.
Tell us about the leadership of the nominated company and what they do to:
A] Keep spirits and motivation high? Keeping us in the loop to know how everything is going.
B] Keep innovation and fresh ideas advancing? Encouraging everyone to go to school for continuing education.
C] Keep communications open? Having a suggestion box available to everyone.
Explain a specific "wow!" moment in this company's history that is virtually "Hall of Fame" or "Best Practices" worthy, as an example to other companies in the region.
When they make profits they share them with their employees.
Best Places to Work have a reputation for not only working hard, but also for playing hard. How does the nominated company:
A] Honor or reward success? Sharing profits and providing meals.
B] Socialize as a team? Golf outings.
C] Get involved in community events? Manufacturing day with the high-school kids and supporting robotics teams in the region.
D] Celebrate life? Posting on the employee bulletin board of peoples' successes in the company.
Write a brief, but compelling, recruitment ad telling people about why they should come and work there, too.
Teamwork, benefits, family, profit sharing.
What one thing is special about your nominated company that most people in the community have no idea actually happens there, but should be shouted from the rooftops because it's that cool?
Helping with schooling and ongoing education.
Give us three employee perks or benefits that you think make the company you have nominated worthy of a Best Places to Work trophy?
Vacation…2. Profit sharing…3. Overtime
If this is your company and you win, write the best headline ever for your company newsletter describing your successful selection to the list, and be as specific as you can about how you would celebrate the win if money were no object.
Kay is committed to excellence!
Tell us anything else you want about this company that you suddenly realize we haven't asked you about, but you're sure will be the thing that puts you squarely into the winner's circle! (Wait a minute! Can you put a square in a circle?)
They gave me a chance even though I was just out of high school and 18. I have been working here ever since while advancing my education and moving into new positions with the company.