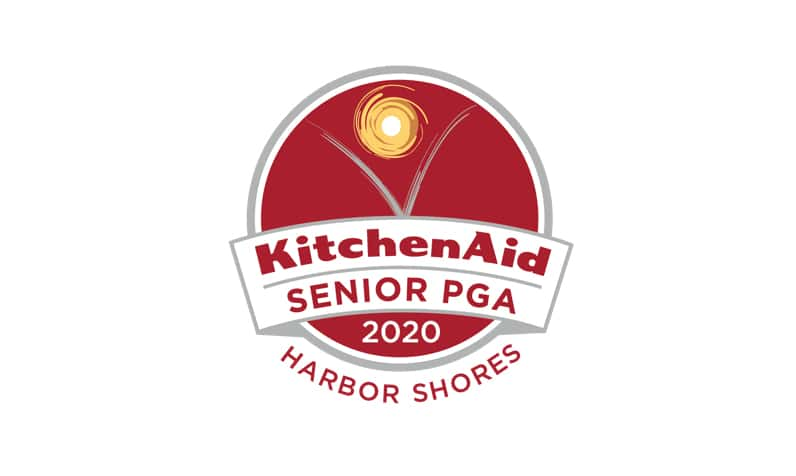 The super power to both transform in  order to adapt to the unexpected, side by side with the super power of invisibility because you seamlessly operate behind the scenes to pull off one of the most respected sports spectacles in the history of golf have converted the team at the KitchenAid Senior PGA Championship office in Benton Harbor into one of the Top 20 Best Places to Work in Michigan's Great Southwest. If, by the way, they are successful in achieving their fantasy reward for this honor of "chartering a private jet to Hawaii for a week's vacation with our families, where we hit the links for some golf, took in the sites, and relaxed with massages on the beach," then I will soon be putting my application in a their office alongside the clubhouse at Harbor Shores. Read the great narrative of the amazing nomination that the selection committee concurred was worthy of a Top 20 slot from Moody on the Market.
What is the name of the business you are nominating?
KitchenAid Senior PGA Championship
Who are the owner(s) and/or principals in this company?
PGA of America
Business Contact Information
Claire Fetters, Marketing & Promotions Specialist
393 Champions Way
Benton Harbor, MI 49022
How many people work at the company you are nominating?
5 year-round; +15 Championship Year
Tell us the story behind the nominated company. What does it do, and what sets them apart from other companies in the region?
The PGA of America's origin can be traced back to January 16, 1916, when a group of New York area golf professionals attended a luncheon hosted by department store owner Rodman Wanamaker at the Taplow Club in NYC.  The purpose was to discuss forming a national professional organization, which would promote interest in the game of golf and help elevate the vocation of the golf professional.  The Senior PGA Championship was born in 1937 on the grounds of another of golf's majors at the invitation of one of the greatest, Bobby Jones, Jr.  The inaugural Senior PGA Championship was played at Augusta National Golf Club three years later after the first Masters Tournament was held. The Senior PGA Championship was brought to Harbor Shores in 2012 and is the oldest major in senior golf, and it's pretty special that it has found a home in Southwest Michigan; it will be hosted bi-annually at Harbor Shores in Benton Harbor through 2024.
With four days of live television coverage to a worldwide audience of over 200 million homes in over 100 countries and territories, it brings unparalleled attention to this region. On top of that, it brings in tens of thousands of visitors to the area, thus boosting the local economy. The Championship is more than golf, however; it brings the community together as volunteers, as spectators, and as charitable giving back in a variety of ways.
What sets us apart is that this is the only professional golf event in SW Michigan. It's the only major Championship, and it's the only event of any kind with four days of live television coverage to such a large audience. Additionally, since 2012, the PGA has donated over three-quarters of a million dollars to local charities and non-profits. Most recently we donated $100,000 to the Benton Harbor Area School Athletic Department and $50,000 to start the Jack and Barbara Nicklaus KitchenAid Senior PGA Champions for Change Scholarship, which awards graduates of LMC with $25,000 to be used at any in-state four-year university. Our charitable contributions, coupled with the sheer magnitude of the Championship truly makes us unique in our community.
In your own words, why do you think this company deserves to be declared to be one of the 20 Best Places to Work in Michigan's Great Southwest?
The staff at the KitchenAid SrPGA works extremely hard to put on a world-class sporting event in our region. It's a full-time job for the core staff. We work year-round to make sure all the pieces are in place to be able to host this event every two years. However, we also have fun and make our interactions with community members enjoyable. The culture at the SrPGA office adopted the mantra of CPA – Contagious Positive Attitude – to ensure we have a long-lasting, positive impact in this area. To work in the sports industry, in a beautiful setting, with unique and flexible hours that allow us to witness golf history along the way…it simply must be one of the top 20 places to work in our region.
What makes workers proud to say they work there, and keeps them a part of the team?
First, the staff is a group of great individuals; a small, on-site team that works collaboratively together to run a major Championship. We believe that we "grow together, win together" and we'll gladly assist any team member with any task. Also, we recognize and appreciate the support from community leaders and local businesses that show they are proud to be the home of the KitchenAid Senior PGA Championship. The bottom line is we put on a golf event for a living. How cool is that?!?
Let's pretend you're writing a review for Yelp! or Trip Advisor. Give us your best recommendation for the nominated company that would make the rest of us wish we worked there, too.
"Just attended the KitchenAid Senior PGA Championship at Harbor Shores. What an amazing experience! It felt like I was at a sporting event in New York or Chicago. You could tell there was a lot of time and effort put into the planning and execution of such a large scale event. It made for an unforgettable experience. While there, we met a few of the staff members in passing…it was obvious they love what they do and enjoy working together. I can't wait to come back in a couple years to experience it bigger and better!"
What three key words best describe why this company is a Best Places to Work caliber company?
Impactful…2. Global…3. Unique
As a Best Places to Work company "Super Hero," what are the two most magical "Super Powers" this company has on a day-to-day basis? (i.e., Ability to read minds, fly, invisibility, etc) And why?
Super Power One Invisibility: We put in a lot of hard work leading up to the Championship, most of which is unseen by fans and spectators, but is tremendously impactful. We love to promote the region through our Community Showcase and through Makers Trail 19th Hole. And, we make a sizable donation to our host communities every Championship year here as part of our effort to continually play a part in the growth of Southwest Michigan, keeping it GREAT!
Super Power Two Transformers: Not only do we transform the Harbor Shores golf course into a spectator-friendly venue, but we must also be flexible and adapt to things at a moment's notice. For one, the weather is constantly changing leading up to and during Champ week, which is always challenging. Also, on-site we have an influx of hundreds of vendors, thousands of volunteers, and tens of thousands of spectators and guests. We know something unplanned is going to happen; it's typical for any event of this size; it's just a matter of when. We hope for the best and prepare for the unexpected. In our office, we have a saying…Embrace the surprise!
Tell us about the leadership of the nominated company and what they do to:
A] Keep spirits and motivation high? Always exhibits a contagious positive attitude around the office because our energy truly feeds off one another. Provides inspirational quotes at weekly staff meetings to encourage growth professionally and personally.
B] Keep innovation and fresh ideas advancing? Recognizes we are unique by returning to repeat site so often. Constantly thinks of how we can improve and enhance this Major Championship, wanting each event to be better than the previous one.
C] Keep communications open? Continuously communicates, running ideas by each other and having brainstorming sessions to make sure we are implementing the best initiatives and excelling as a team.
Explain a specific "wow!" moment in this company's history that is virtually "Hall of Fame" or "Best Practices" worthy, as an example to other companies in the region.
WOW:
The KitchenAid Senior PGA Championship has been hosted at Harbor Shores every other year since 2012.  In 2018, at last year's Championship, a couple from Illinois signed up to volunteer for the week.  During the summer of 2018, they had scheduled family events such as graduation and a wedding in Southwest Michigan.  In between each of these events, they decided to support the Championship by volunteering.  While at the Championship, they spent time in the Community Showcase area learning about the community with the help of Southwest Michigan Tourist Council.  The couple typically spends their winters in Florida enjoying the beach, and after their visit to our beautiful region, they decided to sell their house in Illinois and enjoy their summers and the beaches here in Michigan's Great Southwest.
Best Places to Work have a reputation for not only working hard, but also for playing hard. How does the nominated company:
A] Honor or reward success? "Spot" recognition
B] Socialize as a team? As a small team, we value socializing and having a little fun after a long day's work. Past activities include trips to an escape room, happy hours at different establishments, golf outings, team lunches, bowling, and volunteering together in the community.
C] Get involved in community events? On top of employees volunteering for organizations they are passionate about, the team has collectively helped with United Way's "Rake-a-Difference", Southwest Michigan Community Action Agency's "Stuff-a-Truck", and annually co-host a holiday food sharing program in Benton Harbor where we donate nearly 500 holiday meals in partnership with Whirlpool Corporation, the City of Benton Harbor, and the Southwest Michigan Community Action Agency.
D] Celebrate life? We always enjoy celebrations for and with each other, such as someone's birthday or another special occasion. We always wish our teammates the best on their special day – have a team lunch, an in-house happy hour, or a friendly card game. Another great example is everyone proudly displays smiley face buttons to support a team member's cancer journey.
Write a brief, but compelling, recruitment ad telling people about why they should come and work there, too.
Are you tired of the stereotypical corporate job – office building, small office or cubicle, mindlessly staring at a computer screen, cranking out one spreadsheet after another for upper management who may or may not know your name? Then maybe you need a change. Have you ever wanted to work in the sports industry? In a beautiful, natural setting? Need flexible hours to help with your work-life balance? If the answer to any of these is an emphatic, YES, you should consider joining our team. The Senior PGA offers competitive pay, excellent benefits, and the opportunity to work in a fun-filled, fast-paced environment. If you would like to learn more, call today.
What one thing is special about your nominated company that most people in the community have no idea actually happens there, but should be shouted from the rooftops because it's that cool?
The Senior PGA has donated over three-quarters of a million dollars to local organizations since 2012. With a primary staff of 5, it is remarkable what this event has been able to do.
Give us three employee perks or benefits that you think make the company you have nominated worthy of a Best Places to Work trophy?
Flexible Paid Time Off…2. Gym Membership…3. Generous holiday schedule including entire week off between Christmas & New Year
If this is your company and you win, write the best headline ever for your company newsletter describing your successful selection to the list, and be as specific as you can about how you would celebrate the win if money were no object.
KitchenAid Senior PGA GETS ANOTHER HOLE IN ONE!
We've been selected as one of 20 Best Places to Work in Southwest Michigan!  To celebrate, the team chartered a private jet to Hawaii for a week's vacation with our families, where we hit the links for some golf, took in the sites, and relaxed with massages on the beach. It was great!
Tell us anything else you want about this company that you suddenly realize we haven't asked you about, but you're sure will be the thing that puts you squarely into the winner's circle! (Wait a minute! Can you put a square in a circle?)
(Left unanswered)