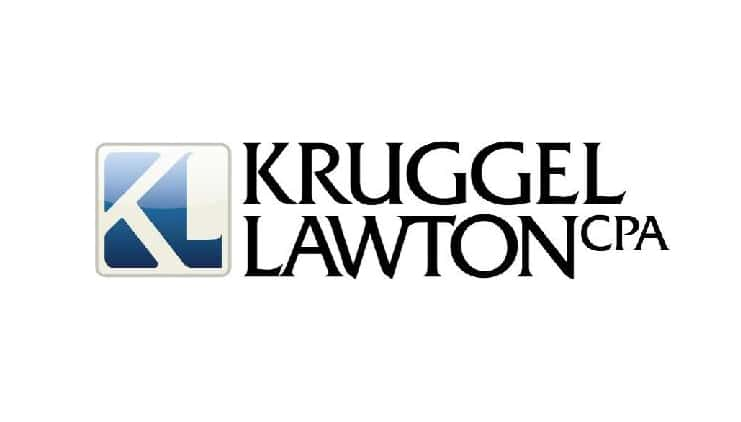 "Moody on the Market recognizes Kruggel Lawton among the 20 Best Places to Work in Michigan's Great Southwest." That's the proposed headline which can now become reality thanks to Kruggel Lawton's selection to the inaugural 20 Best Places to Work being announced today. The dynamic agency just yards from the beaches of Lake Michigan continues to capitalize on a truly family driven atmosphere that makes employees not only love what they do, but share that love with friends, family, colleagues, clients and one another. Respect, balance and family are keys to the long running success of the firm which has made a mark in Southwest Michigan in very short order after merging with the local firm of Schaffer & Layher and growing into colorful new headquarters in the Edgewater neighborhood of St. Joseph. For an excellent read on an accounting firm and beyond that truly gets what it takes to succeed, keep scrolling down for the rest of the story.
What is the name of the business you are nominating?
Kruggel Lawton CPAs
Who are the owner(s) and/or principals in this company?
The firm has 13 partners, three of whom are in the St. Joseph office:  David Schaffer, CPA; Michael Layher, CPA; and Alex Schaeffer,CPA
Business Contact Information
David Schaffer, CPA
526 Upton Drive
St. Joseph, MI 49085
How many people work at the company you are nominating?
18 people in St. Joseph; approx. 100 total in the firm
Tell us the story behind the nominated company. What does it do, and what sets them apart from other companies in the region?
From McMurray, Marks & Edmonds, to Schaffer & Layher; from Van Brunt Avenue to Upton Drive, Kruggel Lawton has a long history in Michigan's Great Southwest.
One important aspect of the firm that has remained constant over the years is a passion for client service. To some degree, Kruggel Lawton is a traditional CPA firm, providing tax, audit, accounting, virtual CFO, business valuation and other consulting services to clients in the region. What is exceptional about Kruggel Lawton is the team of talented people who enjoy serving each other and clients.
As a professional service firm, Kruggel Lawton is a reflection of the communities, organizations, and people of Michigan's Great Southwest. The people of Kruggel Lawton are actively involved in their churches, schools, and non-profit and civic organizations, reflecting the firm's belief in the importance of investing in its communities.
In your own words, why do you think this company deserves to be declared to be one of the 20 Best Places to Work in Michigan's Great Southwest?
By virtue of being the service industry, Kruggel Lawton understands that in order to be successful, it must ensure that its team members are respected, well taken care of, and given opportunities for meaningful, challenging, and fulfilling work. Putting people first is a cornerstone of the firm's business strategy.
What makes workers proud to say they work there, and keeps them a part of the team?
From internal surveys of its team members over the years, the word "family" comes up quite often. Providing accounting and tax services is a team sport, and Kruggel Lawton people form close relationships with each other and their clients.
There is a common misconception that accountants are quiet and low-key. People who work at Kruggel Lawton know that is not the case, and they delight in the varied, colorful, warm and often hilarious people in the office.  This is reinforced by the genuine care and support they give each other when life throws challenges in the way.
Most importantly, people at Kruggel Lawton feel like they make a difference. Their work matters a great deal to individual clients and their families; to non-profit organizations enriching the community; and to municipal entities and schools and the people they serve.
Let's pretend you're writing a review for Yelp! or Trip Advisor. Give us your best recommendation for the nominated company that would make the rest of us wish we worked there, too.
I've worked at Kruggel Lawton CPAs for six years, and I can say with certainty this is by far the best place I have ever worked!  Firm leadership truly cares, my colleagues are like family, and my opinions are heard. The firm's values of excellence, respect, integrity, innovation, and balance aren't just words on the wall – they are lived out every day. This is a special place to work.
What three key words best describe why this company is a Best Places to Work caliber company?
Respect…2. Balance…3. Family
As a Best Places to Work company "Super Hero," what are the two most magical "Super Powers" this company has on a day-to-day basis? (i.e., Ability to read minds, fly, invisibility, etc) And why?
Super Power One Laser Focus: at all times on the best interests of our clients and the public interest.
Super Power Two Relationship Building: We are as much in the relationship business as we are in the business of accounting and tax services.
Tell us about the leadership of the nominated company and what they do to:
A] Keep spirits and motivation high? Kruggel Lawton's partners are approachable, down-to-earth, and friendly. They create an environment where people enjoy working together and serving clients. Also, an open and contemporary office space encourages interaction and camaraderie.
B] Keep innovation and fresh ideas advancing? The partners of the firm utilize a "Frontier Team" – a group of people from throughout the firm – to recommend strategic initiatives and innovative strategies.
C] Keep communications open? The partners have an open-door approach, and employees are able to talk freely and openly with them. The firm also matches up team members with mentors and dedicated partners to provide coaching, professional development, and trusted relationships for everyone. An innovative, web-based HR software also allows for giving and receiving feedback in all directions within the firm.
Explain a specific "wow!" moment in this company's history that is virtually "Hall of Fame" or "Best Practices" worthy, as an example to other companies in the region.
The firm's partners are reluctant to talk about it, but they revealed their character and values during the 2009-2010 recession. The firm's business softened, and profitability was negatively impacted by the recession. While many other employers resorted to laying off employees and/or cutting their pay, Kruggel Lawton's partners did not release any employees or cut their salaries. Although the partners' personal income was affected, they chose to invest in relationships with employees to keep the team intact, serve clients, and be ready to grow when the economy improved.
Best Places to Work have a reputation for not only working hard, but also for playing hard. How does the nominated company:
A] Honor or reward success? Noteworthy accomplishments by Kruggel Lawton people are celebrated via social media, internal and external newsletters, the firm's website, and internal communiques and website. In addition, firm leadership shines a spotlight on employees' accomplishments at firm-wide and management meetings.
B] Socialize as a team? Kruggel Lawton celebrates with the entire firm – all employees and a spouse or guest – three times a year: at an annual Christmas party; on the evening of the major tax filing deadline (usually April 15); plus a late summer social outing for families, e.g., picnic or baseball game outing. During our peak time of year – tax season – we have meals in the office 1-2 times per week, and we usually have 2-3 informal social outings during tax seasons as well.
C] Get involved in community events? Kruggel Lawton's people donate a considerable amount of time – and the firm also is generous with monetary support – to numerous community organizations. Support of area nonprofit organizations, community festivals, schools, and youth sports is extremely important to the firm. Each year, the firm budgets a significant amount of money for sponsorships and charitable contributions. Team members donate time and expertise as well. All team members are encouraged and supported to volunteer for causes they care about, including serving on committees and boards.
D] Celebrate life? Family matters most to the people of Kruggel Lawton. While their professional work and service to clients is important, family matters more. Engagements, weddings, and new babies are a frequent cause for celebration, and it's not uncommon for a baby or wedding shower to be held in the office for an employee. Celebrating the life of deceased family members, for example parents of Kruggel Lawton employees, is also an important recognition of what matters most.
Write a brief, but compelling, recruitment ad telling people about why they should come and work there, too.
Kruggel Lawton offers a career with endless opportunities.  Along the way, team members receive ongoing training and mentoring, competitive compensation, year-round social activities and an enjoyable work environment.  The Accounting profession in general – and a career at Kruggel Lawton – can and should transcend "a job" – rather, it's a meaningful career with varied, enjoyable, challenging work; colleagues with whom you form close friendships; and the chance to make a positive difference in others' lives.
What one thing is special about your nominated company that most people in the community have no idea actually happens there, but should be shouted from the rooftops because it's that cool?
Although not something Kruggel Lawton does for all of its clients, one of the most significant things the firm does is to help family-owned companies successfully transition ownership to the next generation. For many family business owners, this is an enormous and momentous challenge and opportunity, one that involves legacy, family harmony, and financial ramifications. By serving as a trusted advisor to current and future owners; by taking a long-term approach to planning and structuring; and by working collaboratively with other professional client advisors, Kruggel Lawton CPAs is privileged to play an important role in the long-term success of family businesses in the region.
Give us three employee perks or benefits that you think make the company you have nominated worthy of a Best Places to Work trophy?
In St. Joe: a beautifully-renovated office temptingly close to Jean Klock Park and Harbor Shores…2. An opportunity to become an owner (Partner) in the firm…3. A desirable amount of schedule flexibility and time off, including closing offices the week between Christmas and New Year's, plus closing at noon on Fridays from Memorial Day to Labor Day
If this is your company and you win, write the best headline ever for your company newsletter describing your successful selection to the list, and be as specific as you can about how you would celebrate the win if money were no object.
Headline:  "Moody on the Market recognizes Kruggel Lawton among the 20 Best Places to Work in Michigan's Great Southwest"
If money were no constraint, I would celebrate the win with a beach picnic on the 4th of July for all of Kruggel Lawton's team members and their families; with an extensive catering spread by Grand Mere Inn; with beverages from Watermark Brewing Company; ideally on the 4th of July from a location where we could enjoy fireworks from the pier at St. Joe.
Tell us anything else you want about this company that you suddenly realize we haven't asked you about, but you're sure will be the thing that puts you squarely into the winner's circle! (Wait a minute! Can you put a square in a circle?)
One additional thing worth emphasizing is Kruggel Lawton's willingness to invest in its people and its business in Southwest Michigan for the long haul. Buying and renovating a beautiful "like new" office on Upton Drive is a tangible manifestation of this.  Electing Alex Schaeffer – 2017 Cornerstone Chamber Young Business Leader of the Year and a key member of Schaffer & Layher's team – to Partner in the firm in 2019 is another example. The firm is committed to creating growth opportunities for its employees and their families, plus clients and our communities for long-term sustainability.