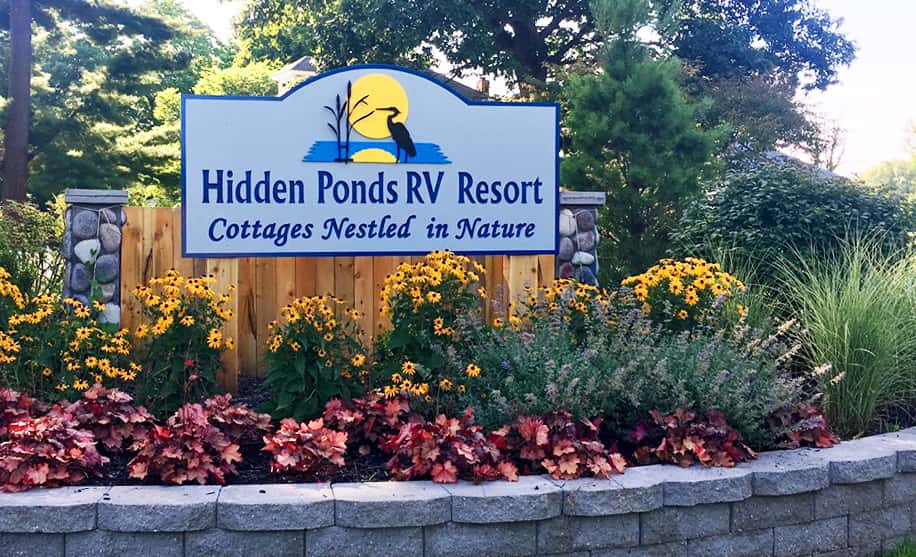 My wife has always used the comment, "My idea of camping is at a Holiday Inn with no cable TV," but I think even she would be significantly impressed with the new Hidden Ponds RV Resort in South Haven.
Granted, a really nice RV is not exactly some people's idea of "camping," but this new destination attraction under development for the better part of the year is already wowing customers and many are already making plans to hit the resort in 2020.
The good news is, if you want to try it out before 2020, they will be open through the end of the month, to October 31st.
Hidden Ponds is the newest resort campground in Michigan's Great Southwest, located less than two miles from downtown South Haven and its famed beaches. Nestled into 40 acres of natural scenery, the resort seamlessly blends modern amenities with Mother Nature. The resort is pet-friendly and offers at least 3,200 square feet of spacious campsites, including waterfront sites, standard oversized, super-oversized RV sites, as well as on-site cottages.
The campground offers several amenities, including a heated pool, a beautiful bathhouse, and 20/30/50 amp hook-up with city water and sewer on a cement slab.
While Hidden Ponds RV Resort is open through October 31st of this year, they are already taking reservations for the 2020 season, and will continue to do so all winter long. For those looking to lease a seasonal spot for next year, you can also get complimentary winter storage on their cement slab if your RV is winterized.
The goal of Hidden Ponds is to become the premier RV destination in Southwest Michigan. They also specialize in upscale Park Model Cottage Homes, and sites are available for sale or lease.
They promise that "this isn't your typical RV resort, inasmuch as deer, turkey, ducks, humming birds and other animals live throughout the property. You couldn't ask for a more relaxing atmosphere."
The Hidden Ponds website showcases these park amenities :
40 Acres of Property to Roam…
Dedicated Nature Conservancy Area…
100,0000 square feet of Wetlands, ponds…
Clubhouse (Coming in 2020!)…
Heated Swimming Pool with large patio…
Luxury Bath House with showers and restrooms…
All sites are oversized, and give you at least 3,200 feet of your very own space…
*Also ADA Accessible…
Dog Park—Pet friendly in all areas of the park…
Multiple Stocked Fishing Ponds and Dock…
Tennis Courts / Pickleball Courts…
WIFI available…
Abundant wildlife—deer, birds, fish…
Just 1.5 Miles from downtown South Haven and gorgeous Lake MI beaches…
Hidden Ponds notes, "Our amenities are constantly changing while we grow. If you don't see something you would like to have, don't hesitate to reach out. Please call : (269)-204-5500."
You can learn more online by visiting their website at the link below: