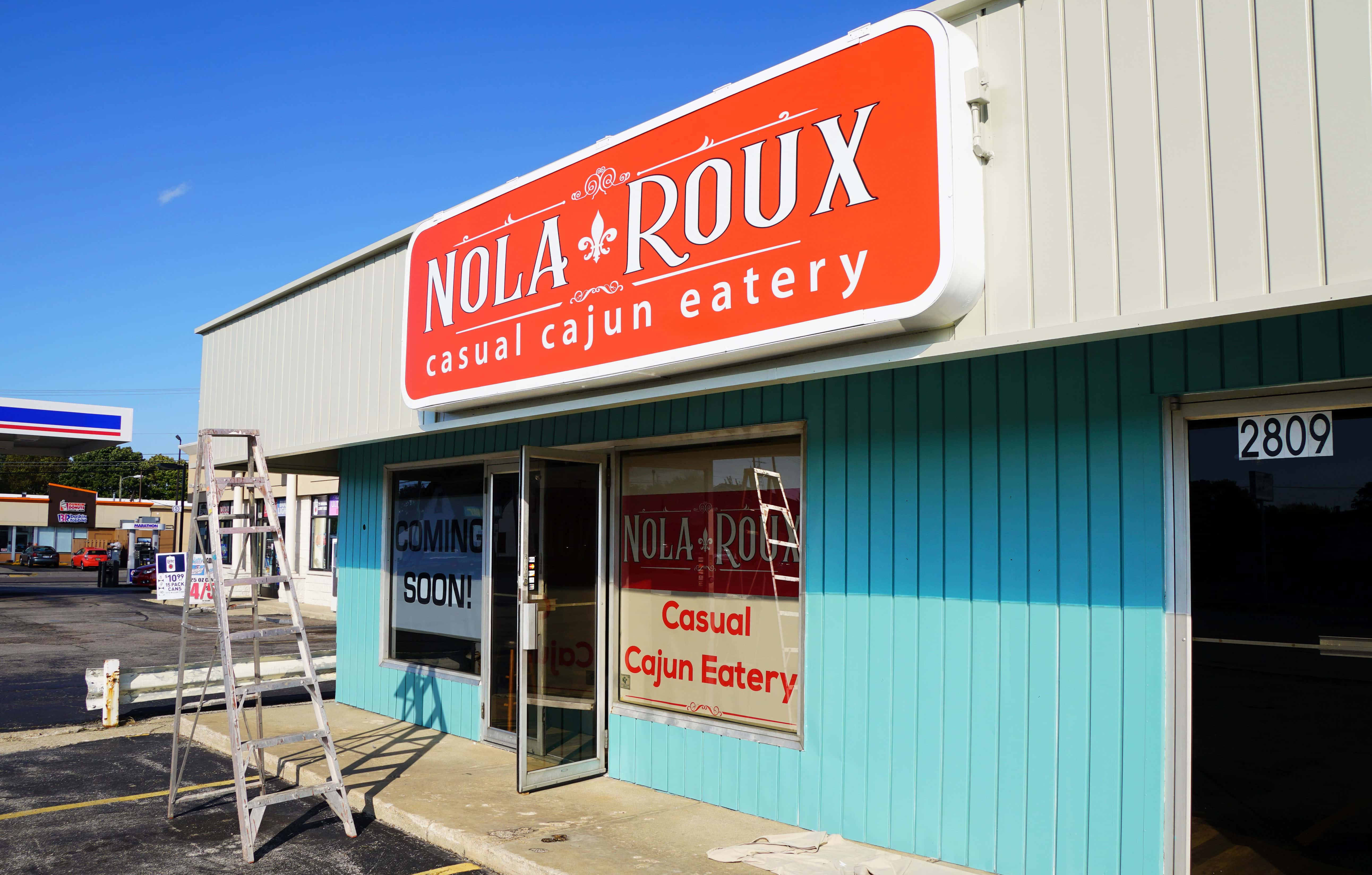 The man who was the original owner of the Arriba Taqueria at Hilltop & Cleveland in St. Joseph is in the process of bringing us a slice of Cajun country a few blocks away on Niles Avenue. Coming soon is the Nola Roux Casual Cajun Eatery next to the Tux Shop, where the sign is already in place, and while he was the first owner of Arriba Taqueria, he sold it several months after launch to the two women who operate it very successfully today, and his new venture will be a stand-alone business.
Pedro Villasenor is busy remodeling the space that has been home to several pizza places over the years ready to roll out his Cajun casual concept. He tells me that he's always been a personal fan of Cajun cuisine, and while spending about a decade traversing the Midwest and mid-South, he was always in search of good Cajun food on the road. He was a regional sales manager for a firm out of his native Chicago at the time, and the more he searched in vain, the more he realized the untapped potential for people just like him — always in search of some good Jambalaya and beyond.
He told me recently that he's targeting the end of the month to be up and running, but understanding the vagaries of interior renovations, inventory acquisition and general preparation, we shouldn't hold him to that.
He's been working to wrap up negotiations with a bonafide Cajun chef from Louisiana to take the reins in his kitchen at 2809 Niles Avenue across from McDonald's. Once up and running he plans a rotating menu of eight to ten Cajun dishes ranging from Gumbo and Etouffees to Jambalaya, Po Boy Sandwiches, Shrimp Po Boys, Andouille Sausages and more — largely standard Cajun fare with additional dishes that he will incorporate into the menu along the way. He does not have a liquor license, so no adult beverages will be served.
The retro-fit of the diner will produce seating for about 30 people, and take out options will be prevalent as well. Look for the new Nola Roux Casual Cajun Eatery to be open Monday through Saturday from 11am until 9pm offering lunch and dinner service.
Pedro says he is also working on plans for a catering truck later on in the summer of 2019, a food trailer for catered events and special occasions.
Having found very few options for Cajun food across the region, Villasenor says he figured that the potential would be strong, saying, "I figured it could work here in town, so I asked a lot of people including friends and family who all said they would welcome having Cajun food options in the area." So, he launched his search to find someone willing to make the trip north from bayou country to help me execute the concept." He admits that even in Chicago there are only a handful of places to get the traditional dishes that most people recognize and otherwise can't find themselves.
Noting that a lot of the Cajun recipes are very time consuming dishes to make "on order," Nola Roux will make the offerings more of a casual, quick serve option of hot and ready dishes so that people on the go for lunch or an easy dinner will be able to enjoy his offerings.
Stay tuned for more as the team at Nola Roux gears up for action, and get read to enjoy authentic Cajun cuisine in the heart of Southtown St. Joseph.