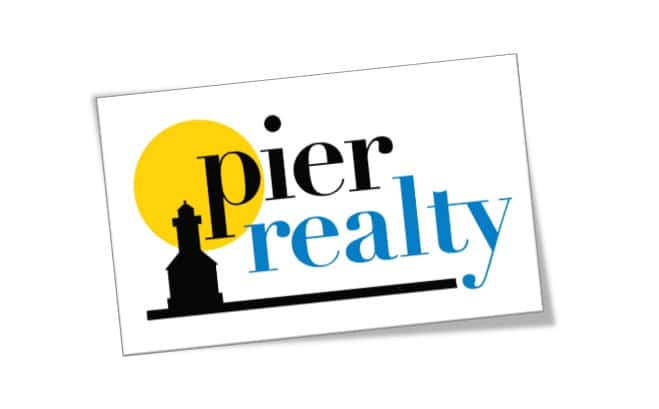 Some times its the little things in life that put you over the top. Like having control over your own time, or reliable office equipment. Even the simplicity of clean office space from which to work your magic. Those "benefits" have accrued along with "daily laughter," to make a first class experience for the 16 people who call Pier Realty on Main Street in St. Joseph their daily home away from. That's where "happiness abounds," according to the nominator who placed the St. Joseph real estate agency into the running for honors among the 20 Best Places to Work in Michigan's Great Southwest. Victory doesn't have to be complicated, and that's why the win for Pier Realty will be all the sweeter, and perhaps even moreso if the boss actually takes them to the National Convention in New Orleans as hoped for in the application. Read on for details about the team spirit of Pier Realty.
What is the name of the business you are nominating? 
Pier Realty
Who are the owner(s) and/or principals in this company?
Michelle Alger
Business Contact Information
Pier Realty
1100 Main Street
St. Joseph, MI 49085
How many people work at the company you are nominating?
16
Tell us the story behind the nominated company. What does it do, and what sets them apart from other companies in the region?
The majority of Realtors at Pier Realty have significant years of experience, hold nationally recognized designations, value our Code of Ethics, and share their depth of knowledge not only with their clients but with the team as a whole.
In your own words, why do you think this company deserves to be declared to be one of the 20 Best Places to Work in Michigan's Great Southwest?
Depth of knowledge, each team member shares a teacher's attitude, strong emphasis on Code of Ethics, a place where you will find hard work and laughter.
What makes workers proud to say they work there, and keeps them a part of the team?
We are proud to work with such a knowledgeable team that continues to pursue professional development on all levels.
Let's pretend you're writing a review for Yelp! or Trip Advisor. Give us your best recommendation for the nominated company that would make the rest of us wish we worked there, too.
We have mastered the complicated business of buying or selling properties. Where emotions are involved, we provide stability and can navigate the tying together of all the various affiliates that are part of closing the deal.
What three key words best describe why this company is a Best Places to Work caliber company?
1. Code of Ethics…2. Continuing education and professional development…3. Experience
As a Best Places to Work company "Super Hero," what are the two most magical "Super Powers" this company has on a day-to-day basis? (i.e., Ability to read minds, fly, invisibility, etc) And why?
Super Power One Drive the process from contract to closing.
Super Power Two Never stop learning.
Tell us about the leadership of the nominated company and what they do to:
A] Keep spirits and motivation high? Hold a depth of knowledge that is shared joyfully.
B] Keep innovation and fresh ideas advancing? Actively participates with our Associations' Committees.
C] Keep communications open? Use of office meetings to share what is learned at the Association, and in the field.
Explain a specific "wow!" moment in this company's history that is virtually "Hall of Fame" or "Best Practices" worthy, as an example to other companies in the region.
Cumulative years of experience!
Best Places to Work have a reputation for not only working hard, but also for playing hard. How does the nominated company:
A] Honor or reward success? Acknowledgments at monthly meetings.
B] Socialize as a team? Office environment.
C] Get involved in community events? Many non-profits have or have had a Pier Realtor on their boards.
D] Celebrate life? Daily laughter.
Write a brief, but compelling, recruitment ad telling people about why they should come and work there, too.
Experience the art of bringing win/win situations to all your real estate transactions. Join the team that values continuing education, that is ethically strong, and where happiness abounds.
What one thing is special about your nominated company that most people in the community have no idea actually happens there, but should be shouted from the rooftops because it's that cool?
Pier's experience with many affiliates and can help clients with recommendations over time as home ownership/commercial properties have their hiccups.
Give us three employee perks or benefits that you think make the company you have nominated worthy of a Best Places to Work trophy?
1. We control our time.
2. Reliable office equipment.
3. Low overhead yet very clean office space.
If this is your company and you win, write the best headline ever for your company newsletter describing your successful selection to the list, and be as specific as you can about how you would celebrate the win if money were no object.
Emphasis on Code of Ethic standards and continuing Professional Development rewards clients in a company they trust! Team treated to 2020 National Convention in New Orleans!
Tell us anything else you want about this company that you suddenly realize we haven't asked you about, but you're sure will be the thing that puts you squarely into the winner's circle! (Wait a minute! Can you put a square in a circle?)
Great logo!