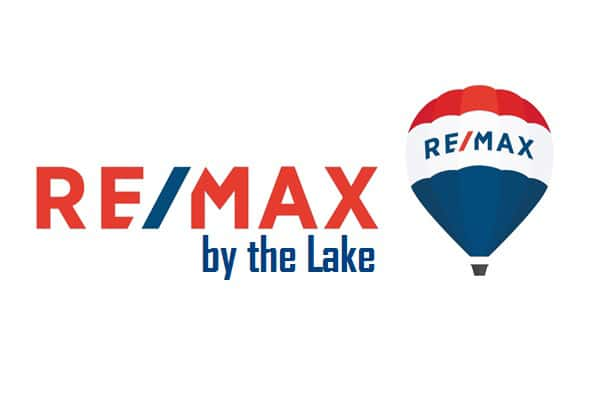 Does your business have an officially designated "Director of Sunshine" to coordinate the celebration, support and education of your staff? Does your office have a conference room dubbed "The Mullet" because while you're all business up front you're all party out back? If not, you might want to consider adding cool elements like that so your company can make the grade as one of the Top 20 Best Places to Work some day. Then you can plan a pizza party at Silver Beach Pizza the way that the crew at RE/MAX by the Lake will be doing thanks to their enrollment in the Top 20. Believe it or not, that's just the tip of the iceberg for the team led by Lars & Liz Petzke. Read the rest of the reasoning behind their selection by the committee as one of the inaugural Top 20 Best Places to Work in Michigan's Great Southwest by Moody on the Market.
What is the name of the business you are nominating?
RE/MAX by the Lake
Who are the owner(s) and/or principals in this company?
Lars and Liz Petzke, Broker/Owners
Business Contact Information
Lars Petzke
805 Van Brunt Ave
St. Joseph, MI 49085
How many people work at the company you are nominating?
5 permanent employees, 19 contract workers
Tell us the story behind the nominated company. What does it do, and what sets them apart from other companies in the region?
The short answer; we sell houses. The longer answer; we help people in the community find a home, move to town, find the best places to eat and play, support local charities, and we offer weekly education in our field for Realtors.
In your own words, why do you think this company deserves to be declared to be one of the 20 Best Places to Work in Michigan's Great Southwest?
Because we are awesome. Done. That's it. We really are.
What makes workers proud to say they work there, and keeps them a part of the team?
Our agents support each other. While they are independent Realtors, they work together. They are in business for themselves, but they help each other in a friendly, cheerful environment. When I asked our agents what was the best thing about our office, every single one of them mentioned how happy they are to come to the office because of the friendly and happy vibe that exists in our office.
Some other answers were that Liz and Lars are available to answer questions anytime, even at 10 pm on a Sunday night. The camaraderie as well as education opportunities were also talked about at length.
I know that my very favorite thing about my job is that I love being here.  I have not always loved every job I've had (who has?) but this job makes me so excited to get up every day! The people, the bosses, the spirit of helping others makes me feel like they are a second family.
Let's pretend you're writing a review for Yelp! or Trip Advisor. Give us your best recommendation for the nominated company that would make the rest of us wish we worked there, too.
My husband and I came down to St. Joe for the Krasl Art Fair on the Bluff. We ended up staying the week and it was such a beautiful town. We decided to move here and went with RE/MAX by the Lake. They were so helpful and friendly. They knew exactly what we wanted in a house before we knew ourselves. Our agent walked us through the whole process and made sure we understood each step as we bought our new house. The office staff members were friendly and knowledgeable. We would recommend RE/MAX by the Lake to anyone looking to buy or sell their house in Southwest Michigan.
What three key words best describe why this company is a Best Places to Work caliber company?
Motivating…2. Educational…3. FUN!
As a Best Places to Work company "Super Hero," what are the two most magical "Super Powers" this company has on a day-to-day basis? (i.e., Ability to read minds, fly, invisibility, etc) And why?
Super Power One Mind Reading — Able to choose the best house before the client even knows they want it.
Super Power Two Superhuman Endurance — Our agents never sleep and are always working to find the perfect home — I'm still not sure how they do it.
Tell us about the leadership of the nominated company and what they do to:
A] Keep spirits and motivation high? Monthly awards given at meetings, occasional Friday brewery meetings, daily celebrations of accomplishments.
B] Keep innovation and fresh ideas advancing? Weekly training meetings, daily huddles, and once monthly office meetings where everyone can participate.
C] Keep communications open? Open door policy for the bosses, they answer their cell phones at all hours and reach out to employees when they need a boost.
Explain a specific "wow!" moment in this company's history that is virtually "Hall of Fame" or "Best Practices" worthy, as an example to other companies in the region.
We started giving out Top Banana Awards this summer when one of our agents suggested we do something to celebrate great service and community service. So far, the award has been given to several people.
One of my favorite Banana award recipients was for our Transaction Coordinator, Ashley. One of our clients listed his house to be sold, and a week later, his wife passed away. He wanted to continue to sell his home, so we worked with him during this tough time. Ashley was able to surprise him after his home sold with a photo book of all the photos our professional photographer had taken so that he had a keepsake of the couple's home. He was completely floored, and calls occasionally to let Ashley know how he's doing and to catch up. She really made a difference to him and takes care of all of our clients.
Best Places to Work have a reputation for not only working hard, but also for playing hard. How does the nominated company:
A] Honor or reward success? Traveling trophies for sales accomplishments, Top Banana Award for community service in and out of the office, monetary bonuses.
B] Socialize as a team? Golf outings, backyard (at the office) BBQs in summer, brewery tours, Christmas in July.
C] Get involved in community events? We sponsor Roots and Brews, Winter Beer Fest, Alex's Duck, Duck Run, and fundraising for Children's Miracle Network at DeVos Children's Hospital in Grand Rapids.
D] Celebrate life? Celebrating accomplished goals (we set these at the beginning of the year), we celebrate each other in the little things that happen daily, we fill our office with love and 90s rock karaoke, office antics abound on a daily basis like the unicorn mask and Nicolas Cage memes.
Write a brief, but compelling, recruitment ad telling people about why they should come and work there, too.
We strive to be the hardest working, hardest playing, and most supportive real estate office in town.  At RE/MAX by the Lake, we offer weekly educational classes and training to continue your education as well as mentors and support staff to assist you as you begin your real estate career.
What one thing is special about your nominated company that most people in the community have no idea actually happens there, but should be shouted from the rooftops because it's that cool?
My job is the coolest thing here. My official job title is "Director of Sunshine" and it's my job to make sure that everyone at this office is supported, celebrated, and educated. Birthdays, anniversaries, milestones, and anything else happening with our agents is celebrated; with a high five, notes, cards, flowers, birthday balloons and cupcakes.
I work with Liz as part of a team to make sure we bring the best education to our agents in their field so that we have the brightest and best real estate agents in the market.
Give us three employee perks or benefits that you think make the company you have nominated worthy of a Best Places to Work trophy?
Attending conferences that double as mini-vacations paid for by the bosses…2. Holiday Beer Bus trip around the county…3. Flexible schedule and focus on family-allowing for time off to do things with kids at school, or stay home during snow days.
If this is your company and you win, write the best headline ever for your company newsletter describing your successful selection to the list, and be as specific as you can about how you would celebrate the win if money were no object.
You All ROCK! (But we knew that already)
RE/MAX by the Lake was chosen one of the Top 20 Best Places to Work by Pat Moody and Moody on the Market.
In honor of this amazing award, we will be taking Friday afternoon off to celebrate at Silver Beach Pizza. We will make a donation to Children's Miracle Network and REAL Help in your name.
Now, get back to work! See you all Friday!
Tell us anything else you want about this company that you suddenly realize we haven't asked you about, but you're sure will be the thing that puts you squarely into the winner's circle! (Wait a minute! Can you put a square in a circle?)
We are a growing company.  In the last 2 months, we have grown by 5 agents. We are in the process of hiring another administrator. We have doubled in size in 2 years.
Over the summer, we moved into a bigger building that includes a large conference area in the back. The conference room has been dubbed, "The Mullet" because we are all business up front, and party in the back.  I mean, how can you not think you work at the best place in Southwest Michigan when you have a room called "The Mullet"?