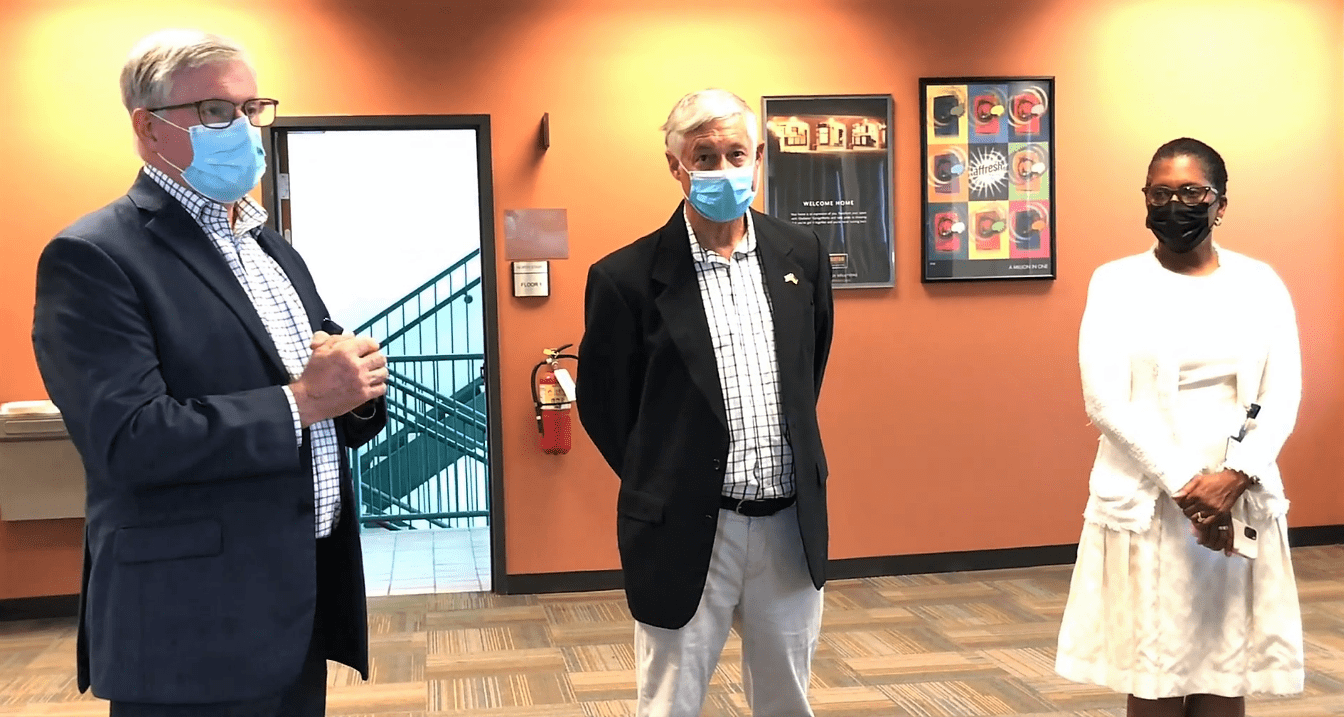 What started as a temporary health care relief center during the COVID-19 pandemic is turning into a permanent fixture of the Benton Harbor community.
After helping secure more than $500,000 in earmark funding for a major expansion of the Center For Better Health and Wellness in Benton Harbor, Congressman Fred Upton stopped by for an in-person and virtual tour of the new facility Monday.  The facility will occupy the former Whirlpool building at 145 W. Main Street.
The Center for Better Health was opened in October 2020 at 100 W. Main St. as a temporary health care center after a $1.2 million grant was awarded to Lakeland by the Michigan Coronavirus Task Force on Racial Disparities. A part of Spectrum Lakeland, the center offers a variety of services including health checkups, cardiology services, assistance with employment, legal navigation, mental health checkups and more.
"It's very exciting," Upton said. "It's nice to see the big guy on the block – Spectrum – is absolutely committed to Southwest Michigan. … and giving more opportunity for the quality of life."
Spectrum Lakeland Director of Population Health Nikki Britten said the earmark got the more than $5 million expansion "over the line" and will allow for the health center to expand services by giving them 20 times the footprint in the area.
"We know that social needs and the way people are living in our communities has such a huge impact on health," Britten said. "The new building will be a hub of activity for continuing to offer those services, but at a larger scale. … We're also going to be able to [provide] a lot more preventative activities to make it so there aren't so many people with those social needs in the future. We know that's how we can have the biggest impact on health."
Back in 2016, a Lakeland community needs assessment of residents showed an overwhelming disparity in life expectancy and death rates in Benton Harbor. One of the results of that assessment is the The Center for Better Health, which works to narrow racial health inequities by providing care and support close to where people live, according to Spectrum Health Vice President of Health Equity Lynn Todman.
"This center will be really, critical to building cohesion and connectedness within a community that's been fractured because of the pandemic and other social issues," said Todman. "Two years ago, Lakeland made this commitment to health equity. This is clear, demonstrable evidence that we're living up to that commitment."
Upton added the health center being so visible on Main Street will also be a beacon to residents who may need help, as everyone who travels through town will see it.
"It's going to click when people have an issue and see other people coming in and out," Upton said. "They're going to see activity here and it's going to save lives.
Loren Hamel, chief strategy officer of Spectrum Health and president of Spectrum Health Lakeland, said Spectrum is committed to closing that health disparity with this new facility, which is expected to be completed sometime in 2023.
"We know [and] you know that health is not equally distributed around our community," Hamel said. "Longevity is not equally distributed around our community. Some folks die decades too early, and some of these social things related to health are so important to health status and how somebody lives. So, even though those might not sound like they're central to healthcare, they are absolutely central to health."
Hamel added the expanded Center For Better Health also will serve as a model that Spectrum can scale across their entire health system.
"It's not only going to be a center for those kinds of services," he said. "But its going to be a center of our knowledge base and how to deliver those kinds of services to a community – with impact."
Watch as Upton explores the new facility via VR headset:
By Ryan Yuenger
MOTM Contributor