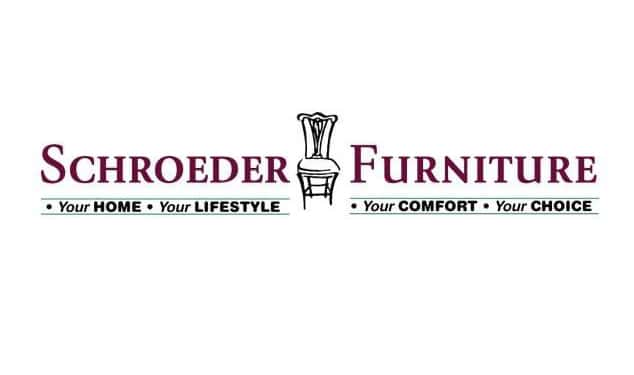 If the projected fantasy reward materializes as hoped for, the team at Schroeder Furniture will be headed to next month's Furniture Market in High Point North Carolina. The St. Joseph retailer routinely involves key staff members in such shows anyway, because they believe in every teammate being as knowledgeable as possible in order to deliver the top notch customer service the store is so well known for. As with so many other Best Places to Work nominees, Schroeder Furniture's day-to-day business is highly punctuated with a family atmosphere that keeps the team happy with the jobs they perform so well. The positive, upbeat, open door policy that welcomes the staff every day makes for a rewarding workplace and many great exchanges between one another as well as with the clients they work to represent every day. Read the rest of their great story as provided by a nominator who delights in calling Schroeder Furniture home.
What is the name of the business you are nominating?
Schroeder Furniture
Who are the owner(s) and/or principals in this company?
Scott and Dawn Schroeder
Business Contact Information
Schroeder Furniture
1855 Hilltop Rd, Saint Joseph
MI 49085
How many people work at the company you are nominating?
13
Tell us the story behind the nominated company. What does it do, and what sets them apart from other companies in the region?
We are a family-owned and operated store that sells quality furniture, home decor and home decorating services.We combine room planning with sales to complete a finished, polished look for our clients. We have the flexibility to get as involved in the clients projects as they choose.
In your own words, why do you think this company deserves to be declared to be one of the 20 Best Places to Work in Michigan's Great Southwest?
Our owners have been committed to serving our community in a variety of ways including donating products to needy causes as well as their time and resources. They have their employees best interest in mind and support our crew as family.
What makes workers proud to say they work there, and keeps them a part of the team?
The Schroeders have worked hard to build their business and they have a stellar reputation for customer care. They encourage every team member to grow and excel within the company.
Let's pretend you're writing a review for Yelp! or Trip Advisor. Give us your best recommendation for the nominated company that would make the rest of us wish we worked there, too.
The personal care that goes into every sale, from beginning to end is intended to ensure the customers' total satisfaction and approval.
What three key words best describe why this company is a Best Places to Work caliber company?
Customer satisfaction…2. Employee recognition…3. Family atmosphere
As a Best Places to Work company "Super Hero," what are the two most magical "Super Powers" this company has on a day-to-day basis? (i.e., Ability to read minds, fly, invisibility, etc) And why?
Super Power One Same day delivery if necessary
Super Power Two Unbeatable pricing
Tell us about the leadership of the nominated company and what they do to:
A] Keep spirits and motivation high? We have positive staff meetings and personal daily interaction with both Scott and Dawn who always encourage and support us.
B] Keep innovation and fresh ideas advancing? We are a fashion-driven industry so we are always changing and evolving. We attend the national furniture markets, we have meetings routinely with our supplier representatives and are continually staying on top of current trends and color.
C] Keep communications open? We have several avenues of communication available to us. Meetings, texting and annual reviews are a few. However, Scott has no door on his office and his intent has always been to have an open door policy with him!
Explain a specific "wow!" moment in this company's history that is virtually "Hall of Fame" or "Best Practices" worthy, as an example to other companies in the region.
A recent tragedy involving a co-worker brought the Schroeders home early from a vacation in Arizona which they cut short in order to be available for that co-worker.
Best Places to Work have a reputation for not only working hard, but also for playing hard. How does the nominated company:
A] Honor or reward success? We receive a lot of bonuses!
B] Socialize as a team? We have a lot of potluck lunches and an annual Christmas dinner.
C] Get involved in community events? We donate to a lot of local causes.
D] Celebrate life? This is a daily occurrence, Schroeder Furniture is a very happy uplifting place to work!
Write a brief, but compelling, recruitment ad telling people about why they should come and work there, too.
Last year a co-worker suffered an amputation. She was off for many months and her insurance was overdue. Unbeknownst to any of us, the Schroeders quietly paid the bill until she was able to return to work. They genuinely care for their employees!
What one thing is special about your nominated company that most people in the community have no idea actually happens there, but should be shouted from the rooftops because it's that cool?
We have routine prayer and worship for those who choose to partake!
Give us three employee perks or benefits that you think make the company you have nominated worthy of a Best Places to Work trophy?
We offer annual vacation time, personal days and sick leave…2. We can make spiffs on sales and housecalls…3. Our delivery team receives the best tips from our clients!
If this is your company and you win, write the best headline ever for your company newsletter describing your successful selection to the list, and be as specific as you can about how you would celebrate the win if money were no object.
Schroeder Furniture is undoubtedly The best place to work in southwest Michigan! We will be celebrating our big win by our entire company attending April's Furniture Market in High Point North Carolina!
Tell us anything else you want about this company that you suddenly realize we haven't asked you about, but you're sure will be the thing that puts you squarely into the winner's circle! (Wait a minute! Can you put a square in a circle?)
We have an amazing team that functions extremely well together and we consider one another family.