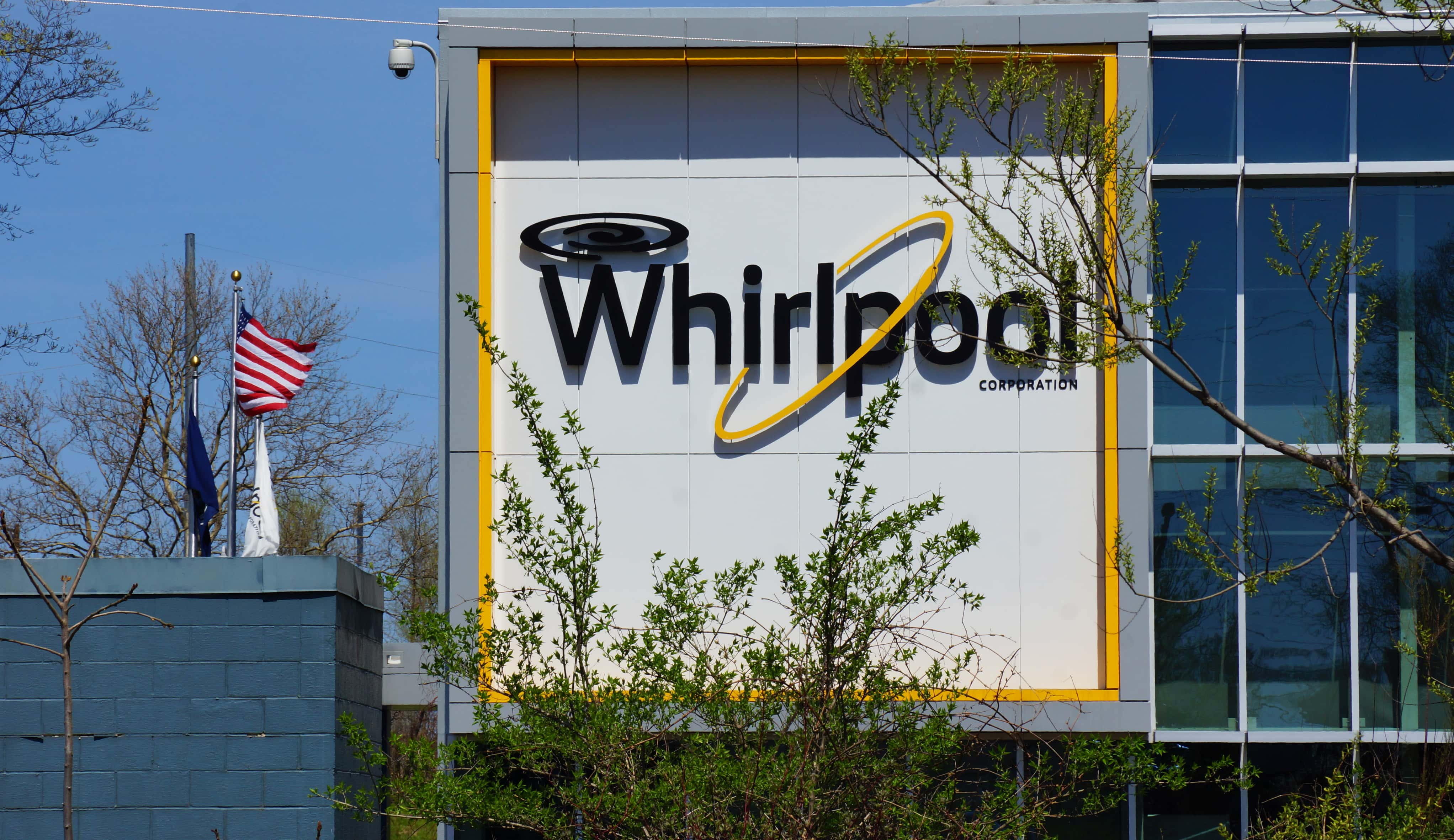 Citing resiliency even in the face of the global coronavirus pandemic, Whirlpool Corporation has posted first quarter results for 2020 that surpassed Wall Street expectations for both earnings per share and revenues in the quarter. In fact, Wall Street researchers at Zacks.com called the results "an earnings surprise of 8.05%" this afternoon.
Whirlpool's first quarter non-GAAP earnings per diluted share of $2.82 beat Wall Street by anywhere from $0.20 to $0.30 per share. GAAP earnings per diluted share of $2.41 beat the street by $0.03 per share.
Whirlpool Chairman & CEO Marc Bitzer says, "Whirlpool has a 108 year history of leading through challenges, and we are leveraging our leadership position to support our employees, consumers, and communities during this difficult time, while driving our business forward."
The Benton Harbor-based appliance giant implemented a robust COVID-19 response plan to protect margins and liquidity in 2020, while positioning the company to win in the recovery, with Bitzer noting, "Our strong performance in the first quarter reflects the hard work of our employees, our relentless focus on delivering on our commitment to consumers, and the resilience of our business. Our fixed cost discipline and strong liquidity position enable us to weather this crisis and emerge in a position of strength. Ultimately, we believe the underlying momentum we saw early in the quarter will return, and we are well prepared to win in the economic recovery."
Researchers at Zacks on Wall Street said in a free report today, "This quarterly report represents an earnings surprise of 8.05%," and adds, "A quarter ago, it was expected that this maker of Maytag, KitchenAid and other appliances would post earnings of $4.30 per share when it actually produced earnings of $4.91, delivering a surprise of 14.19%." They note, as well, that over the last four quarters, Whirlpool has surpassed consensus earnings per share estimates four times.
Whirlpool's revenue in the quarter of $4.33-billion, a drop year over year of 9.0-percent, still managed to beat the street by $30-million.
In the quarterly report highlights, Whirlpool also cites:
Solid year-over-year margin performance in North America, Latin America and Europe, Middle East and Africa regions despite COVID-19 related disruptions.
Cash used in operating activities and free cash flow improvement of approximately $100 million driven by disciplined working capital management.
Declared quarterly dividend of $1.20 per share on April 21, 2020, unchanged from the prior quarter, which translates to a 4.9-percent dividend yield.
Whirlpool Chief Financial Officer Jim Peters says, "Our first quarter results demonstrate the agility and resiliency of our global operations, highlighted by a solid performance in North America and Latin America and strong cash flow improvement." Peters adds, "During the quarter, we continued to build on our multi-year efforts to strengthen our balance sheet and ensure the long-term health of the business. We took aggressive actions to protect cash and build liquidity to solidify our ability to manage through the ongoing COVID-19 pandemic. We remain committed to delivering long-term shareholder value and recently declared a quarterly dividend for the 74th year, reflecting the confidence we have in our business now and in the future."
These are additional quarterly highlights posted by Whirlpool today:
Q1 GAAP net earnings margin of 3.5-percent of sales, compared to 9.9-percent of sales, as prior year results were favorably impacted by a $127 million gain related to a Brazil indirect tax credit and certain favorable tax items.
Ongoing (non-GAAP) EBIT margin of 6.1-percent of sales, compared to 6.3-percent of sales in the same prior-year period as COVID-19 related disruptions of nearly 150 basis points were nearly offset by aggressive cost actions.
Strong liquidity position with a cash balance of $2.8 billion as of March 31, 2020 and approximately $2 billion available in remaining committed credit facilities.
To see Whirlpool's regional results from around the globe, click the link below:
Whirlpool-Q1-2020-Regional-Results
Saying that while the full impact of COVID-19 on business results remains uncertain, the Whirlpool also shared the following updates to their 2020 Perspective:
Expect full-year 2020 net sales decline of approximately 13-percent to 18-percent (organic net sales decline of 10-percent to 15- percent).
Targeting over $500 million in net cost takeout (including raw materials savings) in 2020 through the following actions:

Adjust supply chain and labor levels to match demand environment
Aggressively reduce structural and discretionary costs
Capture raw material deflation opportunity
Continue to effectively and efficiently manage working capital