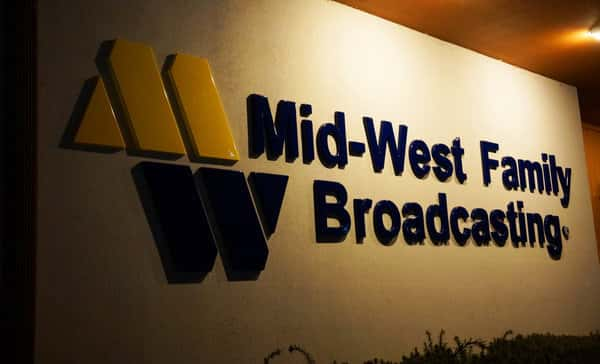 The deal by Mid-West Family Broadcasting of St. Joseph & Benton Harbor to acquire the radio stations of Schurz Communications in South Bend including WSBT Radio is now complete. The transaction was part of Schurz larger sale of broadcast assets to Gray Television, Inc. The deal was formally closed on Tuesday, February 16, 2016.
The South Bend based stations will continue to operate from the Schurz Communications building on East Douglas Road in Mishawaka under the leadership of General Manager Jim Roberts. They will function as a new operating unit of WSJM, Inc., reporting to Mid-West Family Broadcasting management located in Benton Harbor including the team's President and General Manager Dave Doetsch, who assumes the role of Chief Operating Officer, and Board Chair Gayle Olson.
Roberts observes, "Mid-West Family is well known and respected as a radio group that serves its listeners, advertisers and communities. We couldn't be happier to be adding our radio stations to an already impressive list of call letters throughout the group."
Doetsch commented, "Southwest Michigan and the South Bend market have had media ties for years when it comes to television, but been split for the most part when it comes to radio. But that won't be the case any longer. I am extremely excited about what lies ahead. Those who know me know how I like to play radio, and it is going to be a lot of fun playing in South Bend!"

Olson said, "The Schurz stations have a long and rich heritage of service to Michiana. Mid-West Family Broadcasting looks forward to building on that foundation for decades to come, just as we have in SouthWest Michigan since 1958."
Bob Heymann of Media Services Group served as WSJM, Inc.'s broker.
Mid-West Family Broadcasting is a group of 5 separate broadcast companies operating 43 radio stations in 8 radio markets. Each company is locally owned by shareholder employees. This structure enables each company to best serve its individual communities through local control and decision making. Markets served by Mid-west Family Broadcasting are: Eau Claire, LaCrosse and Madison, Wisconsin, Rockford and Springfield, Illinois, Springfield, Missouri, and Saint Joseph, Benton Harbor and South Haven, Michigan.
Full disclosure, Pat Moody, Publisher of Moody on the Market.com is a stockholder in Mid-West Family Broadcasting which owns and operates the Moody on the Market brand in Michigan's Great Southwest.