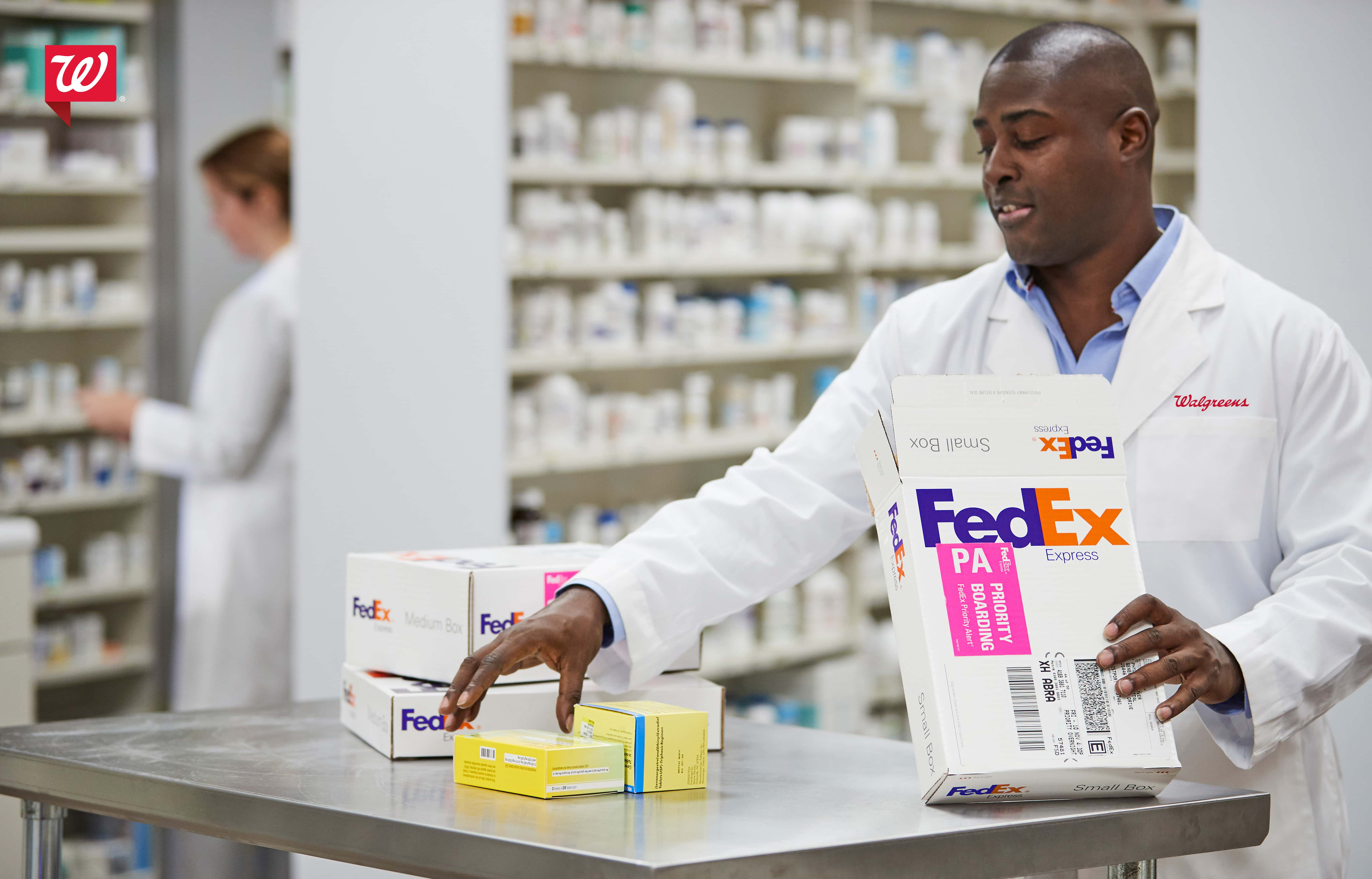 Just like that Walgreens has become "the fastest choice for next-day prescription delivery" in America. The have accomplished that by teaming up with FedEx Corporation in announcing the nationwide launch of next-day prescription delivery service, bringing together Walgreens' extensive network of neighborhood pharmacy locations with the FedEx air-and-ground delivery network to enhance convenience for patients to fill prescriptions.
Patients enrolled in text alerts will receive text notification when qualifying prescriptions are ready. Following a simple process on their mobile device, patients can now have their qualifying prescriptions delivered right to their home as early as the next day (for a $4.99 fee nationwide). Same-day delivery is currently available in select markets and will be expanded in 2019. These are the markets where it is now available: Dallas, Chicago, New York City, Gainesville, Miami, Tampa, and Fort Lauderdale. The service is subject to certain limitations and restrictions.
Richard Ashworth is President of Operations at Walgreens. He says, "Walgreens is driven by a desire to make healthcare accessible to all across the thousands of communities we serve. Next-day prescription home delivery is another convenience-driver, alongside our industry-leading number of extended hours pharmacies and one of the most downloaded digital apps in the category, designed to put care in the hands of our patients." He adds, "This expansion of our alliance with FedEx illustrates our commitment to making filling prescriptions as fast and easy as possible."
Walgreens Express allows patients to preview their cost, prepay for eligible prescriptions and choose between home delivery or express pickup in store. Patients who prefer collecting prescriptions at their local Walgreens can enter a dedicated Walgreens Express pickup checkout line to receive their prescriptions.
Randy Scarborough is Vice President of Retail Marketing at FedEx Services. He says, "FedEx and Walgreens are empowering consumers to choose when and where they receive their orders." He notes, "Just as FedEx package pick-up and drop-off services at Walgreens locations provide customers with much-needed convenience, the ability to ship prescription medication directly from Walgreens to their homes offers valuable flexibility to best meet individual needs and schedules."
Walgreens, one of the nation's largest drugstore chains, is included in the Retail Pharmacy USA Division of Walgreens Boots Alliance, Inc., the first global pharmacy-led, health and well-being enterprise. Approximately 8 million customers interact with Walgreens in stores and online each day, using the most convenient, multi-channel access to consumer goods and services and trusted, cost-effective pharmacy, health and wellness services and advice. As of August 31, 2018, Walgreens operates 9,560 drugstores with a presence in all 50 states, the District of Columbia, Puerto Rico and the U.S. Virgin Islands, along with its omnichannel business, Walgreens.com. Approximately 400 Walgreens stores offer Healthcare Clinic or other provider retail clinic services.
It should be noted that in the new service, most prescriptions orders will be available to be delivered to the patient's home by the next business day, however orders must be received by 4pm, Monday through Friday. Some prescription benefit plans and insurance plans do not allow home delivery. Other restrictions apply. For more details, you can talk to a Walgreens pharmacist.
For the record, extended hour pharmacies are those open 14 hours or more daily.
The photo accompanying this story on Moody on the Market is courtesy of Walgreens.