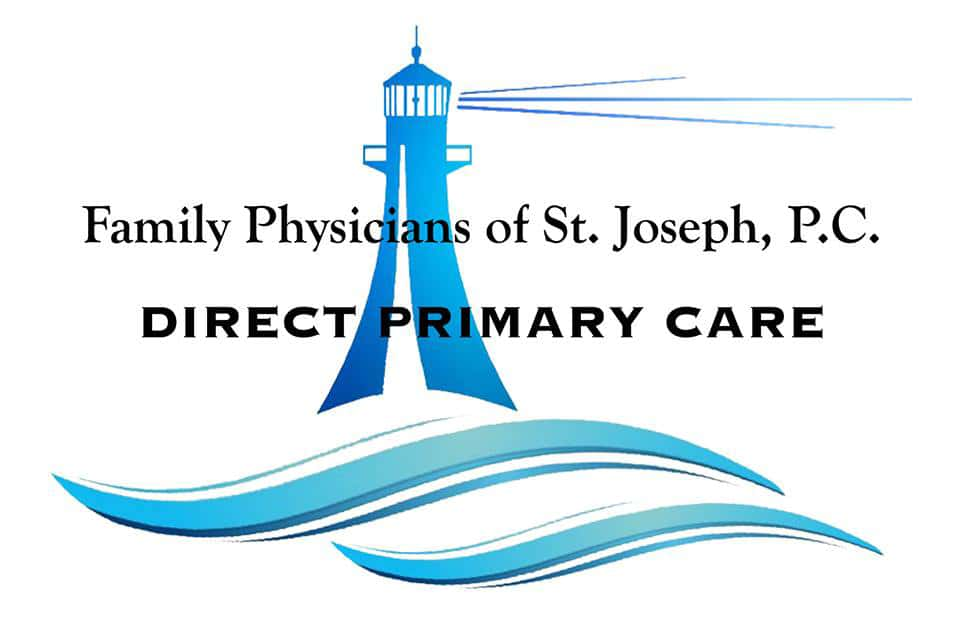 When it comes to healthcare, and primary care in particular, it has become increasingly difficult to remain successful as a small, independent practice. Larger companies now dominate the healthcare landscape, yet through innovation and a dedication to exceptional patient care, Family Physicians of St. Joseph has succeeded in doing just that. They have remained independent and committed to caring for patients as a small practice, all the while introducing new ideas and setting new standards in Michigan's Great Southwest. That has placed them in the rare company of becoming one of the Top Fifteen Under 15 businesses in our community.
Family Physicians of St. Joseph, P.C., Direct Primary Care is owned and operated by Doctors Michael Eggebrecht, Leanne Mancini, Allison Meadows, and James Gendernalik. Anchored at 147 Peace Boulevard in St. Joseph, the family medicine practice is committed to providing exceptional, affordable, patient-centered primary care in SW Michigan without reliance on insurance companies for payment of services. That makes them the first true Direct Primary Care practice in the entire region.
Family Physicians of St. Joseph (FPSJ) was founded in 1986 by Dr. George Heenan and Dr. John Proos, with the goal of providing exceptional care to the patients of Berrien County. The practice steadily grew through the 80's and 90's, and Dr. Eggebrecht joined in 1993, at a time when family doctors still rounded in the hospital and delivered babies.
In 2007, Dr. Mancini joined the practice, followed by Dr. Meadows in 2012, and Dr. Gendernalik in 2015. Many of the team's nurses and staff have remained with the practice for decades, with one current nurse having been there since day one.
Over the years, the practice gained a reputation for delivering excellent, reliable care and many patients who started with the practice in the 80's remain patients to this day. The longevity of the practice has created a particularly unique situation in that they now get to practice true family medicine, often seeing grandparents, parents, and children all within the same family.
From the time of its inception until October, 2017, Family Physicians of St. Joseph followed a traditional fee-for-service model, billing insurance companies for patient care. However, in 2016 they began to realize that the rules and oversight from insurance companies and government entities were creating an environment that took the focus of physicians away from the patients and onto their computers and the completion of irrelevant busywork. It was at that time that they began to search for a way to operate a business outside of the confines of the insurance based model, and discovered Direct Primary Care – a payment model by which the patient pays their physician a set monthly fee in exchange for unrestricted primary medical care. In October, 2017, they not only moved out of the building that had housed the practice for more than 30 years, they also adopted the Direct Primary Care model in order to continue the legacy exceptional care started by their founding physicians so many years ago.
Today, the practice features four owners and ten employees operating under the culture of a practice where the needs of the patient always comes first. Their physicians are available via phone, text, or e-mail 24 hours a day, 365 days a year. Additionally, they visit patients in their homes and outside of office hours, and spend extra time with patients who need it.
The good doctors say that to state that stepping outside of the traditional box of healthcare has been challenging would be an understatement. When announcing the transition to a Direct Primary Care practice in April, 2017, they were met with criticism, anger, misunderstanding, and the loss of many patient relationships that meant a great deal to the entire team.
There was also considerable financial uncertainty in making such a change, as there were no good examples nationally of other practices whose lead they could follow. Nevertheless, they maintained confidence in the new model and have discovered it was the right course to follow, as they have watched the practice grow anew and rekindled relationships have taken place since the transition a year ago.
The individuals who make up the practice impact the community in a variety of ways. they provide free sports physicals for youth in Berrien Springs and New Buffalo. They volunteer as the attending physician for high school football games. They give poster presentations on health topics at the YMCA, and this year served as the camp physician for the YMCA summer camp programs. Additionally, they are active in local schools, and have made donations to their fundraising efforts. They have recognized the increasing burden of healthcare costs on  fellow local businesses, and reached out to them to show how Direct Primary Care plus a high deductible insurance plan can save them money, all while improving the care of their employees. And, they host local medical students at the office, teaching them not only medicine, but what it means to truly care for patients, hopefully inspiring a new generation of students to pursue careers locally in primary care.
You can reach this award-winning healthcare team by phone at 269-429-5000, and you can learn more by clicking this link right now: http://www.familyphysiciansdpc.com