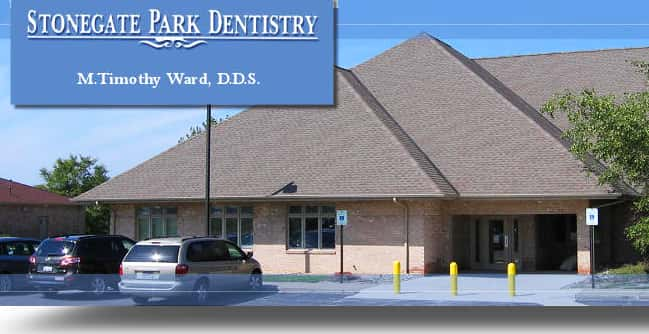 Like his father before him, Dr. M. Timothy Ward has dedicated his professional life to patient service second to none. It must be working because he's a multi-time winner of the Reader's Choice selection for his St. Joseph dental practice, Stonegate Park Dentistry, and the sheer longevity of his team who readily admit that, "Yes, Yes, Yes, this is a fun place to work." Those are hallmarks of what it takes to garner attention from the community around you and win honors like the inaugural Moody on the Market Fifteen Under 15 Small Business enterprise award.
Dr Ward's father was a dentist as well and that's where Tim actually started his own first practice, side-by-side with his father in St. Joseph.
About 16 years ago, however, he took a giant leap of faith and moved his practice into a brand new building on Hollywood Road in the Stonegate Park neighborhood of Royalton Township. Any fear that the relocation might disrupt the business was immediately set aside as the practice continues to be forced to this day to host a waiting list for new patients hopeful of getting in. Oh, and those team mates? Well four of his six team members have been with him for more than 16 years, some coming over from the previous office site.
Stonegate Park Dentistry is headquartered at 3906 Stonegate Park in Suite B. The nomination application says, "They do a great job servicing our community with their dental needs and are very active in the Humane Society and rescuing pets and finding homes for them!" The practice continues to grow every year with a wait list of patients to get in.
The Stonegate Park Dentistry practice is comprised of a very experienced, close knit team of 7, who regularly attend continuing education classes and work four days a week to bring the best dental care to the community. The history of the Doctors Ward dates back some 35 years or better, nearly half of that time in their facility across from the Benton Harbor-St. Joseph YMCA.
In reflecting on the core values of the practice, nominators say that Dr. Ward and company strive to make each and every patient feel special and do everything possible to make their appointments a pleasant experience even to the point of valuing patients' own lives by keeping the wait time very minimal, and then joke, "and they have up to date magazines!"
Dr. Ward and his colleagues found that moving the entire practice to another location was a challenge, especially since it took place during a struggling economy. Additionally, with the challenges of dental and general healthcare insurance always in the spotlight, Stonegate Park Dentistry works closely with patients to pave the way for quality care at every turn. Nevertheless, with more than 172 combined years of experience, the practice is very versatile when treating all ages and patient types.
Dr. Ward and his colleagues at Stonegate Park Dentistry always encourage the people of the community of Michigan's Great Southwest to address their own dental health by participating in dental health fairs and sharing information on how to pursue a career themselves. Dr. Ward is a graduate of St Joseph High School, Michigan State University (Bachelor of Science in Microbiology) and the University of Michigan Dental School. He has been in practice since 1983.
They are a family dental practice serving the needs for everyone from the pediatric set to geriatric patients. The services they offer include, but are not limited to the following:
General dental care, including routine prophylaxis appointments (teeth cleaning), oral exams, fillings and x-rays as needed.
Periodontal (gum) Treatment
Cosmetic Services
Whitening
Smile Makeovers
White Fillings (tooth colored)
Prosthetic Dentistry (replacement of lost teeth)
Dentures
Partial Dentures
Crowns and Fixed Bridges
Extractions
Endodontics (root canal treatment)
You can learn more online and meet the team by calling 269-428-2875 or by clicking the link below: