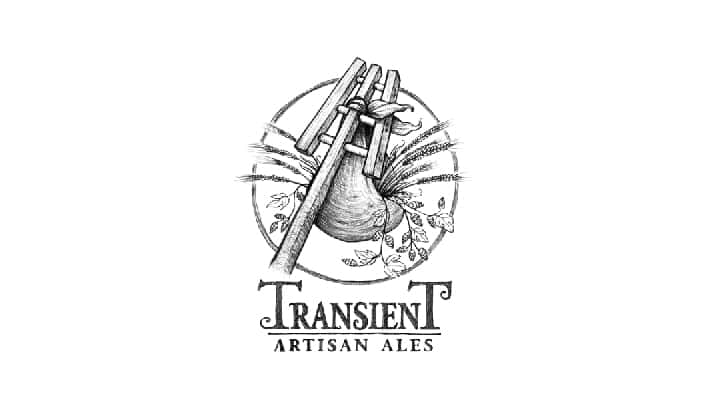 It's not uncommon at all to find craft brewers on any list of entrepreneurial endeavors. The spirit that moves such individuals is as prevalent as the unique names that you'll find on the tap handles, growlers, bottles and cans of every such enterprise. In fact, the inaugural list of the Moody on the Market Fifteen Under 15 last year had two craft breweries in the mix: Watermark and Arclight.
Now comes Transient Artisan Ales of Bridgman, already cited earlier this year as among the 20 Best Places to Work in the entire region, and now a member of the 2019 Class of the Fifteen Under 15, with a surprisingly tiny contingent of just half a dozen employees who share many positive core values of which passion and efficiency are the most readily obvious. In fact, each week the team works together to create, test, package, and sell creative, ambitious, well-liked and highly sought after craft beers in Michigan's Great Southwest.
According to the nominator's tale, Transient Artisan Ales owner Christopher Betts, "Started as a Gypsy brewer in the Chicago area where he used space in other breweries to create batches of beer that he would sell at events." That was in 2013, but by 2016 Chris had selected Bridgman as the home of his taproom, "Because of the community, the lake, and the vast number of orchards and quantity and quality of other local agricultural products."
Transient Artisan Ales is a craft brewery in Southwest Michigan focused on "creating innovative beer featuring the local environment and simple recipes that carry full flavor" while supporting the local community.
Few if any visitors to Transient Artisan Ales would ever guess that only six people work there. The business and culture that Chris has created allow for creativity, production, and efficiency to run at an extremely high rate, and that helped earn them a slot on the list of the 20 Best Places to Work from Moody on the Market.
Several beers from Transient have won awards in magazines and at festivals including the Festival of Barrel Aged Beer and Craft Beer & Brewing Magazine. Chris and Transient have also been invited to numerous international festivals including those in Sweden, Poland, London, and Iceland. Plus, I don't know how often you find this elsewhere. When several very special limited releases are announced, people line up all the way down the street and around the block waiting to get their hands on the golden elixir Chris has produced.
Running a small craft brew house can be a huge challenge in and of itself. As one fan says, "There is always the struggle of knowing where time is best spent, and juggling all aspects of the business while attempting to participate in festivals and other events can be very stressful." Yet, they continue to survive and even thrive at being a hot spot on the Craft Brew Trail across Michigan and the Midwest.
Employees will tell you that Chris sets an excellent example for everyone who works for his business. One told us, "He shows respect and trust, gives responsibility and allows for innovation from small things up to beer recipes. He encourages learning and fosters teamwork by involving his employees in outings and festivals."
While he can't afford to provide full benefits across the board, employees do enjoy flexible work scheduling, bonus money and critical training. He also encourages employees to travel to events locally and beyond to observe the impact of community, charity, and teamwork to better provide such opportunities at home.
When it comes to making a difference in, and impacting his community, employees say, "Chris is continually supportive of local charities and groups, whether it is a small event looking for support or larger non-profits. For Transient's two biggest releases each year Chris donates thousands of dollars to the Southwest Michigan Humane Society, and holds several fundraisers each year for the Muscular Dystrophy Association, among others."
You'll find Transient Artisan Ales at 4229 Lake Street in the heart of downtown Bridgman's central business district. You'll also find a guy at the helm who, according to his main nominator, "Would likely disqualify himself for this award, despite the sheer amount of passion and work that he has put into his business." That's just the kind of guy he is. Making top notch craft brews because that's what he loves to do.