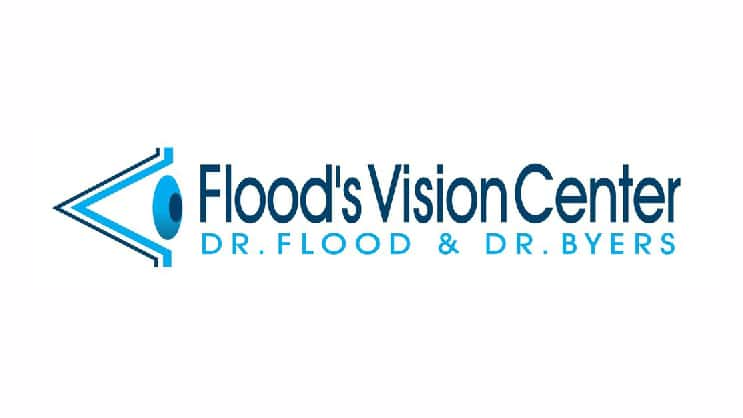 Anybody connected with or related to virtually any aspect of the health care industry today knows that the most distinctive challenge facing everyone in business and the rest of the community as well stems from changes in the health insurance industry. You almost need a full-time staff just to keep up with the evolution underway in order to best advise your customers. Dedication to that task has helped Dr. Robert Flood and his team at Flood's Vision Center remain not only competitive, but also into the rare company of the Moody on the Market Fifteen Under 15.
Earlier this year, the popular vision center on Niles Avenue in the Southtown neighborhood of St. Joseph was also a direct competitor for the prestigious Cornerstone Chamber of Commerce Pat Moody Award. Additional challenges every day from maintaining pace with the fashion eye wear industry, and competition from other optical businesses in and around the community keep Dr. Robert Flood and his partner Dr. Joshua Byers on their toes.
Dr. Flood's Vision Center is a significant business and community member who has been involved in Berrien County for more than 35 years. Founded in 1980 to bring advanced eye care for the best eye health in the region, the team at Dr. Flood's Vision Center has always been focused on getting the right prescription for client eyeglasses or contact lenses as an critical cog in good eye care. They also recognize that clear vision is just one part of overall eye health.
Dr Flood was born in Chicago, Illinois and grew up in South Haven, Michigan. He later attended Western Michigan University and graduated with a Bachelor of Science degree. He then attended the prestigious school of Illinois College of Optometry, where he graduated in 1978 with honors. He holds a license to practice in both Virginia and Michigan, and is a member of the Michigan Optometry Association and the American Optometry Association.
Dr. Joshua Byers joined Dr. Flood's Vision Center as a licensed Optometrist in July  of 2016. Born and raised in Michigan, Dr. Byers graduated from Michigan Lutheran Seminary, Ferris State University, and the Michigan College of Optometry. After completing internship rotations at the Dorn VA hospital and Eglin Air Force Base, he and his wife are settling into the area and enjoying the beauty of Southwest Michigan.
The nominators of the business say, "The eye doctors at Dr. Flood's Vision Center believe in looking at the big picture when it comes to your eye health, so they take the time to get to know you, your eye care history, and your vision needs. Dr. Flood and Dr. Byers know that getting the right prescription involves balancing several factors, including clear eyesight, visual efficiency and your ability to process visual information seamlessly. Whether you need a routine eye examination, a contact lens fitting or treatment for eye disease (such as glaucoma or macular degeneration) or eye surgery (such as LASIK or cataract surgery), their optometrists will provide you with the best care, advice, options and follow up."
After residing for many years near the mall in Benton Harbor, the vision center was relocated several years ago to 2603 Niles Avenue in Suite A.  The bring to the community a friendly, professional optical office that serves a wide variety of clients, with patients coming from all over Berrien, Cass & Van Buren counties. While Doctors Flood and Byers spend quality, caring time with each patient, the team's opticians in the Optical Department are very knowledgeable and love helping patients look and feel great with top fashions and quality products from such notables as Ray Ban, Coach, Gucci, Oakley, Maui Jim, and Costa among many others.
The team of nine players at Dr. Flood's Vision Center saw the arrival of Dr. Byers two years ago and continues to grow thanks to his additional expertise in the house. They take great pride in being very multi-cultural, featuring a grand array of products that appeal to a wide range of ethnicity and ages. Their patients are from all races, religions and ethnicities.
When addressing the core values of the vision center, the team cites: Quality, Friendliness, Professionalism, Caring as among the keys to their business. They are engaged members of the Cornerstone Chamber of Commerce, and involved with the local lodge of the Fraternal Order of Police, the SW Michigan Steelheaders, and Southwest Regional Airport. Dr. Flood has been a Keyperson at the Michigan Optometric Association in 2002-2003 &  again in 2006.
Leading by example, Dr. Flood always encourages employee's to participate in a wide variety of community events, and by offering services to all income levels, and accepting a large variety of insurance plans, they strive to be accessible to people from all walks of life.  The business operates six days a week, and the doctors are always available for same day eye injury visits in emergency situations.
For more on Dr. Flood's Vision Center, you can call 269-408-8762 or click the link below for their website: