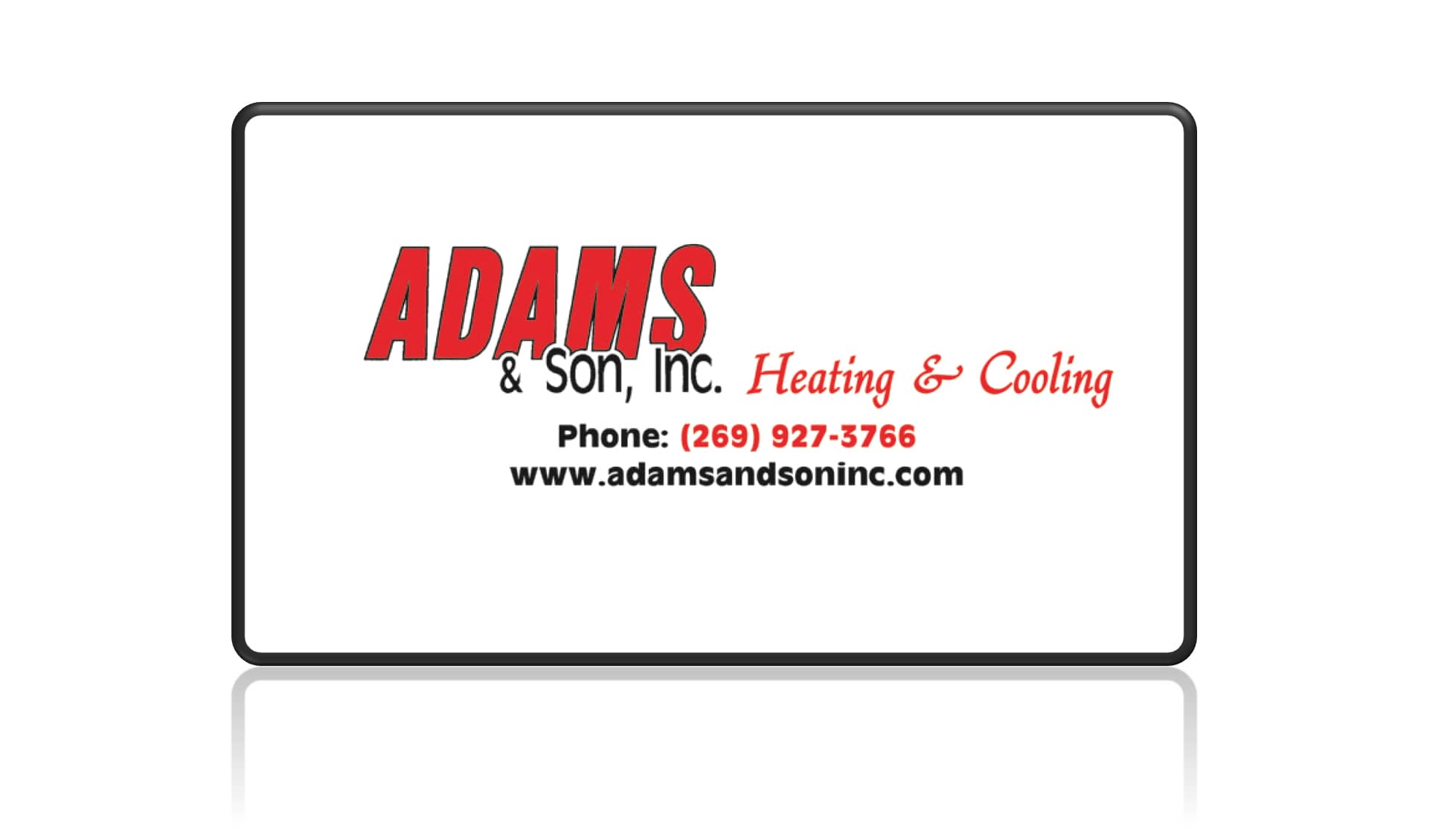 While Adams & Son, Inc. Heating & Cooling was in the running to join the 2020 Class of the Moody on the Market Fifteen Under 15 Small Business Enterprises with 15 or fewer employees in Michigan's Great Southwest, they coincidentally were on the docket as one of only 27 companies in all of Michigan to make the first round cut to earn the title of "Coolest Thing Made in Michigan" for 2020. They didn't make it into the final round for the Peoples Choice in that competition, but here they are as winners in the Fifteen Under 15.
Barry & Tracy Adams make a remarkable husband/wife team in the 21 year old HVAC contractor that has steadily gained market share over the years by being both fair and customer-focused, employee-focused, and community-focused, while operating with integrity and highly respected in their field. In fact, the nominator opened the bid with the bold statement: "This company and your award belong together!"
Founded in December of 1999, Adams & Son is still headquartered at 7060 Hillandale Road in Sodus, just off of the Sodus Parkway. Tracy says, "We are on a personal mission to change the public's perception of a service company. This is not just 'a job' for us. It is our life philosophy. We want to rest easy daily knowing we've served our employees, customers and community exceptionally well."
She explains, "We are a family owned & operated Commercial, Residential & Industrial Heating & Cooling Company. We beautifully & expertly install, service & maintain:  Furnaces, Air Conditioners, Boilers, Heat Pumps, Radiant Floor Heating, Water Heaters, Custom Ductwork, Process Piping & Geothermal units. Once you call us, you're part of the family now."
Barry Adams is the proud owner, founder & driving force behind Adams & Son, Inc. Heating and Cooling. Prior to founding his company, Barry worked two full-time jobs to learn the trade. He had a full-time overnight factory job at a local company that ended at 7 am, and would then drive across town to report to his next full-time day job in the heating & cooling field. He did that for many, many years, until around Christmas of 1999 the company he worked for suddenly (and without warning) closed its doors.
Barry headed home and shared with his wife his dream of owning his own company and she cried. That first year, Barry walked through every small town in the region introducing himself and passing out his business card, and within weeks, his business took off and he's never looked back.
Barry, continues to study and hone his craft today. He refuses to stop thinking outside the box, and has become a genius at designing HVAC Systems.  With more than 25 years in the business, he is excited to have Adams & Son, approaching year number 22 in business, and tells us he's particularly proud that his son got his degree in heating & cooling and has now joined the business full-time.
Barry Adams essentially propelled his business from working out of his garage by himself, to employing 7 people and approaching another spectacular year. Tracy says it's clear, "He wants customers for life, the entire company does," and adds, "You're going to like us… a lot!"
The Adams family readily points out, "It's not always about making money…in fact, it seldom is. But, focusing on everything else first, will make the money come. We believe this and approach the daily business operations with this in mind." They happily note, "We have a fast-paced, casual atmosphere where employees are rewarded to think independently and be creative, so the culture of our company starts with believing in each other, trusting each other and investing in one another. We know that the company as a whole needs to thrive in order to be successful. So we invest in our employees and take care of them. We pay 100-percent of their Blue Cross/Blue Shield health insurance. We also match 3-percent of their 401K savings. We provide company vans to take home, company gas cards, we pay for a new iPhone & iPad for employees, as well as, vacation time, personal time & holidays. We outfit everyone with shirts, pants, jackets & hats. Raises occur 2-3 times a year and Christmas gifts & bonuses are enjoyed. We also encourage all training opportunities and pay them to attend. We want our company to be the last company our employees work for. We want our employees to feel valued, knowing this will always be returned tenfold to the company."
Tracy takes it a step further, saying, "It's not always about making money… it's about laying our heads on our pillows at night and feeling good about the way our company runs. Do you know what we did during the Polar Vortex? Talked dozens of people through repairs over the phone at no charge, if we couldn't get to them. During the summer, we'll share two of the most common fixes for your A/C over the phone to try first, before we dispatch a Service Tech. And, we never let an elderly person go without heat. Period. Even if that means accepting only a cup of coffee or a piece of pie as payment. We don't replace things that can easily be repaired, we don't scare customers into purchases they don't need & we don't suggest expensive upgrades that aren't necessary. Honesty & Unparalleled Customer Service are our core values."
As a company Adams & Son has received dozens of Certificates of Achievement in Sales, Marketing or Training from Manufacturers, Distributors or HVAC Affiliated groups, even 1st place ribbons from the local Home & Garden Show two years running. Two of the most meaningful to Barry & Tracy were being chosen the first ever "Integrity Award" winner (now called the Torch Award) in 2012 from Western Michigan's Better Business Bureau. And the Congressional Recognition Award from Congressman Fred Upton in 2020 for manufacturing critical personal protective equipment (PPE) during the pandemic.
Tracy contends, "Though all of those are notable achievements…I like the ones we never received an award for the best! For example, each year we choose a customer or two who are down on their luck but have a heart of gold, to help out & surprise! We've erased their debt with us by sending them a letter that their bill was anonymously 'paid for in full'… we've left gifts on their doorstep, knocked on their door and snuck away before they knew it was from us…we've quietly and unceremoniously throughout the years given away furnaces, A/C's & repairs for both customers & our employees who could use a nice, unexpected, surprise…that's the good stuff that means the most!"
While there's is a truly rewarding story, the Adams team will be the first to tell you that running your own business successfully is both a blessing and a curse. The biggest challenge they've overcome is one that every business owner faces & needs to master if they want to keep their doors open… keeping the mental game strong. "When product doesn't show up, orders are wrong, employees call in, someone quits…when you have too many jobs, not enough jobs, vehicles break down, bills are due, a customer complains….What do you do? To keep a level head in the midst of chaos, to remain grounded, calm, stable and think clearly. To not take business personally, but to handle any and all issues quickly, effectively and calmly…to steer the ship well in rough seas… that is a daily challenge that we are not perfect at, but 99-percent better at with each year that passes."
They are a heating and cooling company that never laid anyone off during the pandemic. We made a decision as owners, that they would keep everyone employed for as long as possible, even if they had to pay them out of their own pocket.
They also thought…"What could we do with a bunch of guys and sheet metal to help? Barry, thought since every company would need to provide PPE, they'd need a place to put it. So he designed a PPE Station out of sheet metal that held two boxes of gloves, a box of masks and a bottle of hand sanitizer. They began manufacturing those stations not knowing if they'd sell or not, just to keep the guys busy. They advertised on Cornerstone Alliance's local PPE site, and Tracy says, "Boy, they sold!" She adds, "They also caught the eye of Thayer Inc of Benton Harbor, when suddenly Thayer couldn't order sanitizer stands for their dispensers, due to the pandemic. They asked us if we could help and make one. We ended up designing & manufacturing two varieties. To date we have nearly 200 units throughout Berrien County's schools, colleges, banks, factories, businesses and hospitals. Hands down coolest thing we've ever done! It energized our entire team." In fact, that's the product that made it to the first round of the "Coolest Thing Made in Michigan," sponsored by the Michigan Manufacturing Association. Ironically, the company never made a dime on them. They sold them literally at cost of materials only and donated all of the labor, because "it was the right thing to do." They  didn't want to take advantage of anyone during the pandemic.
The company has worked to lead by example that giving back to your community is gratifying, worthwhile & time always well spent. Their son attended Kalamazoo Valley College years ago to learn the heating & cooling trade, so they wanted to give back to the school by selecting one of their students to intern while studying. That intern has been with them for about a year. He's half way through his school program, and the entire staff is involved in his training. He was also brought in to help manufacture PPE during the pandemic.
You can learn more about the company online at http://adamsandsoninc.com.
You can reach them by email at adamsandson@qtm.net or by phone at 269-927-3766.