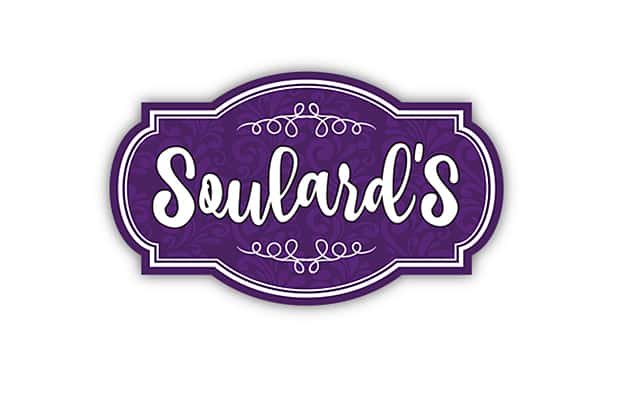 There's a very common thread among the winning members of the 2019 Class of the Moody on the Market Fifteen Under 15 small business enterprises with 15 or fewer employees. The word "family" repeatedly makes its way into the conversation, and if you stop to think about it, that's only natural since a small staff like that can easily do many things together to bring cohesion to the team.
The opening salvo on the nomination application for Soulard's of downtown Coloma captured it all:  "Great Atmosphere and Customer Service is Great and the owner always makes you feel like part of the family..Love this place!"
While Soulard's retail space has only been open for a little over a year, and is owned and operated by Taylor Soulard-Prestidge and her husband Matt Prestidge, the business was actually home-based dating back to 2011. Nevertheless, the shop is repeatedly described as "A very inviting atmosphere, delivering great customer service and making you feel like part of the family."
Soulard's is owned and operated by a local family with deep roots in the Coloma area. Owners Taylor and Matt opened Soulard's at the present location of 126 N. Church Street in Coloma in late July of 2018. However, the business really began in about 2011 as Soulard's Sweets in an addition built off of their home and Taylor specialized in custom cakes and dessert orders.
Over the years, the business continued to grow which meant outgrowing the space, so on a whim, they started researching space in the local downtown area. In what seems like a plan that was already in place for them, the perfect building became available at the perfect time. Matt, along with both of their dads, put in many hours of work renovating the historic building. It's a building that has been in Coloma for over 100 years and has housed a grocery store, a hardware store, a clothing store, a pizza place, the infamous Deli by the Park, and most recently D.W. Hammonds Chocolates before Soulard's took over.
Reality is that Taylor started baking at a very early age and always held the dream of having a store front. Her personal family history in baking goes all the way back to when her great-great grandfather came on a boat from France to be a Head Chef at the famous Drake Hotel in downtown Chicago and she has inherited many of the recipes that he used many years ago.
Now a team of just five people operates Soulard's hand crafting delicious baked goods of all sorts while offering up fresh coffee and a wide array of deli offerings. Five people. A family, in fact, that always makes you welcome in the house.
In the kitchen at Soulard's, "the mixer is almost always whirring away, and the ovens are always warm." Taylor says, "We have dedicated our days and nights to providing you with the most amazing treats you have ever experienced. Yes, experienced. Because this isn't just about tasting something good, it's the entire experience from start to finish. Our commitment to you is to provide impeccable service, a friendly atmosphere and a sweet treat to indulge your senses in decadent delight."
Soulard's also offers Bubble Teas and Oberweis milk that come in a glass bottle fresh from the farm just like the olden days. Patrons in search of a custom cake are in for a true delight, because that's what started the business. There's also a deli menu which offers many great lunch and dinner options.
As a young female business owner, and a strong self-starter business operator, Taylor has been nominated for and received several awards in Southwest Michigan for her food and coffee items. Her nominator says, "Now, it's time for her hard work to be awarded as well."
Any time you are in a business located in a small town and in an industry that needs people to want to treat themselves, the challenge to succeed can be overwhelming, but Taylor and her crew are making it happen, even as they help others across the community routinely, because it's just in her DNA to do so.
Anytime there is something in need in the surrounding area, Taylor is always willing to donate whether it's a Give Back Night, an auction for someone in need, and schools in need of money are always given top priority. She attends city meetings, volunteers for the schools and city festivals and also made a wish come true for a local girl terminally ill with cancer be the owner of a small bakery for a day, after which all money made that day went to the girl's family. That young girl has since passed away, and Taylor has named a sandwich in her honor and on the anniversary of that girl's ownership for a day she gives back to a charity in her honor.
That desire to always help the less fortunate carries over to the entire staff. Taylor has encouraged and always includes her employees in her in give back efforts in the community and her support of locally owned businesses. As the nomination says, "She has rubbed off on everyone and it's all about what they can do for you."
Although that team is small, the Prestidge family works to offer helpful benefits including vacation time, sick and personal time, flexible work scheduling, and training.
In making the case for Soulard's nomination in the Fifteen Under 15, the author wrote, "Someone needs to honor this small young business owner," adding, "More communities would be blessed to have someone like her and her willingness to go above and beyond for not only her customers but also the community. We need to award and encourage young business owners so they know that what they are doing is recognized and very much appreciated. They are our future, so help me and give her the recognition she deserves." Well, the judges concurred, and here she is, in the winner's circle in all her glory among the Fifteen Under 15 best small business enterprises in Southwest Michigan with 15 or fewer employees on staff.