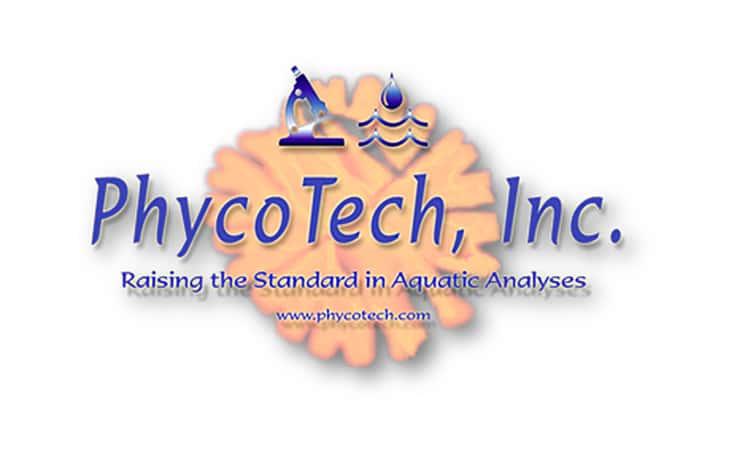 Anybody who has paid close attention to detail while visiting downtown St. Joseph over the years at some point or other has probably spotted what looks like a mad scientist's lab through the lower rank windows on Old City Hall at State and Broad Streets. You may have been headed to grab a bagel next door, or off to the Hot Dog Kart when you stumbled upon beakers and test tubes filled with experiments right there in the window. That, my friends, is the nearly 21 year home to an intriguing company called PhycoTech, Inc., and they are one of the newly minted Fifteen Under 15 for 2018.
Founded, owned and operated by Dr. Ann St. Amand of St. Joseph, PhycoTech, Inc. is a scientific lab that specializes in algal and zooplankton analyses in surface waters. They provide a wide variety of related services based on the most current technology, including an imaging flow cytobot, which allows delivery of algal analyses within 48-to-72 hours. In addition, they administer a large, diverse outreach program.
Founded in October of 1990, PhycoTech provides algae, zooplankton, macrovertebrate and bacterial analyses of lakes, streams and other surface waters (including estuarine and marine habitats), both producing and analyzing the data.  They also offer a small, specialized product line sold all over the world.
The lab has a passion for improving the environment, empowering employees and fostering environmental and science education among the youth and adults throughout the community.
Currently staffed by 5 full-time employees and 1 part-time employee, all permanently employed, and supplemented by 1 to 3 High School or College interns over the summer season, St. Amand started PhycoTech as a home-based business after she finished graduate school at the University of Notre Dame.
After 3 years, she moved the business out of her home into a laboratory space above the current SB Chocolate Company, and in 1997 moved to her current location in the basement of the Old City Hall at 620 Broad Street downtown.
PhycoTech has weathered quite a few challenges over the years, but has continually built the business on an exceptionally dedicated client base. They embrace a casual and quirky culture, and part of their mission is not only delivering quality data, but also helping employees with life/work balance and being active in local communities, both as a company and individually.
Many consider PhycoTech to be the poster child for challenge, both technically and logistically.  Ann St. Amand has had 4 children while running the business and although her husband has always been very supportive, he has an unrelated, full-time position at the Cook Nuclear Plant, so he can't help with the day to day workload.
In 1995, PhycoTech was unfairly defaulted on a federal contract resulting in the company filing suit against the USGS, a federal agency. They won that suit in 1998, just five weeks after her youngest daughter was born, and days before she would have literally gone out of business. That victory result in presentation of the Merlin Hanson Challenge Award from Cornerstone Alliance for successful fight for survival.
Since that challenge was met head on, PhycoTech has consistently worked towards improving the quality and breadth of their services, taking on extremely challenging contracts, both technically and logistically. Because of the QA issues associated with the firm's core services, they have been a "single analyst" laboratory for most of their existence, which has kept them from scaling up significantly.
Since 1996, St. Amand has been pursuing automated technology to address the scaling issue, and in 2015 bought her first Imaging Flow Cytobot (IFCB), with cash. After 2 years of calibration, she went live in May (She contends everyone should name their scientific instruments, and her name is Phebe). While they are still working on process flow and coding, this season alone they have already processed an additional 150 samples.
There have been many other challenges over the years including surviving economic depressions and downturns, of which she says there have been several, and keeping the business running during family deaths while still being responsible for workflow as well. Expanding their outreach program was very challenging, since finding partners within the Public School System and figuring out how to balance outreach activities, fund it all, and still meet data deadlines has amped up that challenge level.
When you address core values with a scientific firm like PhycoTech, they are many. Here is what St. Amand lists as the lab's core values:
Everyday Excellence: We strive to be at our best for our clients AND ourselves every moment of every day.  Face it, some days are better than others!
Integrity/Honesty: We display integrity and honesty in all of our interactions with each other and our clients and partners.  Speak up if you see something that needs to be addressed, just always remember to temper reality with kindness.
Focus: We are intensely focused on delivering high quality data in a timely manner that meets both our technical standards and our monetary goals.  Eating has become a habit we would like to continue.
Growth: Everyone at PhycoTech is encouraged to stretch both professionally and personally.  There is that old adage about a rolling stone gathering no moss, or was it lichens, which actually contain symbiotic algae…you do the math!
Passion:  We are passionate about improving global water quality and protecting our water resources on a daily basis!  And the science is just super cool, so how can you not be passionate?!
Kindness/Generosity:  Kindness and generosity guide everything we do at PhycoTech, both among ourselves and with our clients and partners!  Life is short, smiles are free.
Stewardship: We believe strongly in fostering stewardship among our communities' youth!  Our kids will be taking care of us and our planet someday, how would you like them to do it?
PhycoTech has developed several proprietary methods and technologies which allow them to be competitive among some much larger companies. In addition, they occasionally publish research, and have been involved in the development and review of several state and federal sampling/standards programs (e.g. National Lakes Assessment, EPA algal toxin guidelines, Standard Methods for the Examination of Water and Wastewater).
PhycoTech has also developed a large outreach program involving several K-12 schools and organizations within Berrien County.  They have even been awarded an educational partner award with Berrien County RESA.
The lab works to make a difference in the community on multiple fronts. They participate in existing science educational outreach as a lab (Science Olympiad as event moderators, coaches and mentors to multiple schools, Mini Maker Faire, First Robotics (Lego League), Drain Commission/SWMPC "Keep it Blue" Campaign), as well as programs administered through PhycoTech (3 marine educational tanks in the SJPS system, the UpStream stream ecology program at Upton Middle School, Salmon in the Classroom at Upton Middle School and Eau Claire High School, Brown School Science Fair/Night, Mentor Environmental Eagle Scout Projects, Native Gardening projects in the City of St. Joseph (with Indian Hills Gardening Club), Fresh Start Children's Garden in Benton Harbor and the Benton Harbor Boys and Girls Club (Nate Wells Campus) and give environmental presentations to local organizations. PhycoTech also sponsors several student clubs/activities in various schools including marching band, HS First Robotics, and music productions. They also fund outreach activities through the company and by writing small grants.
As a model company of excellence, PhycoTech not only encourages its team members to participate in all lab sponsored outreach activities, but also encourages each team member to pursue their own outreach passion by providing additional personal time during the month.
All staffers participate at some point during the year in activities during the work day and on off days when outreach projects spill into the evening or weekends. They all feel strongly about environmental education or community involvement at all levels, and support each other in those activities. By way of example, one staff member will be the new coach for the Watervliet HS Science Olympiad Team and another would like to become more involved in judging at the Berrien County Youth Fair.
The lab brings great scientific chops to the community of Michigan's Great Southwest, and you can learn more by calling 269-325-5302 or by clicking through to their website right here: http://www.phycotech.com